Today's nail art is a combination of delicate and gruesome with zombies pulling terrible faces on a soft, glittery orange/magenta background. I'm sure they're friendly zombies just trying to get out a hello around their rotting tongues…🤣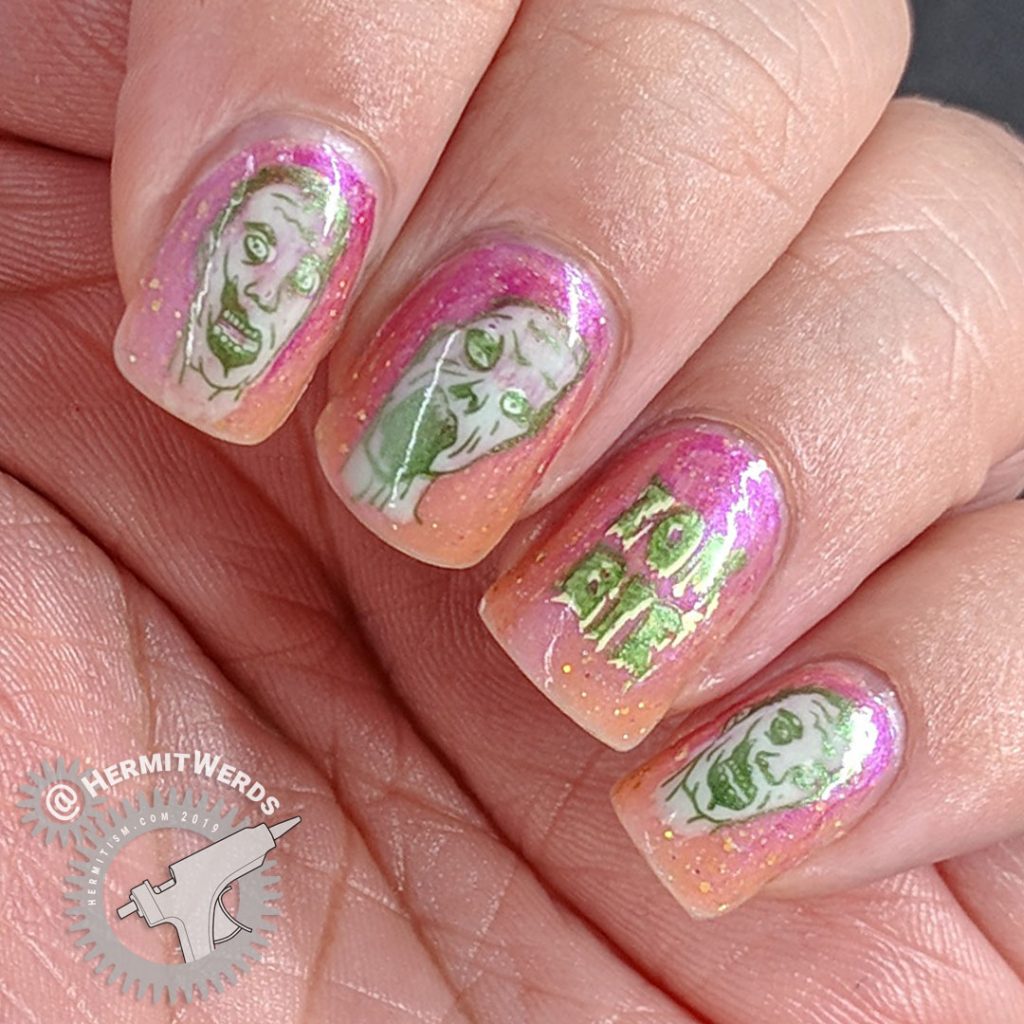 Products Used
Base Polishes:

Femme Fatale's "City of the Sun" with an acetone-thinned wash of Sally Hansen's "Wild Life"

Stamping Polishes:

Mundo de Unas' "Cream" + "Dark Green" and Nails Inc's "Spitalfields"

Advanced Stamping Polishes:

Smacker's "Wickedly Stylish" and Zoya's "Neely" diluted w/clear polish

Stamping Plates:
One major inspiration for this design was the beautiful base polish Femme Fatale's "City of the Sun" (still available through Hella Handmade). The soft orange crelly with that trace of magenta shimmer and the glitters is so up my alley right now. It is so, so pretty and definitely not opaque.
Since I took my sweet time painting this design, the swatch photos were taken with three to four layers, but by the time I started painting I had added a few more layers and then magenta polish diluted with acetone to give a little more emphasis to that nice shimmer.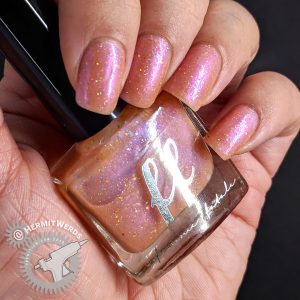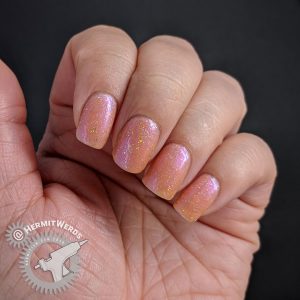 I meant to paint this for the @clairestelle8challenge prompt on Instagram, but I was a little slow to finish the nail art and even slower to edit the photos. So instead it's coming out for @glamnailschallenge's graveyard prompt since there is a graveyard on my thumb…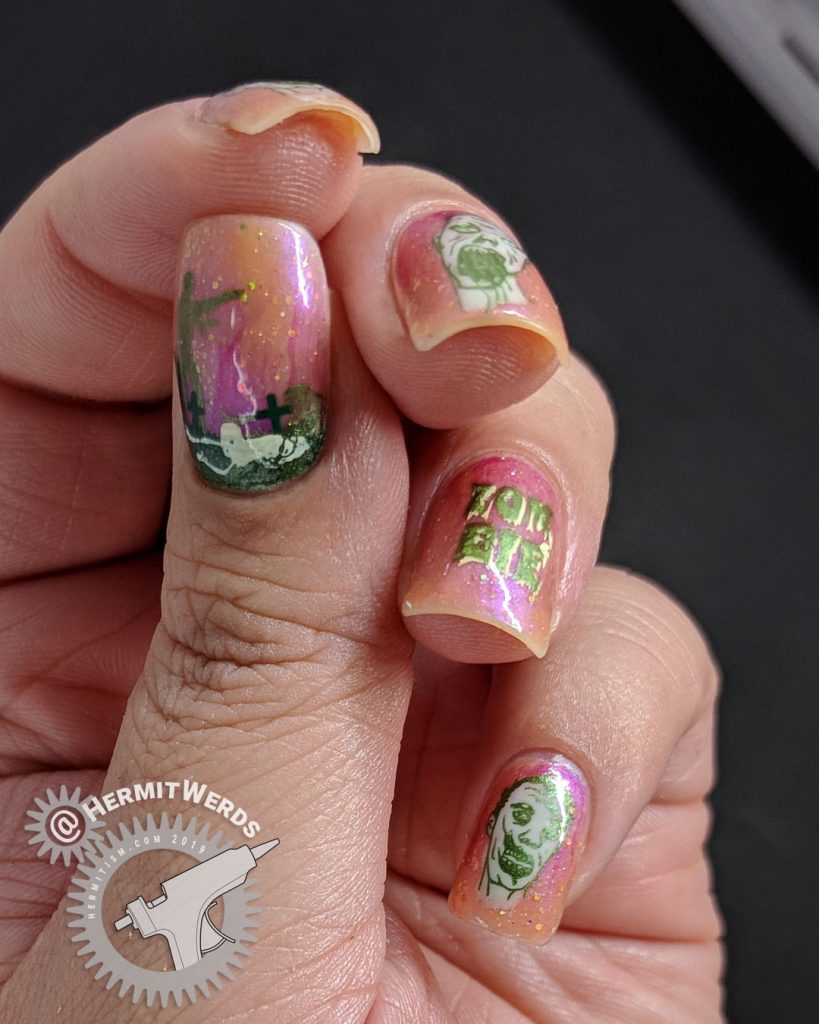 Finally, I thought I'd share a less close-up photo of this nail art. Ever since Zenroah from YouTube said she thought close-up swatch photos weren't a good representation of what a polish looks like because you don't look at them that closely, I have thought about how that pertains to my own nail art. (Also, apologies because I can't remember the exact video where she said this and I'm paraphrasing.)
I actually do look at my nails pretty closely because they are on me and therefore that isn't creepy. However, macro shot level doesn't really happen and anyone else who might see my nails are viewing them from a much greater distance. So I am playing with the idea of showing my nails from farther away so you can see how well the design translates from a distance.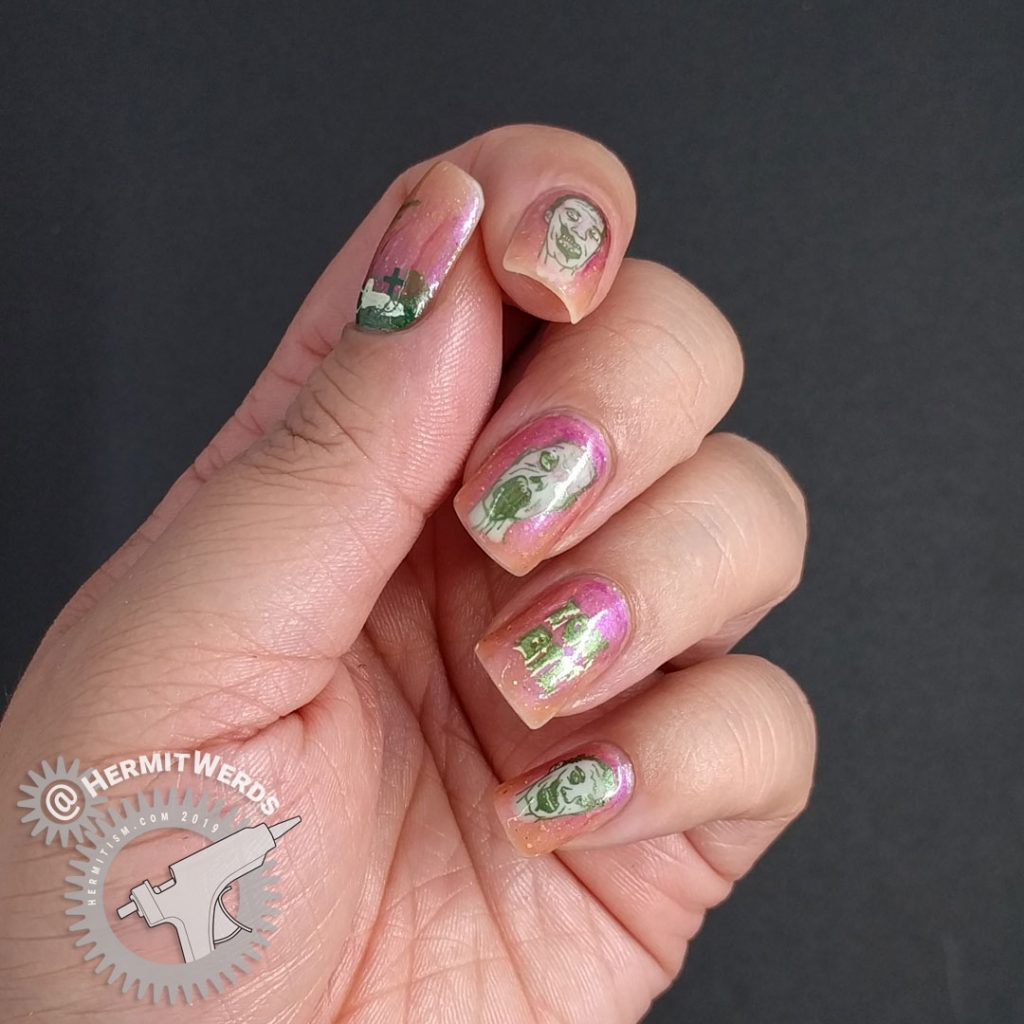 It felt really weird editing a photo this way. Possibly I will get braver and farther away with time. 😅
That's all I have to share today. Until next time, friends! 🙂