Ages ago I had white gel polish on my nails and I decided to paint this design real quick and save it for a rainy day. I'd seen several images like this on t-shirts and bags and anything with four letters goes well on the nails. This was inevitable! I'm sharing this today to cover @clairestelle8challenge's Minimalist prompt. I do like minimalism as far as having less stuff, but that whole sterile white aesthetic that sprung up alongside it is just silliness to me. I can't even keep my white desk stain-free because of all the nail art and crafts I do on it! An all-white home would be a nightmare for me.
Although it would mean my little black cat gets stepped on less often.
Nah. She should just speak up for herself and say…
*snerk*
Products Used
Base Polishes:

Re-usable white gel base

Freehand Painting:

Black acrylic paint
Very simple freehand. Very simple look. I do need to practice more with brushes so I can paint finer lines, but that's also a lot easier to do when you're not painting your other hand and can move things around more.
Bam! And lastly a hand pose I don't use very much anymore, but fitting for this nail art…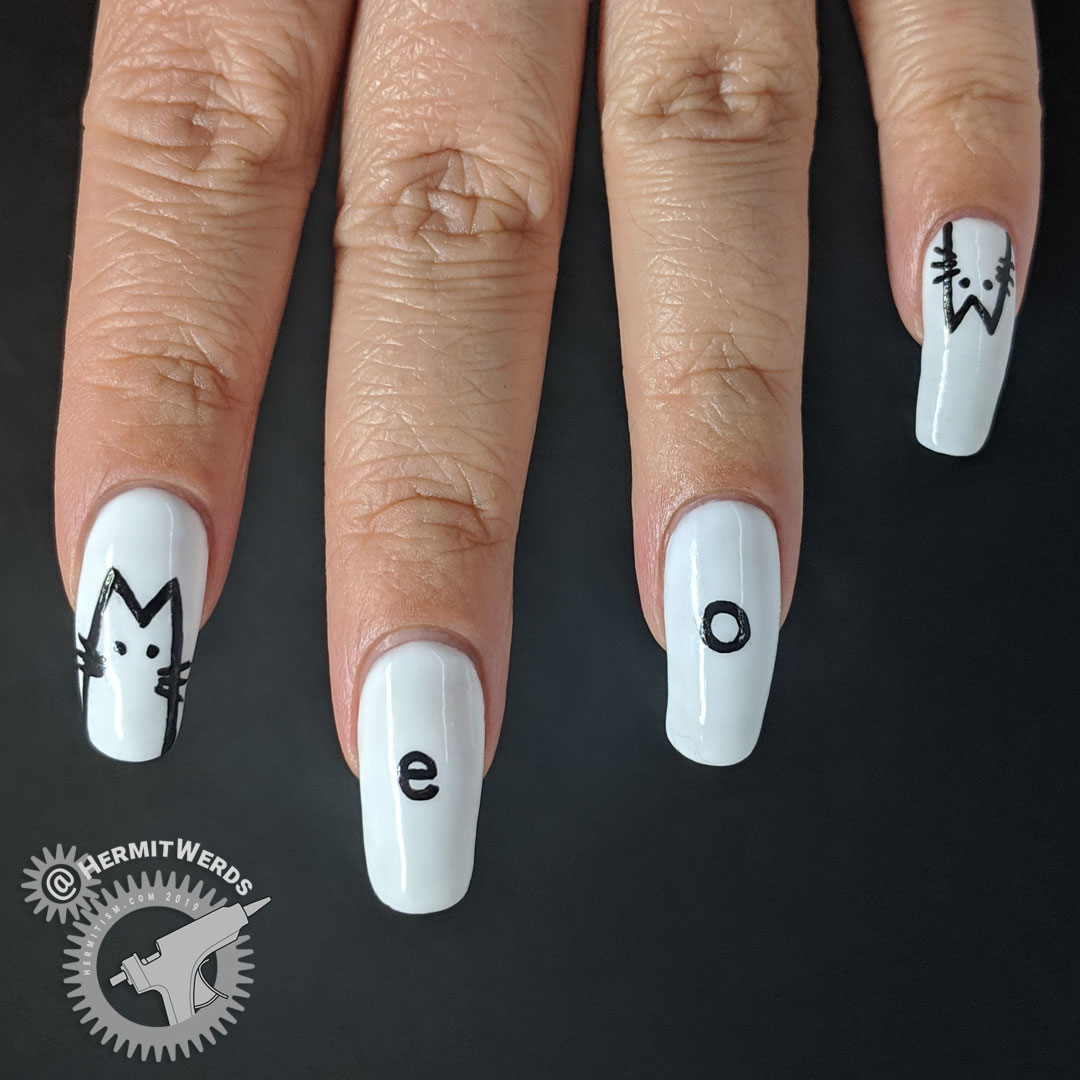 Good-bye, long nails
So I've gotten tired of my long nails again. It started a couple of months ago when I snapped off a thumbnail while trying to buy a stupid train ticket. It made me grouchy about the whole long nail thing and how hard it is to do anything and worrying about breaking them and worrying that they'll snag or poke holes in my other projects and not having my left and right hands match… Well, these feelings have been destroying my desire to paint my nails to the point where I haven't painted them in…two weeks now? That's bad when I still have reviews I want to get out. But I didn't want to cut them short just yet because this look or that look would be "better" with longer nails so I'll just do this and this and this and this first and then I'll shorten them…
But I did not want to paint them at all because they were annoying me.
Last night I decided to end my endless loop of putting-off-ness and filed my nails down. It feels. So. Good.
I have plenty of long false nails to play with so this whole inner argument with myself has been dumb. And now I'm gonna go do some sewing with these remarkably free fingers. Until next time, friends! 🧵😁