[press sample]
Woof. The holidays are just killing my ability to get things done quickly. Sorry, everyone!
Today I have my first review of a gel polish set: Laguna Moon's Classic. Kelly at Laguna Moon sent me this set through Amazon, but they also have their own site with a much wider range of colors (and finishes like glow in the dark, magnetic, and thermal) than they offer on Amazon.
Now you know and I know that I am a lover of the rainbow yet the set I picked is all neutrals. I know. It's weird. But a good set of neutrals is just as essential as your basic rainbow because without them you can't paint all the critters of the world in natural colors. The Classic set comes with one jelly (that is likely meant for French manicures), four cremes, and one glittery gel polish. It's a good range of light vs dark.
Part of me wishes they had one even darker creme polish instead of the glitter, but the glitter gives you the option of sexy gradients and accent nails in one set and, outside of this review, I could have just used the black gel I already have.
Packaging
That's some pretty solid packaging, which is pretty necessary when ordering polish from Amazon. Amazon is notorious for throwing single bottles of polish in a box with a puff or two of bagged air so the bottles can smash together alllll through shipping. I found one photo on Amazon that shows the individual bottles are packaged in boxes so they stand a better chance of surviving, but the sets are by far more secure and a better deal, with a price point of $12.99 to $15.99 for 6 8oz bottles vs $4.99 to $8.99 a bottle.
Of course, you have to want all the colors in the set, which is my problem. I own too many polishes now to not be picky.
What's in a name?
One thing I've noticed from other reviews of Laguna Moon's gel polishes is that the reviewers will tell you that the gel polishes don't have names. This isn't actually true. For whatever reason they've decided not to print the names on the bottles or packaging, but if you go to their website and type the id code of your polish in their search field you can find out its name. Lucky for you, I've already done the work for this set. 😉
Application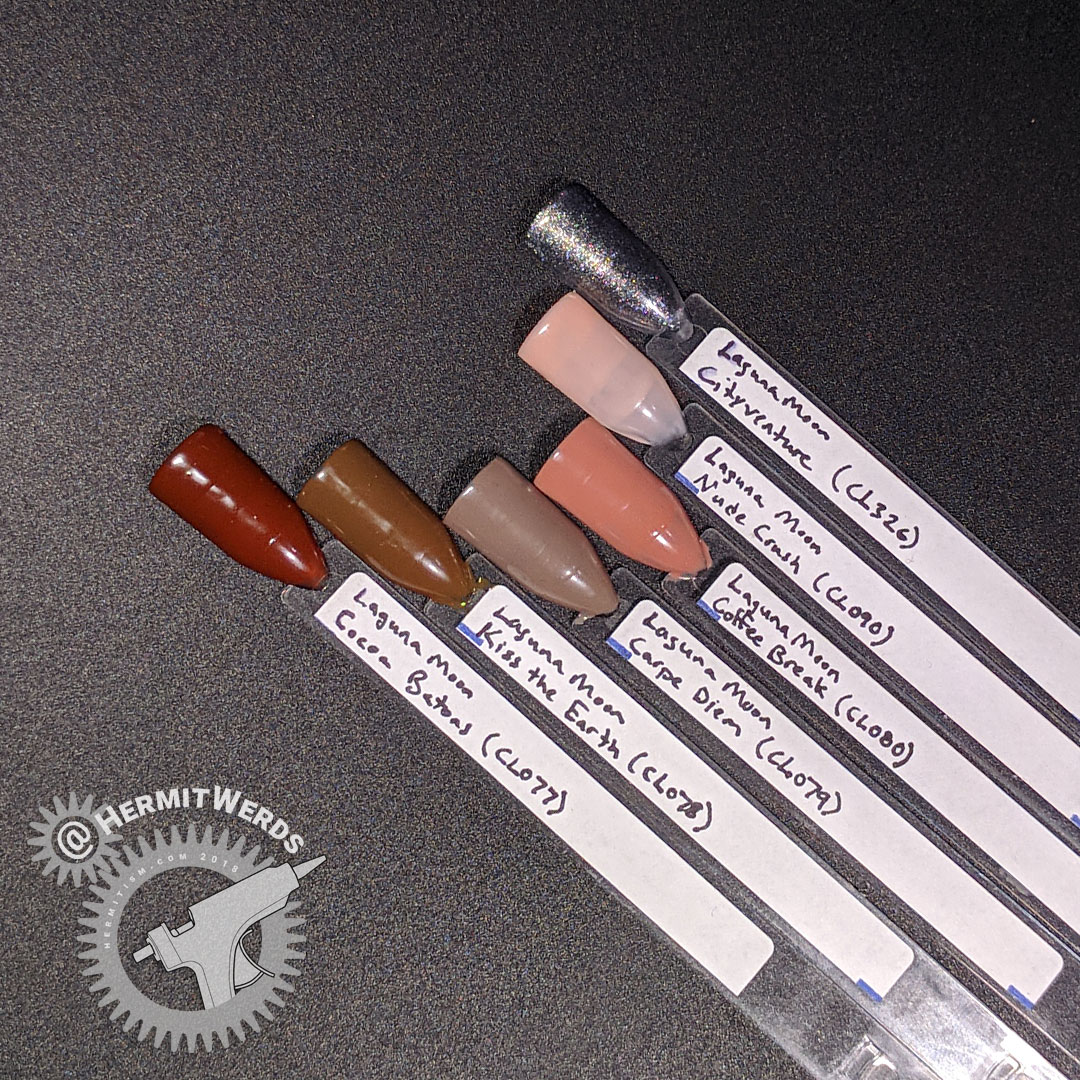 I normally don't show these, but the above are the swatch sticks I make for myself. I paint four layers with less of the "nail" covered each time so I can see the opacity and a little of how it applies. You can see that the jelly really gets opaque at four layers and the glitter polish isn't purely silver glitter. Weirdly enough I couldn't really capture all those colors when it was on my nails, although I could still see it as I went about my day.
CL077 – Cocoa Batons
Color – a dark red-brown creme
Coverage – three coats, but a little patchy on my natural nails
This is the color that changes the most depending on the lighting. It can look very red under bright lights but looks much more brown in low light situations.
CL078 – Kiss the Earth
Color – a chocolate brown creme
Coverage – three coats, but a little patchy on my natural nails
CL079 – Carpe Diem
Color – a taupe-y brown creme
Coverage – two easy coats for full opacity
CL080 – Coffee Break
Color – a rose-brown nude creme
Coverage – two easy coats for full opacity
CL090 – Nude Crush
Color – a peachy-pink nude jelly
Coverage – three coats, but a little patchy on my natural nails. Four layers would have been nicely opaque and hidden the patchiness, but three would be sufficient for a french manicure.
CL326 – Cityventure
Color – a grey jelly with silver glitters and occasional flashes of pink and green
Coverage – three coats, but a little patchy on my natural nails
I found the formula on all of these to be neither super thick nor super thin, though I do think it leans towards the thick side.
While the bottles are small and so are the brushes, the brush shape is nice. It's nicely flattened and just wide enough for easy application for both wide and narrow nails.
Wear Test
Now I did not have Laguna Moon's top and base coat to give it the best results possible so we can't judge on shine, but the site claims their gels last two weeks or more. Here we are on day one with two different polishes on my thumb since I don't have six fingers…
And here is my hand two weeks later…
There's definitely some wear on the edges, a few tiny chips, and a bit of lift on my pinkie where I managed to cut the polish while grating cheese (woops!). I'd say this did last the two weeks that Laguna Moon claims it will. I am very hard on my nails. My non-gel manicures are lucky if they last two days and I always have heavy tip wear. I have scraped at mineral deposits on my cat's fountain, washed tons of dishes without gloves on, and exposed these nails to lots of acetone as I painted my left hand several times. I probably abused my nails even more than usual because I didn't want to hold back and give a false result.
With a little bit more care and consideration for your nails (that I clearly lack), you will see very little wear at the end of two weeks and will only have to remove the polish because you want to. Lacking a photo that emphasizes the wear on the tips of my nails, it still looks pretty good. The magic of gel polish. 🙂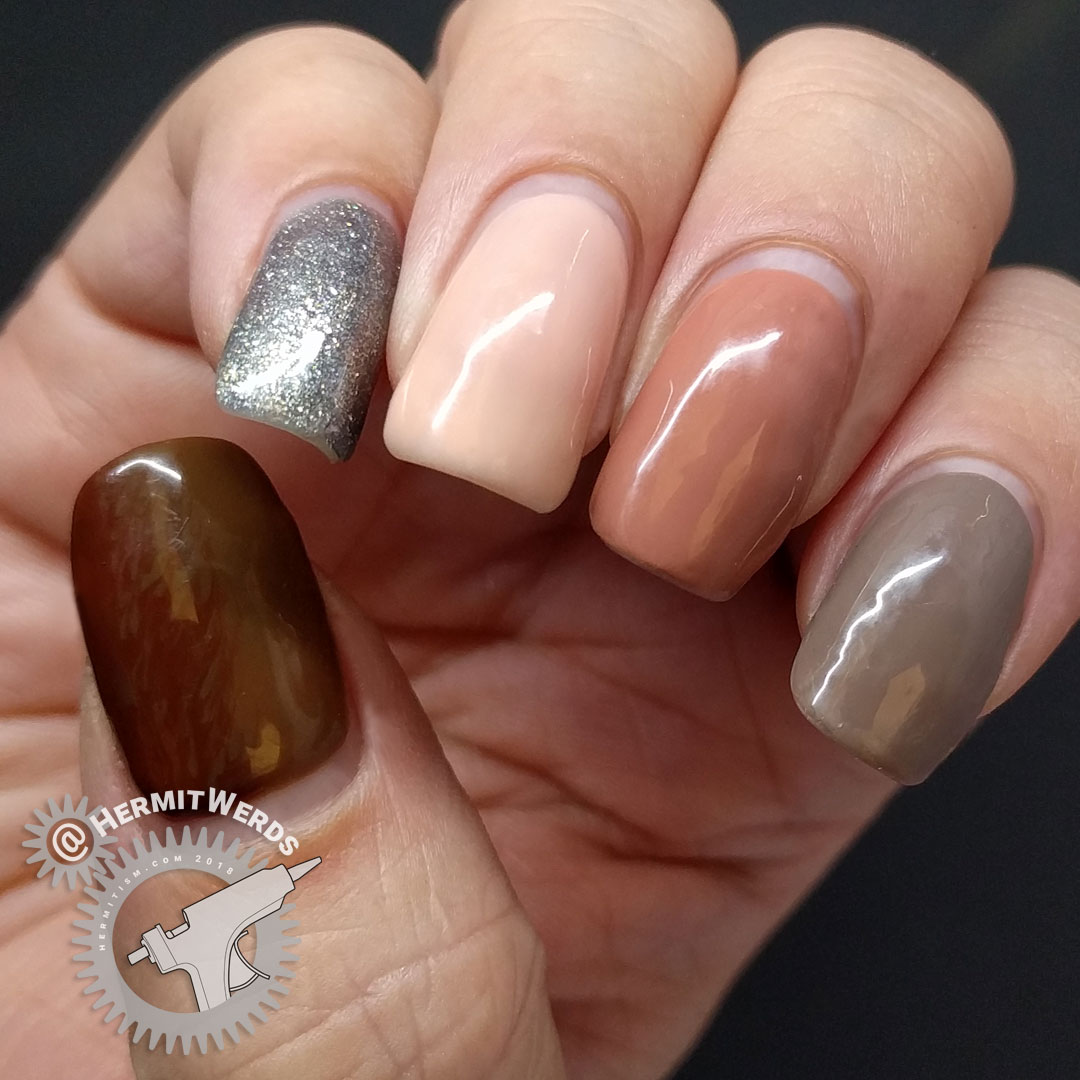 Removal
Since I did not use Laguna Moon's top and base coat, I can only say that I did not experience any staining both after two weeks of wear and for either of the freehand nail art I painted next.
Neutral Roses
This was my first time freehand painting with gel polishes. I loved not having to worry about my paint drying out and the raised surface the gel creates. You can also see in the photo that sometimes the patchiness of "Cocoa Batons" shows up more than others. When I painted my next design, I was more careful about not overworking the polish and I think I had better results. Accurate and few strokes is best.
Stylized roses ended up being pretty easy to paint. Draw a spiral and then draw c-shaped petals around it. Two strokes for each leaf. Done. If you mess up, they are also easy to wipe away and start over.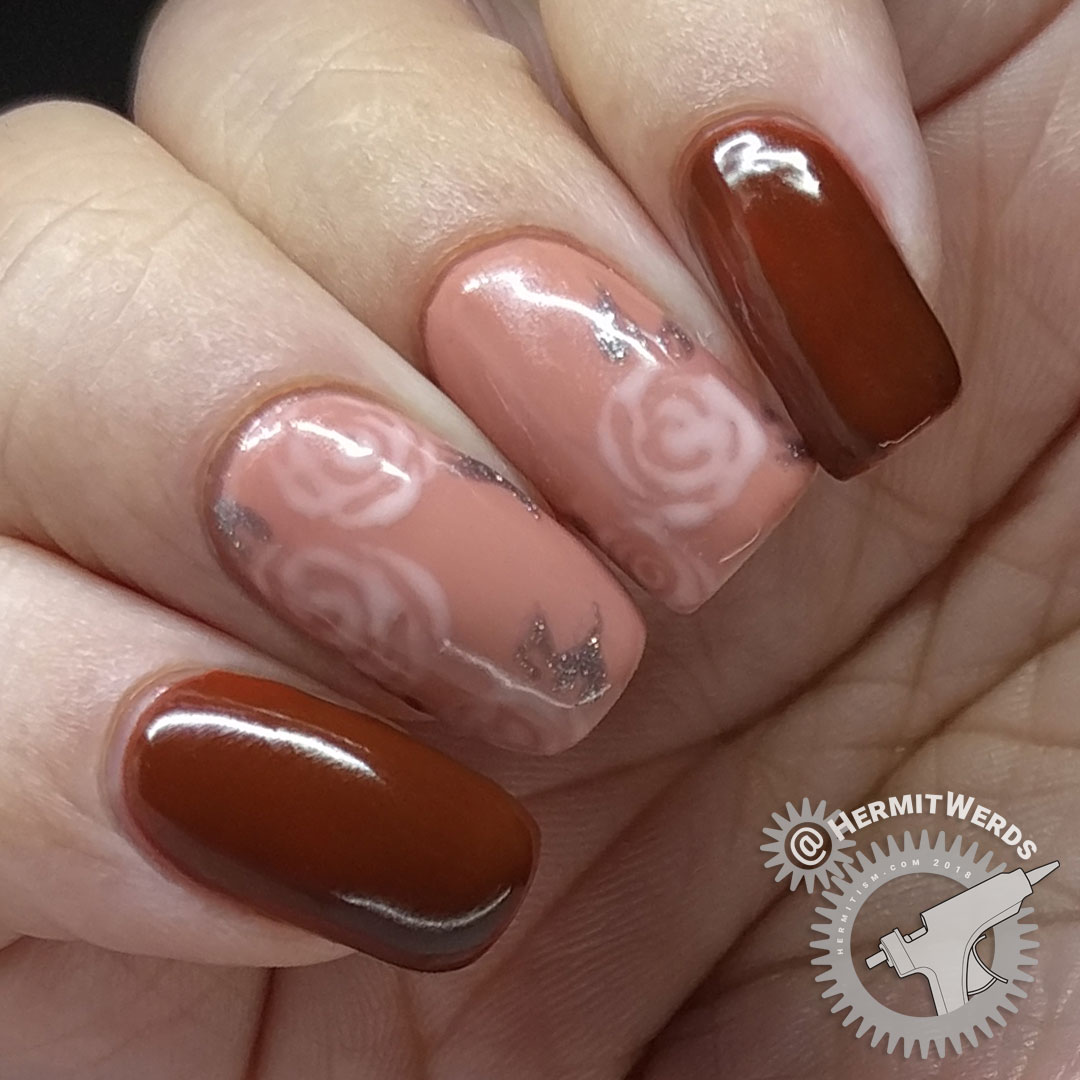 Neutral Pines
One thing I've noticed with the gel polishes is that it's hard to get sharp points and lines because the gel wants to level out. Leveling out is great when you're getting your base colors down, but it apparently has its downsides too. Still, I think this design worked pretty well and I even managed to sneak some rainbow in with holographic flakie powder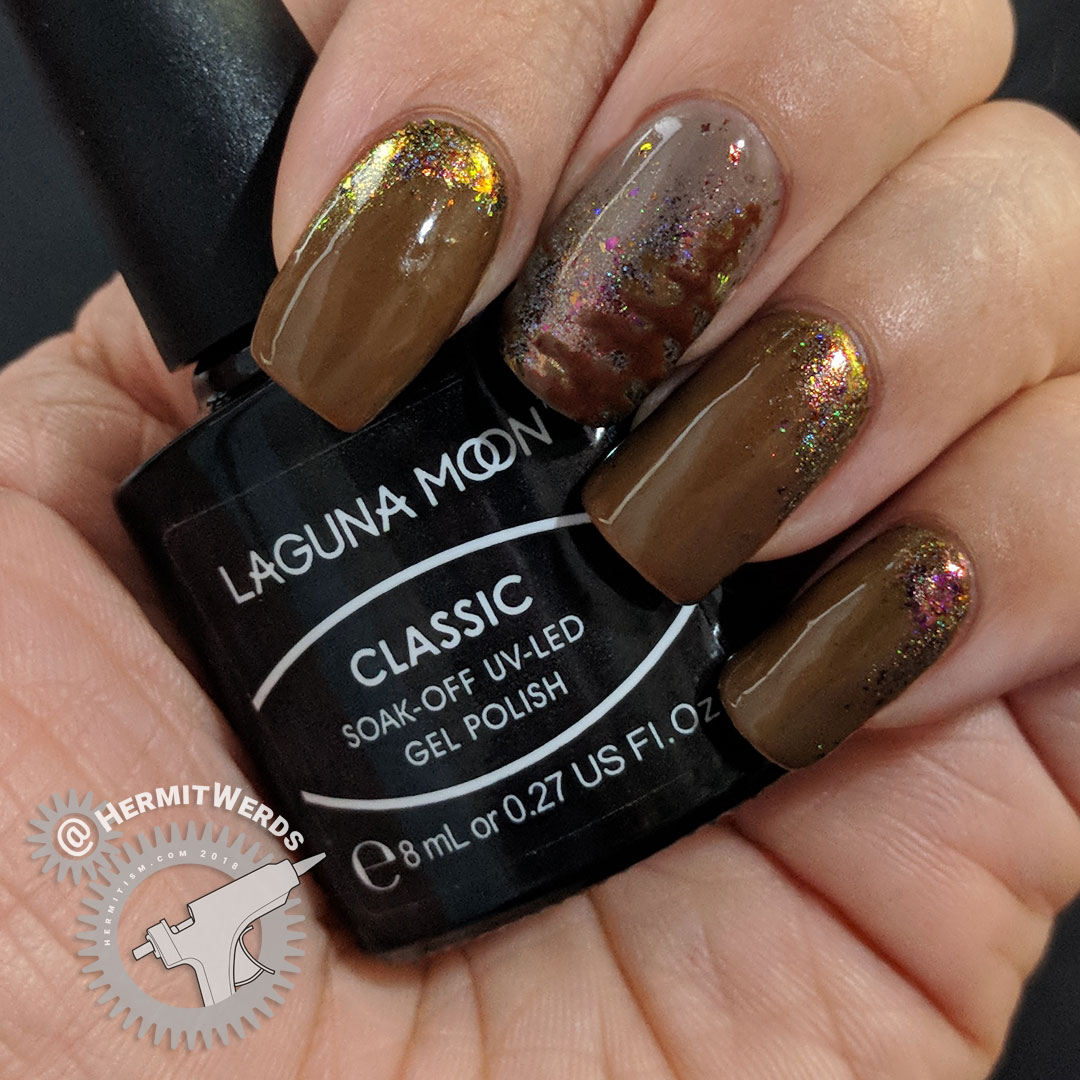 I was curious to see if I could buff in some powders before I added top coat and found out that I could. The polishes have a bit of a residue that, if you wipe it away with an alcohol wipe, will make it harder to buff anything in. But fresh from the lamp, there were no problems getting things to stick. Then I painted more gel polish directly on top. It would have been nice to use a darker color for the trees, but the redish brown has a charm of its own. I think "Cocoa Batons" ended up being my favorite color in the set.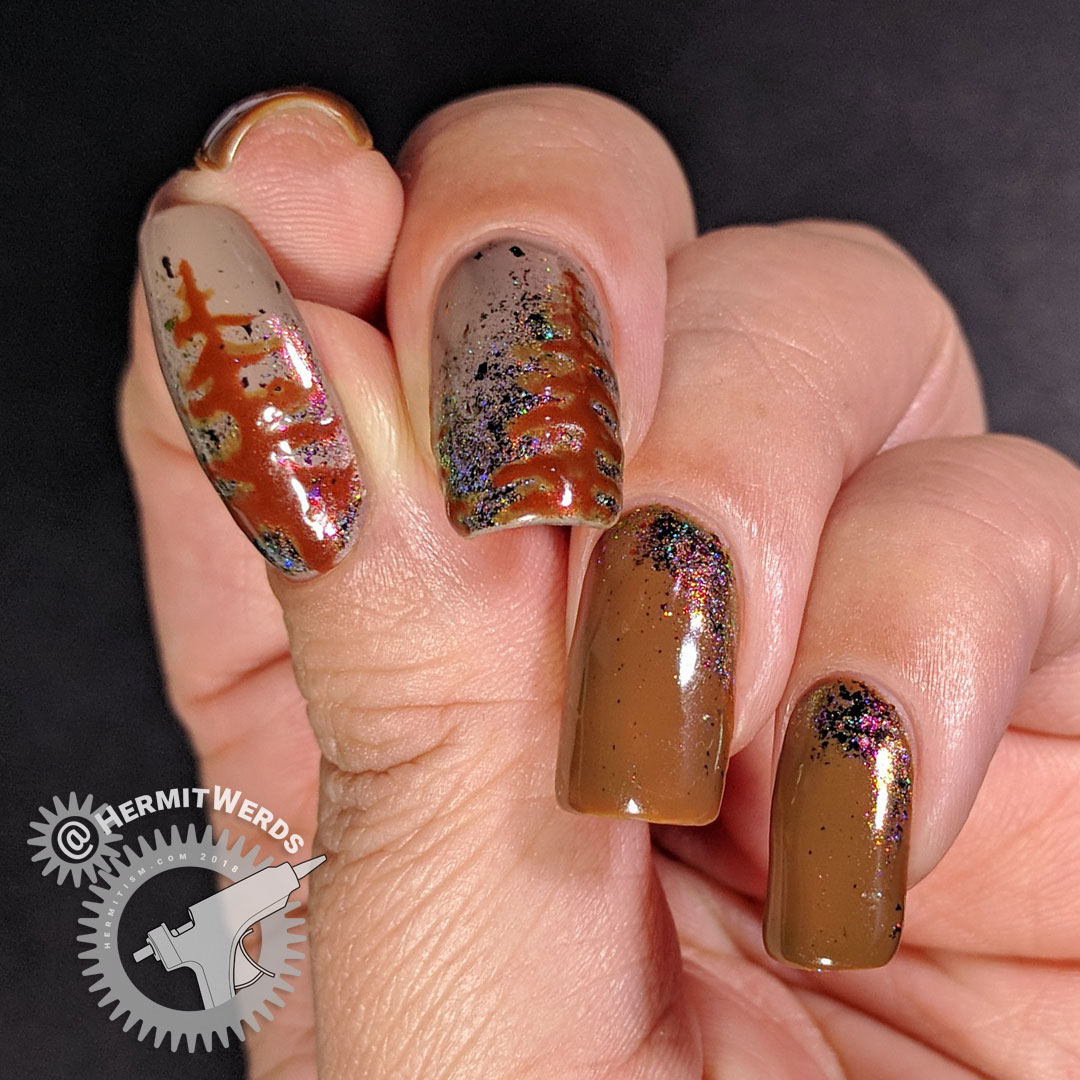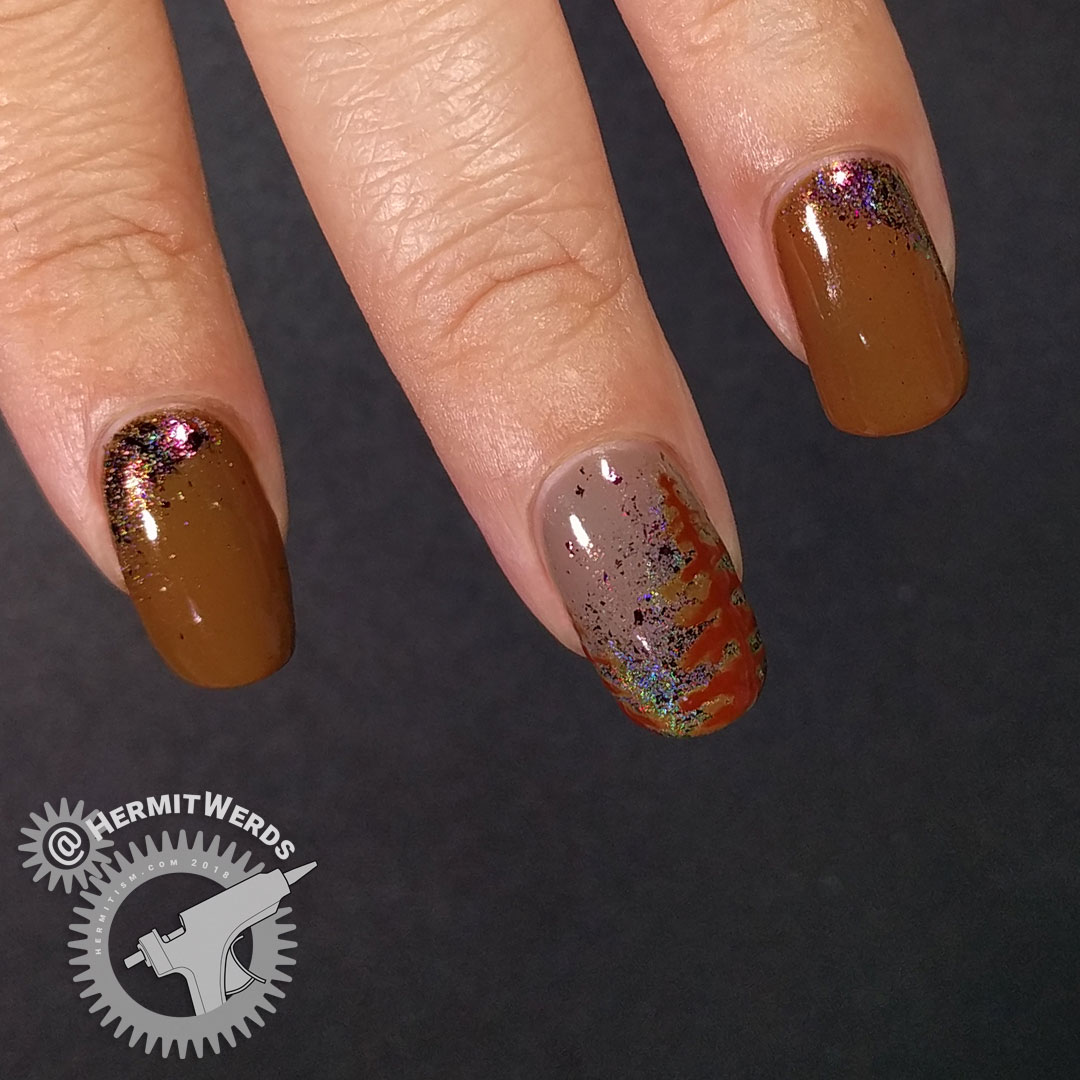 Discount Code
If you want to buy the Classic set from Amazon (ASIN: B01KJPFWDA), Kelly from Laguna Moon has given me a discount code for 30% off the set until December 31st: VIP10312
However. If you're interested in buying one of their other sets or some of the thermals or glow in the dark gels or their macaroon collection (whose colors I adore), they have an early bird black friday sale going on right now on their website. For 30% off what I'm guessing is your entire order you can use BLACKFRIDAY until black friday is over, I guess. LOL Sorry, they didn't send me info on this particular discount.
Laguna Moon's website offers free shipping if you're willing to wait 20-35 days, which is especially great if you don't have Amazon Prime or, like me, enjoy the anticipation of wondering when something will arrive in your mailbox. But there is also an expedited option if you can't wait.
If you buy using the black friday discount code, do please let them know who sent you. Otherwise they have no idea that having me review their polishes was a good investment.
Thanks for sending this set to me, Kelly! Until tomorrow, friends. 😉