[press sample]
Group scene nail art is a lot of fun and something I haven't tackled yet even though I have several stamping plates with them. Today I finally embraced the look with an image from Beauty BigBang's XL-028 stamping plate. It's a fun image with a lot of silly monsters only…it's not the only stamping plate that has it.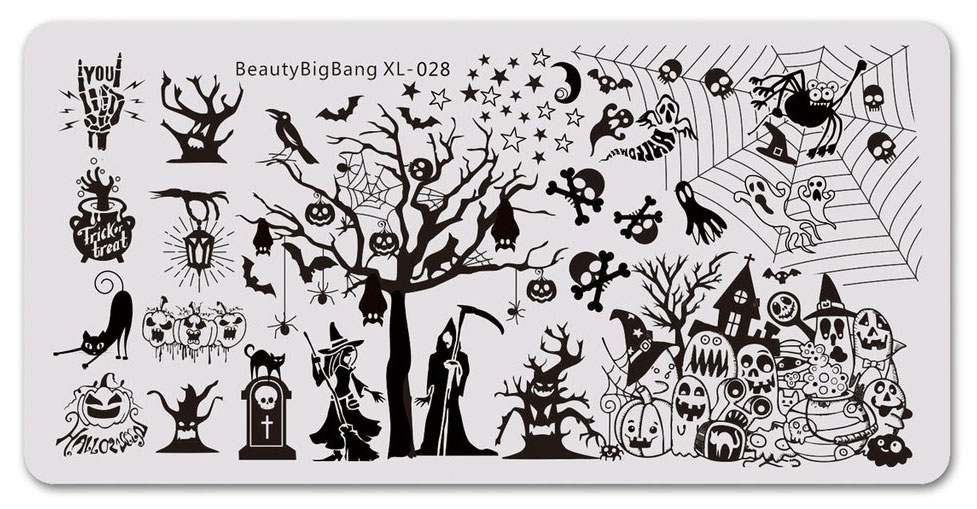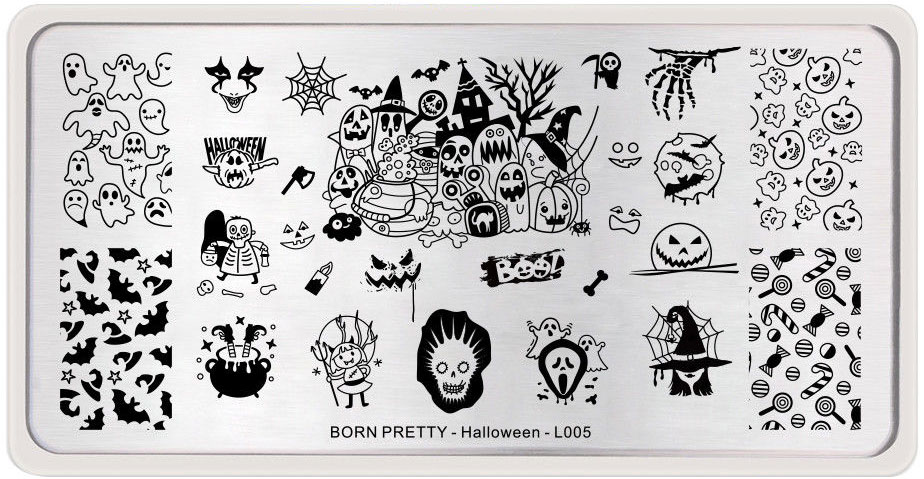 The Dupes
I don't know where all the stamping plate makers get their images, but clearly each individual stamping plate image isn't carefully drawn out by in-house artists or we wouldn't have these duplicates. The group image was the biggest oops I've seen, but there's a wheelbarrow guy I've seen on DXE, Born Pretty, and Beauty BigBang's plates. Both brands have the witch image this year as well. And owls…even UberChic's owl plate has images I've seen on other stamping plates. It happens. You just have to decide if you want to buy All The Stuff or if you want to be more selective and then make the best choice for your nail art-ing style.
Me? I am past the point where I want All The Stuff because I've faced the issues of Storing The Stuff and Moving The Stuff. And I'm also in the year of Using All The Stuff and seeing just how hard it is (kind of a nail artist's version of project pan). So The Stuff needs to be kept to a usable Stuff Level and that meant I chose Beauty BigBang's.
Why? Well, I liked Born Pretty's smaller images, but the full-nail images don't suit me. I generally use patterns as a background to the story I am telling on my nails, not as the nail art itself. So they were both too distracting and not distracting enough for me to use them much. So even though I think Born Pretty did a better job of matching everything together style-wise in a range of cute-ness, Beauty BigBang's is a better fit for me. I have a lot of stories to tell with BBB XL-028 and today is only the beginning.
(Also, I find it hilarious that they flipped the ghost spelling "Halloween" over so it's backwards now. I'm mean, okay? 😈 But isn't it a little bit like when UberChic spelled "spring" wrong and that became of the charm of the plate even though she did fix it in later runs?)
Edit 10/7/2018 – I also noticed a part of the dupe image is also on a square plate by Born Pretty: BP-X49.
Test Samples
I went super Halloween colors this time. I tried to get the mouths of the trees to glow in the dark, but failed to test it so it didn't photograph well. Always test your glow in the dark for enough glow (self)!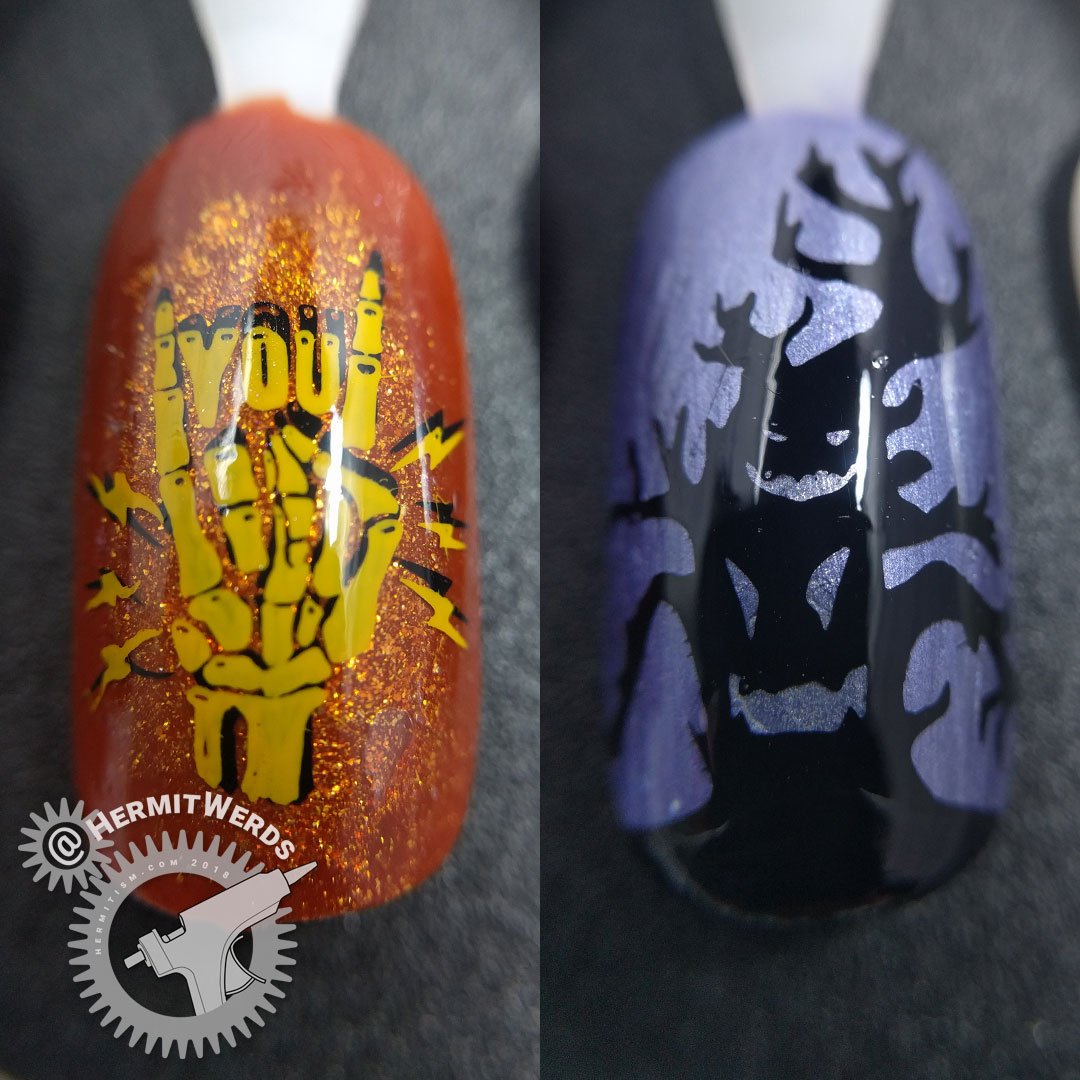 Skeletor Loves He-man. Background is Essie's "Playing Koi" with Zoya's "Amy" and Sinful Colors' "Cloud 9" sponged on top. Stamping done with Mundo de Unas' "Black" and "Mustard".
Scary Trees. Background is Revlon's Parfumerie "Moonlit Woods". Stamping done with Mundo de Unas' "Black" and filled in with glow in the dark acrylic paint. Revlon's Parfumerie "Espresso" used to make tip fully black.
A Mauve of Monsters
I thought it would be fun to pretend that "a mauve" was what you called a group of monsters and then create a monochrome look for it. I really don't have many mauve polishes though, so it was a bit of a stretch. Good thing you can mix polishes easily when filling in decals! This also fit into #LigaNailistaChallenge's Monster vs. Alien prompt. Obviously, I chose monster this time. 😉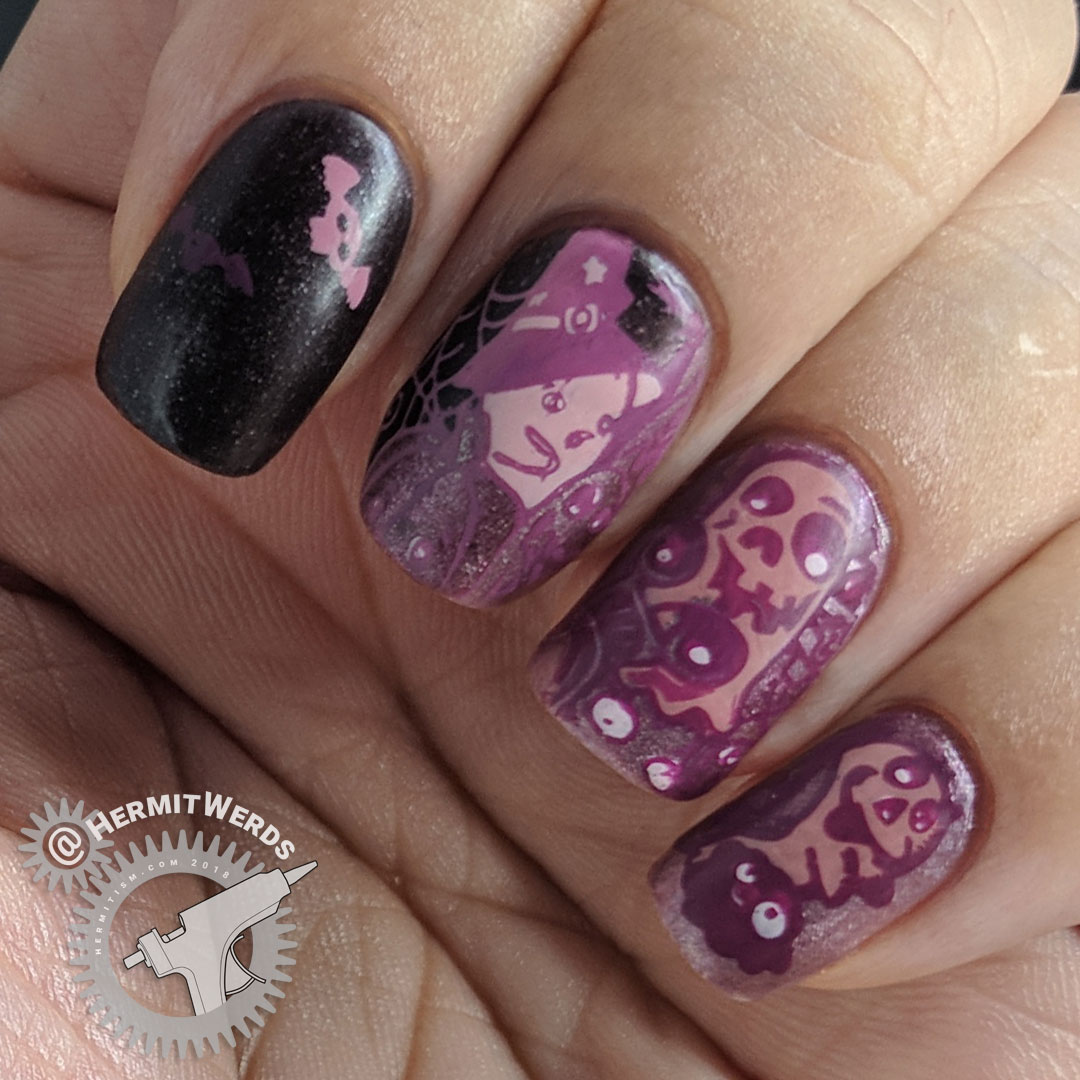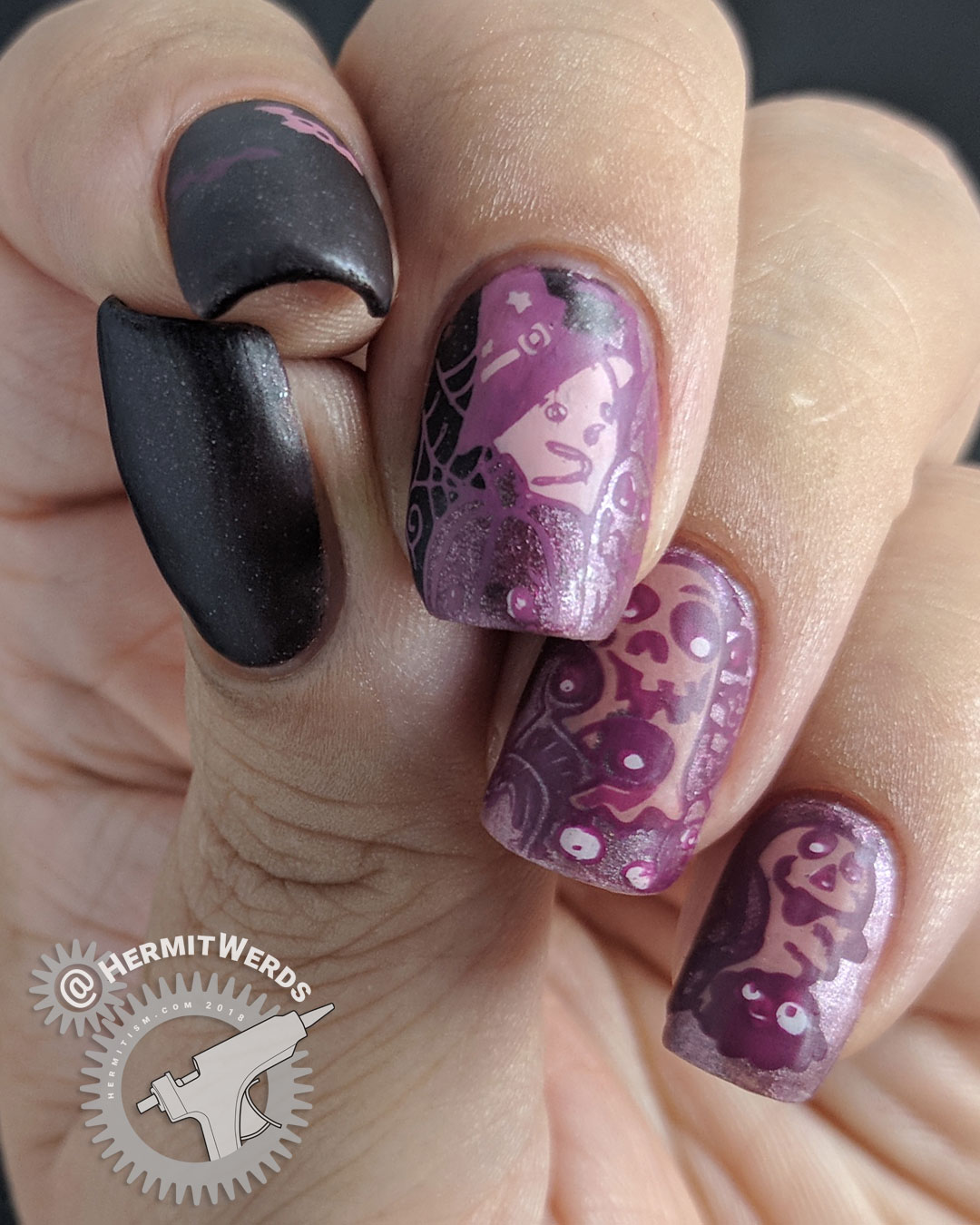 And one shot of it shiny before we go…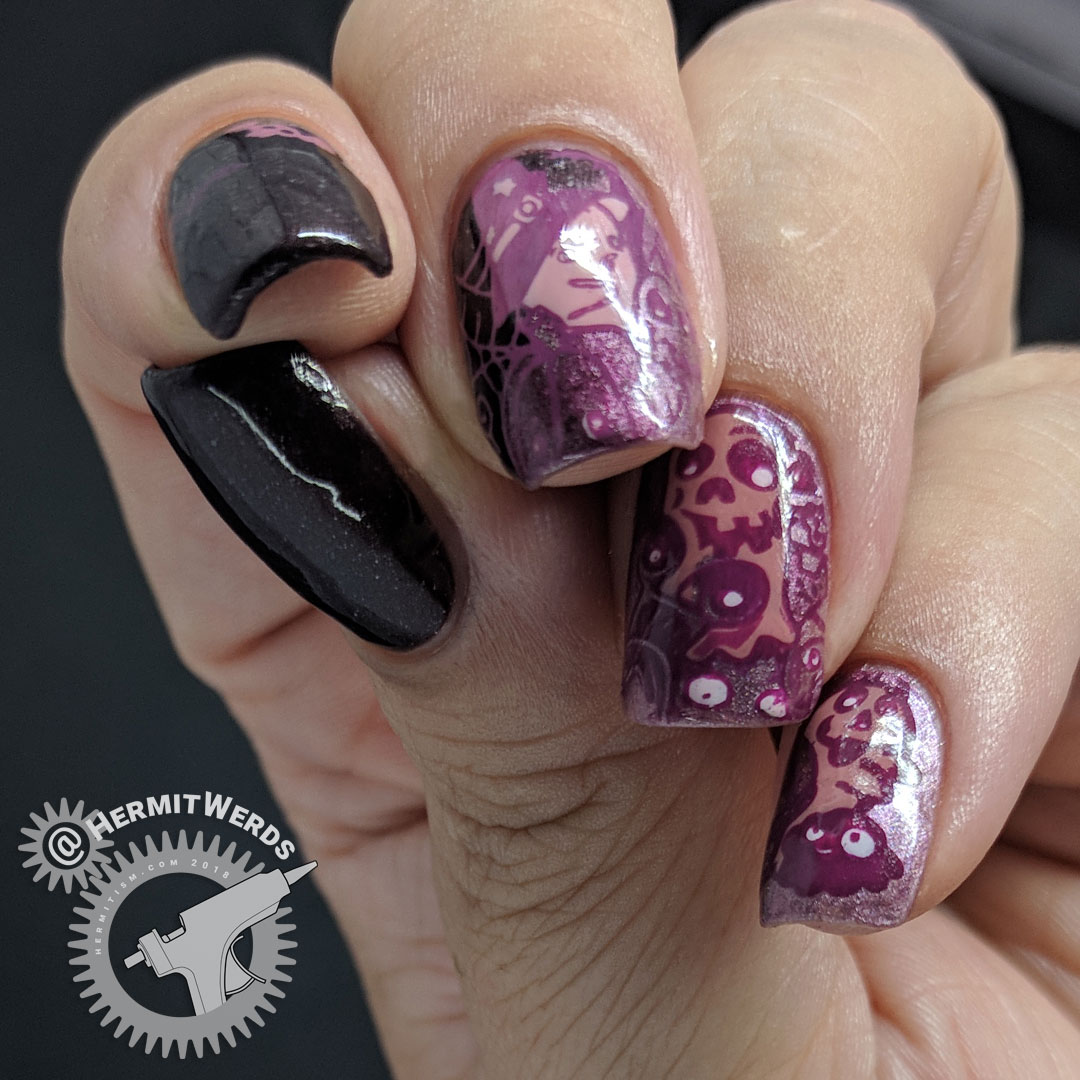 Final Thoughts
BeautyBigBang XL-028 is a great stamping plate with crisp pickup. I know I'm going to get great value out of it, but you'll have to decide for yourself if it fits your needs best.
If you're interested in the stamping plate (BBBXL-028) feel free to use my discount code (hermi) for 10% off your order. (Non-affiliate code). Thanks again, Maggie!