[Press Sample]
It's International Watermelon Day and Tena (@nailsit) put together a collaboration to celebrate. I thought it was the perfect time to review Beauty BigBangs' XL-001 stamping plate since 2 of the 14 images have watermelons on them. If you've been reading me for long, you would know my enthusiasm for stamping plates with food and this one also has some adorable jellyfish as well. Sold!
Quality and Test Samples
Unlike Beauty BigBang's square plates, the rectangular plates have a white plastic backing. The etching quality is great as I've come to expect from Beauty BigBang. They aren't super deep or shallow so they will work well with both super thick stamping polishes like Mundo de Unas and lighter ones like Bundle Monster's. I am sad to say, however, that the width of the images is 2mm smaller than their square stamping plates so I was forced to streeetch the full nail image on my thumb a tiny bit. This should not be a problem if you have narrower nails than mine. My thumbnail is about 16mm wide and the false nails I'm using right now are even wider than that at 20mm.
Now before I dive into my watermelon nail art, I wanted to try out something I've seen Michelle (Lacquer or Leave Her) do: paint a few test looks before I started working on my melons (although I am not painting them in a video). Naturally, I couldn't resist the image with the jellyfish. I also wanted to play with the hibiscus blossoms for a simple full-nail look. You can see that some of the stamping polish wasn't picked up in the middle of lines, etc. Right now, none of my stamping plates are working perfectly. It's just too hot. 🙁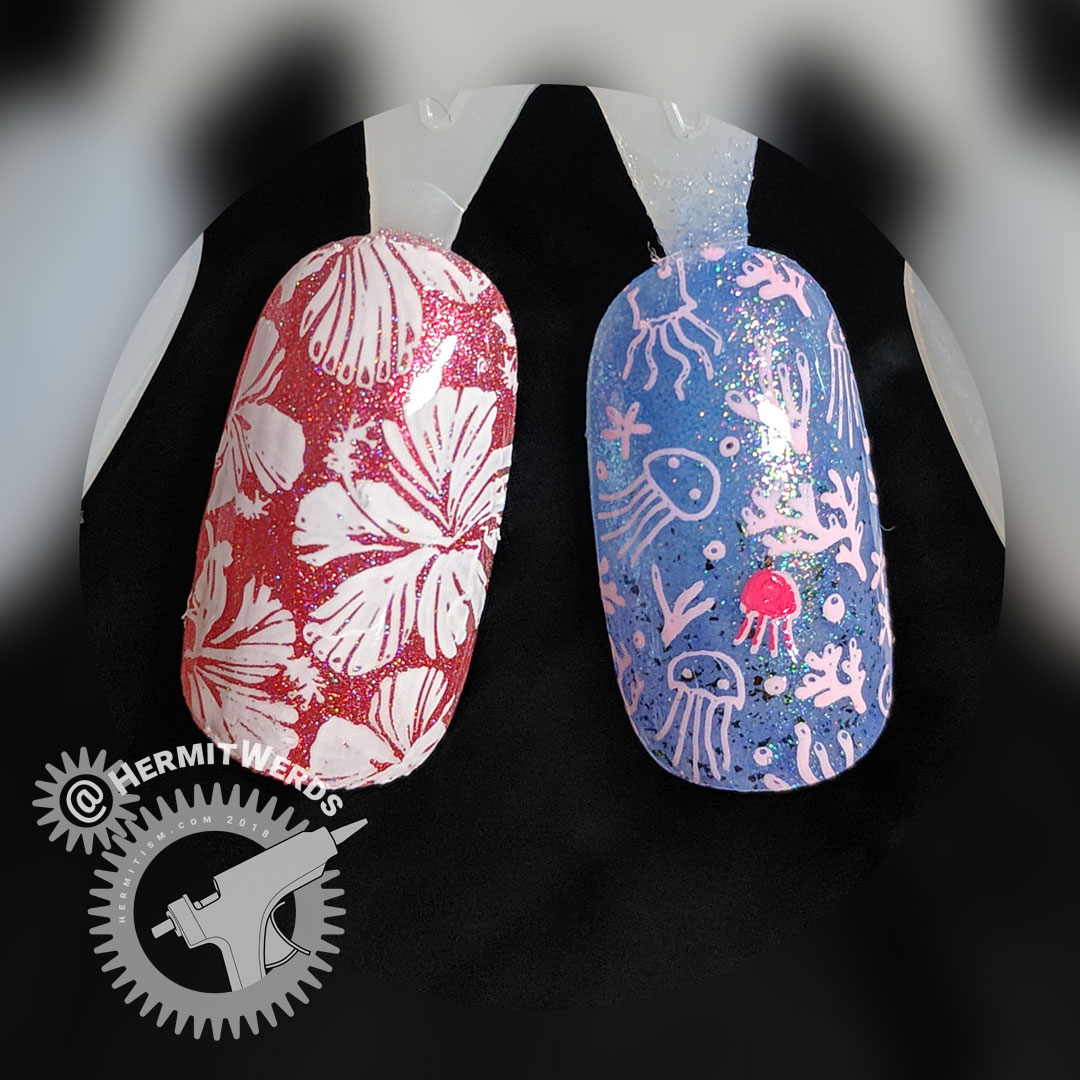 Jellyfish. Background is a gradient of Bee's Knees Lacquer's "House on Haunted Chill" and "Na Cl". Stamping done with Mundo de Unas' "Pastel Pink" and "Orchid".
Hibiscus Flower. Background is Colores de Carol's "Daydream". Stamping done with Mundo de Unas' "White".
And now…watermelon time!
I'm a little sad I painted the jelly over a white base. It stole all the lovely depth a jelly polish gives a mani. You can see how I prefer it on a watermelon mani I painted earlier this year.
You can see a little of how the stamping on my thumb is a bit distorted. It would not have been as obvious on my natural nails since they are less wide. If I'd had to stretch it much more than I did, I would have changed my strategy because it would have been too distorted. It would have taken more time, but I'd simply remove any incomplete melons and stamped the pattern on one side of the nail. Then I could have gone back and added more watermelons until the pattern looked complete.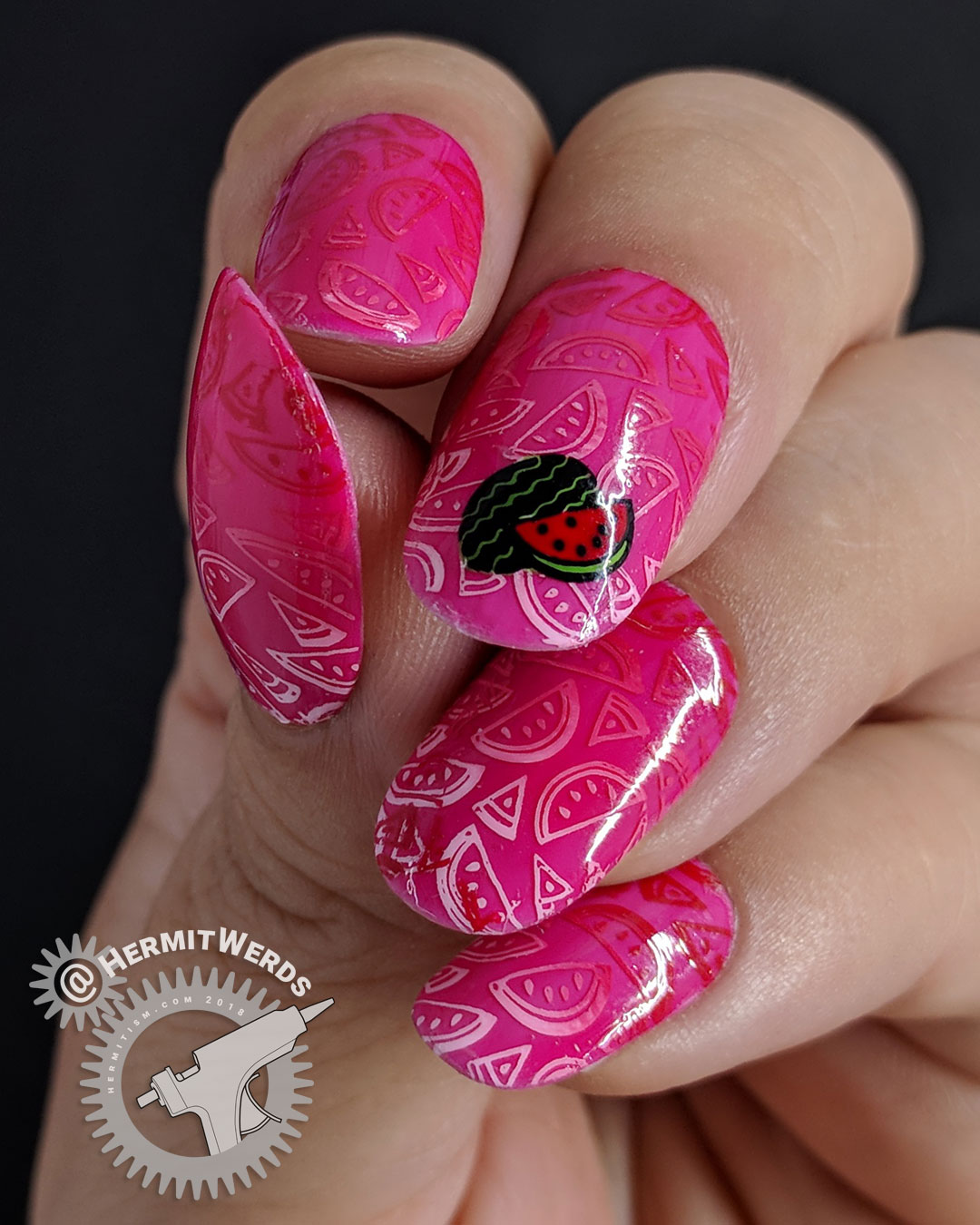 Final Thoughts
Overall, I'm really happy to have this plate in my collection. It's very summer focused and that limits its use throughout the year, but it covers a lot of the themes that pop up all during the summer so a lot of use can be gotten out of it during those brief months.
If you're interested in this stamping plate, it can be found at BeautyBigBang's site here. Use my discount code (hermi) for 10% off your order. (Non-affiliate code)
Watermelon Collage
Check out all the beautiful watermelon nail art. Tena even included some cool facts about melons in the collage! I don't know about you, but I've been really lucky when buying melons this summer. Every last one has been utterly delicious. Kinda off topic, but, still. Mmmm…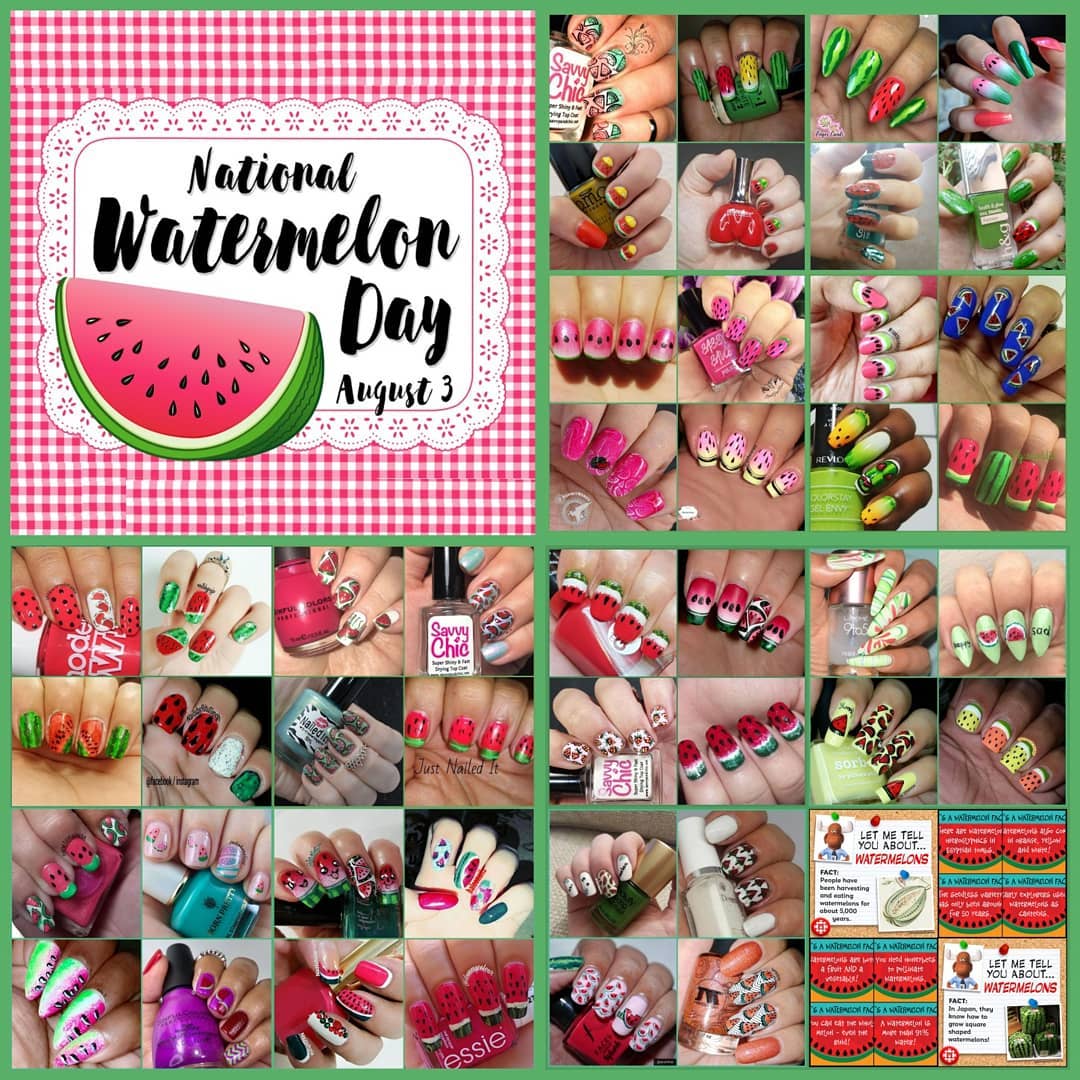 Before I forget (again), I also stamped with a gradient for #26GreatNailArtIdeas' Stamped Gradient prompt. Sorry! 😅