Welcome to Part 2 of my very long and belated look back on 2017's nail art. We still have five more months of favorites (and least favorites) before I start talking about what colors, nail polishes, and stamping plates I used the most in 2017 so let's jump in!
(Part 1) – January – July

(Part 2)
August
This is when the amount of nail art I got out in a month exploded. I went from 12 designs to 34 in one month, tackling multiple challenges and combining their prompts like crazy. To manage the load I added painting several designs on black or white gel polishes to my repertoire. It meant I didn't have to paint a base color every time and I've been abusing it ever since. I learned so much at this pace, but I also made a lot of nail art I was less excited about. One of them was In a Paper Boat because it didn't quite turn out like I planned. But people really liked it when I posted it so I eventually came to love it too. heh
I also purchased a macro lens for my phone, so macro shots popped up every now and then on the blog.
2 Cwl 4 Skwl Still loving this one so much. The soft gradient that ties everything together. The reference to reading and sci-fi/fantasy. Now I'd have to add speculative fiction, superheros, and paranormal to the mix, but back when I was reading in class instead of paying attention, this mani says it all.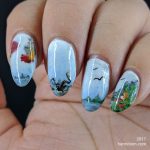 Airship Attacked With the increase in designs finished, I also freehanded a lot. I really should paint more realistic (yet obviously not given the subject) designs like this, but I own so many stamping plates it's hard not to use them. LOL Plus I have little interest in doing just landscapes so that would leave my channel flooded with monsters and dorky things. Not everyone would think that's a good thing. 😉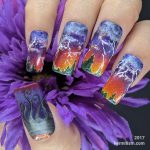 Shuttering of Stygian Skies This is my favorite freehand to date and I keep meaning to do a set for my left hand so I can pretend someday that I'll wear them out to something. That would really only work if I gave up and cut my nails really short because it looks funny to have nail showing under your falsies. Still. I want my full set of the Apocalypse!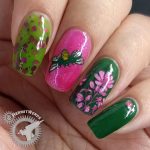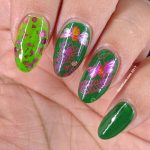 Busy Bees vs Busy Bees 2.0 As I mentioned in July I failed to follow the correct formula for this one. I just can't stamp with KleanColor metallics when fine details are on the line. It never works out well.
September
After one crazy month, you'd think I'd be tired. Instead, I was weirdly pumped and thought I'd give the #31DayChallenge another go even though I'd said I wouldn't do it again in 2016. I was right. The prompts are a bad fit. I painted a lot of nail art that just didn't fit my style, but I did try a lot of new things. I noticed more people were posting multiple photos you could swipe through so I started making collages of closeups of each finger and letting people swipe to see the full closeup. It was a lot of extra effort in photo-taking and editing so I quit doing it before the month ended. Collages in general do less well on my feed.
I also purchased a magnifying headset to help me fill in decals. Great tool for a nail artist. I have a big head, though, so it squeezes my melon and gives me a headache if I wear it too long. I need to use my husband's heat gun and see if I can't bend the headpiece back a little. Make way for my temples!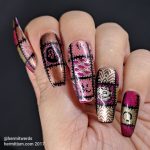 Dragon Quilt This was my second time piecing together a mani from swatches of polish and decals. It's basically nail art collage-ing and I don't think I've seen anyone do it to the level I have because I include water marbles decals, and stamping on my swatches. Anyway, I love this and would like to do a whole series of all the Chinese zodiac, but it's a lot of work so it keeps getting pushed back as a someday thing.
Also, I'm so mad at myself for orientating it the wrong way. I've learned to be more wary of that mistake when painting false nails.
Church of the Transient Butterfly I love stained glass. If I could add yet another hobby to my list, stained glass is right up there with making elaborate puppets. I would love to own a home with stained glass windows except my cat and I like to look outside and it's a bit harder with them in. Ah, well. I settled for lead lighting my nails and that's always a great technique.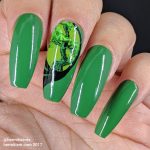 Rainbow Nature – Green I love the whole set of Rainbow Nature falsies, but I adore bonsai trees, so it was kinda a given that this would be my favorite freehand. Also, I failed to paint Apocalypse nails like I planned. I still painted a lot of freehand this month so I can't complain about failing to finish one design…except there's still every month since. :p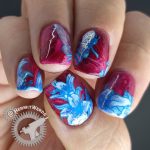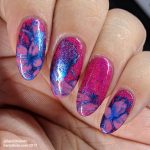 Lady of the Bees vs Lady of the Bees 2.0. You would think I would have learned my lesson from Busy Bees, but instead I not only made the same mistake, but I made it worse by using a holographic polish. Then I managed to smear the stamping as I was filling in the decals. Bad, bad, bad. KleanColor is not good for most stamping. I'm really looking forward to making this one right. (And I think I did, even with shorter nails!)
October
Halloween was here and I'm kinda surprised I didn't have more horror-filled nail art to do. I was a leeetle burned out, at last. My original intention had been to participate in Inktober, where you draw in ink each day, but I realized I did not have the energy for that. So I tabled it for 2018 (maybe) and painted when I could. I still managed to get out a horrific babies hanging in trees nail art. You just learn to accept over the years that your morbid nature needs to grow in the most natural way possible and embrace it. LOL
Creatures of the Night This was the perfect blend of a neat but very open subject-wise prompt and my desire to paint a coffee mani. Creatures of the Night totally equals vampire, right? I could be a little frustrated that my stamping didn't come out perfectly opaque, but I think it actually worked out this time by blending the images into the background a little bit.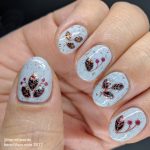 The Turning Leaves Rainbow is my favorite color and multichrome flakies are so, so pretty and rainbow-y. I will probably be painting something like this every now and then for as long as I paint nails. I'm also pleased they worked on short nails because it's a reminder that I can still do awesome things even if my talons are shorter.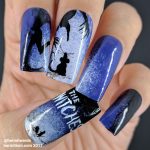 Roald Dahl's The Witches This was a tribute to second favorite Roald Dahl book, The Witches (my first being Fantastic Mr. Fox). I think I really just loved how sweet and loving the boy/mouse's relationship with his grandmother was. The witches, however, make a much cooler silhouette so they are the ones that were featured here. Cower, little mouse!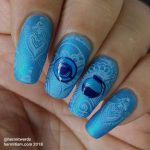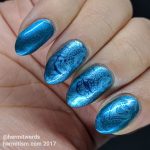 Coffee Blues vs Coffee Blues 2.0 I went a little out of order for this one for a recreation theme in April, plus I needed to get my monthly coffee nails in. LOL I love the cool blue feeling to it, but I had to try so many polishes to keep the blues inside that icy blue color scheme and still have enough contrast. I rarely have to go through so many swatches in my nail art. In fact, I frequently don't do any swatches at all because I've already swatched my polishes so I can hold the swatch sticks against each other. Monochrome color schemes sometimes just take extra effort. See: Coral Cruising
November
After a lighter load for a month I came back with a vengeance and painted like mad. My nail art was all over the place topic-wise: from turkey-eating day to green giraffes. The rainbow was strong this month. Also, I really enjoyed all the Black Friday sales. Heh. I think my favorite new indie brand (for me) was KBShimmer. Crellies, holos, cremes, they were all amazing. I'm going to be handing her my money for a long time to come, I think. This is also the first month I started coloring nail art in with Sharpie ink.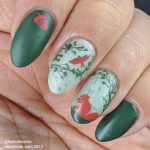 Squirrel Park Picking favorites this month was hard, but I love this little squirrel design too much. I couldn't even tell you if I thought this was in my best three design-wise because I'm emotionally too biased. It's a cute little squirrel under a tree! And I just want to feed it and hug it too much.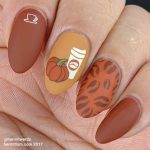 Pumpkin Spice Latte Orange is one of the colors I wear less often, but I am really into those de-saturated oranges that remind you of food. So this was the perfect mani for me and it really taught me that darker de-saturated oranges need a matte top coat if I'm wearing them. If only I'd really understood that on earlier designs.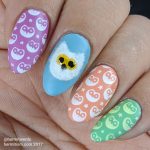 Owl Pajamas This was my first time using flocking ever and I haven't used it since. I actually have quite a collection of flocking in my craft hoard and I really want to do wear tests someday and also kiwi nails. I'm talking the fruit, but the bird would also be a lot of fun. Soon, I think. Meanwhile I love this design and I'm really happy I realized I needed to add more sparkle in the eyes because without it, the design would have looked weirdly flat, but with flocking. I will have to remember that the next time I use flocking.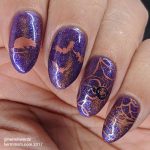 Thankfully Purple vs Thankfully Halloween This was a sad case of settling for something I really wasn't happy with just so I could cross it off my schedule. Which, amusingly enough, does rather fit with what it's like to craft with my stepdaughter. She only has so much attention span even when she wants to do something so she'll eventually start dancing around and wiggling and you finally just have to stop because you're not doing the activity you were doing with her anymore. Wish I had her energy.
December
Christmas is a busy time of year so I'm unsurprised that I did not paint as much this month. In fact, quite a few of the designs I posted were finished in November. Quite a few holiday- and winter-themed designs filled my Holiday category for me. And now that I'm thinking of it, it occurs to me that I could handle that part of the menu better in the future. Hmmm…
I'd also like to give an honorable mention to Polar Bears Sleigh because I like punny nail art .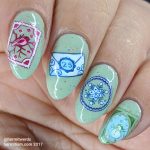 Christmas Cards I love the look of these mailing stamps and seals on my nails. It's such a cute theme. I would love to have a complete set of seasonal stamp nails, but I'm going to have to get real creative because I don't know of any stamping plates with a bunch of stamp designs besides the one I used here. Vee shall see. This whole blog post has been full of mentions of nail art I want to paint in the future.
Peppermint Coffees Only one falsie favorite this month and, oh, how I love thee peppermint coffee. 'Tis cruel that peppermint creamer is not sold year round but then it wouldn't be special. I embrace you seasonal marketing! I was really afraid I wouldn't be able to paint this well, but I managed to get myself to do it anyway. Glad I did. I mean, the proportions of the reindeer don't exactly match the inspiration image, but I am probably the only one that cares about that…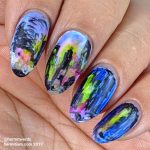 Rainbow City For once, I just took out my Sharpie markers and went to town with barely a plan. Fortunately I wasn't supposed to be exactly replicating the inspiration image. Heh. I both drew directly on my nails with the marker and used rubbing alcohol and a paint brush with the ink. I think it ended up working really well, but since I like robot precision this isn't something I expect I'll do often.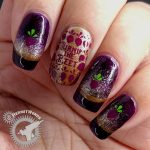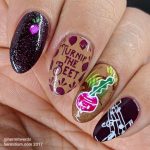 Un-beat-able vs We Beet Again This a classic doing the nail art for the principle of the thing which was using all my UberChic stamping plates once before the end of the year. And because I forced it, of course, it didn't work out. I threw way too many elements in the design. Is this a pun and that's why the music notes are there? Why is the turnip kawaii? Why would I ever combine those purples with those browns in that way? All questions I must answer when I recreate this one.
Most Used…
In 2017 I wrote 178 blog posts and painted 171 different manicures. That's almost one manicure every two days! Woof! I don't think I'll manage the same numbers this year because I had those three crazy months, but I think I have improved my ratio of nail art that I paint and love. And that's important. I still remember the days when I liked maybe one out of four designs I completed. Those were painful days and we don't share photos of them, but that's more because I wasn't on Instagram or had a blog. I wish I had been sharing them because I think I would have improved faster and made more friends. Oh, well. Learning takes time and I grew a lot in 2017. I hope I can do so even more in what's left of this year… /cough
Like learning that I need to start my year-long summary now if I want to post it in January. LOL
…Colors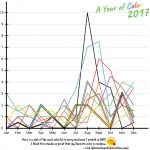 I keep a spreadsheet of all the nail art I paint. I track what techniques I use, the main colors in the design, and what challenges/groups they are for. I used the colors I tracked to put together the chart to the right, basically a line graph of each color and how frequently it's the main color of my nail art. Blue and black ended up heavily on top for a few months because of the all the nautical prompts, but it's still fairly scattered. I like to think it's proof that my favorite color is rainbow. But it's also biased because I put it together. So here is my chart for 2017 from Year of Colour: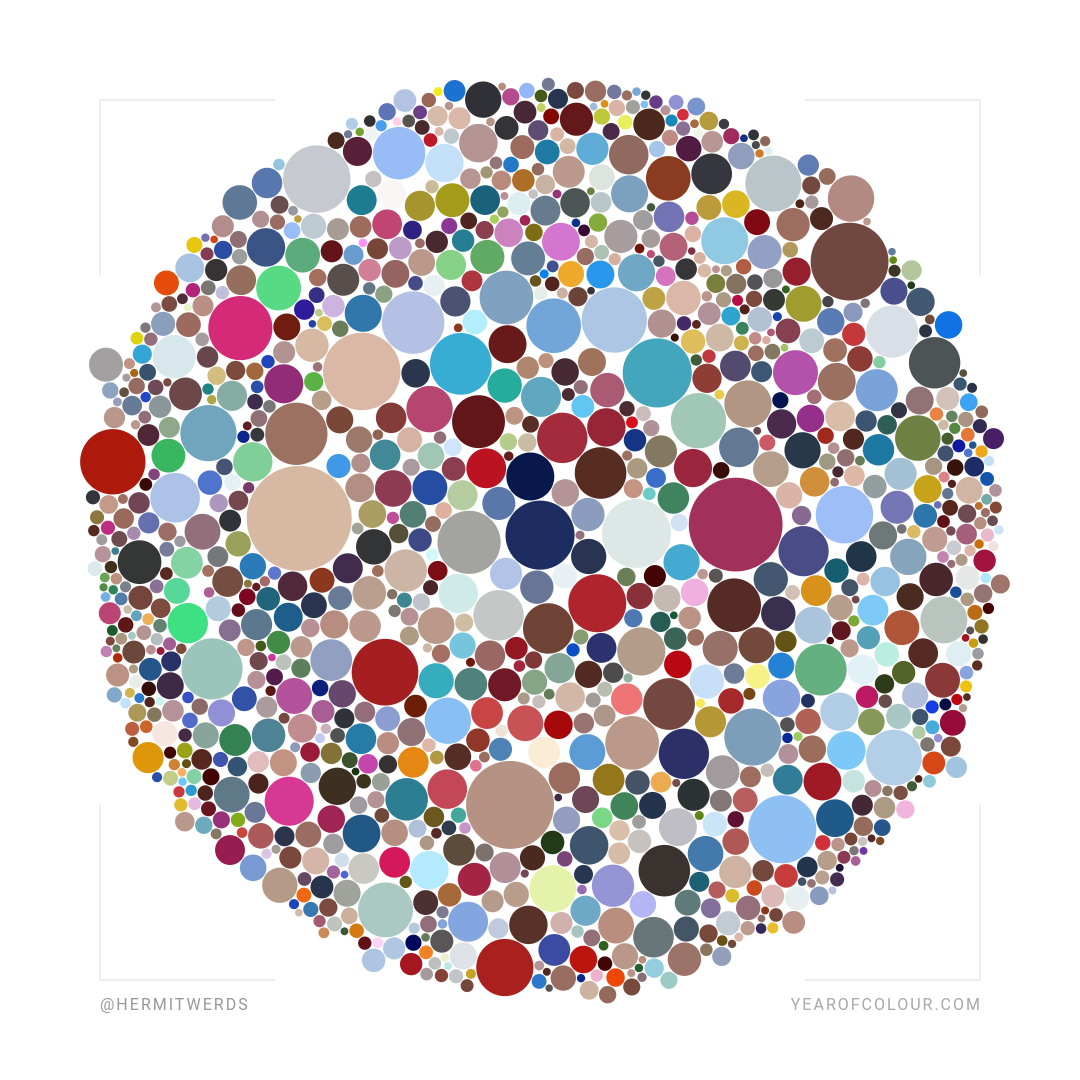 Year of Color basically looks at your Instagram account, samples the colors in your photos of the main subject, and puts together a cool-looking chart that shows how often different colors appear. It clearly doesn't agree with my claim that I used black a lot, but it does show that I use little bits of neutral colors quite a bit. And that's true. I think I use neutrals in my decals quite a bit. I can see the frequency of polish use on my blog and I definitely have some neutral favorites…
…Polishes
My most-used polish brand is Sinful Colors, which appeared in 65.5% (112/171) of my designs in 2017. It is my favorite mainstream brand because it's so accessible and affordable. And a good ratio of the polishes have a great formulas too. It will likely always be my most-owned polish brand because it got a head start when I was poor and couldn't afford indie polishes. And I'm certainly not going to buy a color I already have so they are there to stay.
However, my most-used polish is a stamping polish: Mundo de Unas' "White". This also makes sense because I challenge myself to not use black to stamp all the time, but I never challenge myself that way about white. And even with that silent challenge happening in the background, I've only used white six more times than black. Heh.
My next most-used polish is Essie's "Good as Gold" (9) which I also use for stamping. Then I've used Essie's "Partner in Crime" and Zoya's "Spencer" and "Jacqueline" seven times each. All neutrals, right? You have to drop down to six uses each (Sinful Colors' "Daisy Daze", "Ruby Ruby", and "Tokyo Pearl" and Jenna Hipp's "Say Yellow to my Little Friend", OPI"s "Going My Way or Norway", and B. Loves Plates' "B a Cherry Lollipop") to get to non-neutrals. So…a really light yellow (which some might call a neutral) and two different reds are my most-used colorful polishes. I think that supports the validity of Year of Color's data. 🙂
…Stamping Plates
Finally, we get to stamping plates and naturally my most-used brand is Born Pretty, which appeared in 27.5% (47/171) of my designs in 2017. I own a lot of their stamping plates and–unlike Bundle Monster where I bought entire sets of circle plates–I individually picked each one as something I want to use. I've had to curb my purchasing of their plates lately because I still have so many I haven't used yet. They're just at a price point that's so easy to buy!
My most-used stamping plate is a tie between two plates at four uses each: Uber Chic's The Far East-02 and Bundle Monster's BM-XL135. Both favorites make a lot of sense. I love Far Eastern-themed nail art and I love Steampunk (therefore Victorian-era). I will be surprised if these two plates aren't near the top in usage this year as well. I've already used the UberChic one once.
Product Usage
The last time I talked about product usage was clear back in November. I was trying to use everything I had purchased from more expensive brands at least once before buying more during the holiday sales. I had already conquered CICI & SISI, Ejiubas, ILNP, KleanColor, Mundo de Unas, Pretty Serious, Turtle Tootsie, and Zoya. I succeeded in using all of my Celestial Polish, Cupcake Polish, Ms. Sparkle, Shinespark Polish, KADs, Moyou London, and UberChic purchases, but totally failed at reaching my goal with Bundle Monster. I still bought more Bundle Monster. They seem to be my weakness along with Born Pretty. /sigh
The holiday sales were good to me. I tried a few new brands like Bee's Knees Lacquer and KB Shimmer and loved them. But with new products comes the renewed goal of using them and I expanded it to more of the brands I own. For the polishes, I still have Bee's Knees Lacquer, Born Pretty, China Glaze, Dance Legend, Essie, Look, Masura, Ms Sparkle, ORLY, Pretty Serious, Sephora, Shinespark Polish, Turtle Tootsie, and Zoya. For the stamping plates I have Bundle Monster, CICI & SISI, Clear Jelly Stamper, KADs, Moyou London, and UR Sugar. Plus I do want to make a dent in my Born Pretty and misc Aliexpress purchases.
I plan on a future post where I talk in more detail about all the stamping plate and polish brands I have and what I use most from each so that's all for now. 🙂
Congrats for surviving this super long blog post! Between this and part one you've read 5,626 words. We all deserve a break now. LOL
Except how can I have a break when there's clearly so many nail art designs I could be painting? o.O