My husband has gotten used to me shoving my hands in his face and squealing 'look-ee!' Well, I finished these after he went to bed and I wasn't quite awake yet when I said "Look, husband, butterflies!"
I think it's fairly obvious these are not butterflies and I corrected myself to which he replied, "Well, beetles are just warrior butterflies."
"I'm not sure if I love you more or less for saying that."
Snickers on both sides.
"Yeah. Definitely less."
Don't worry, folks. I love him so much already he barely felt the deficit. 😉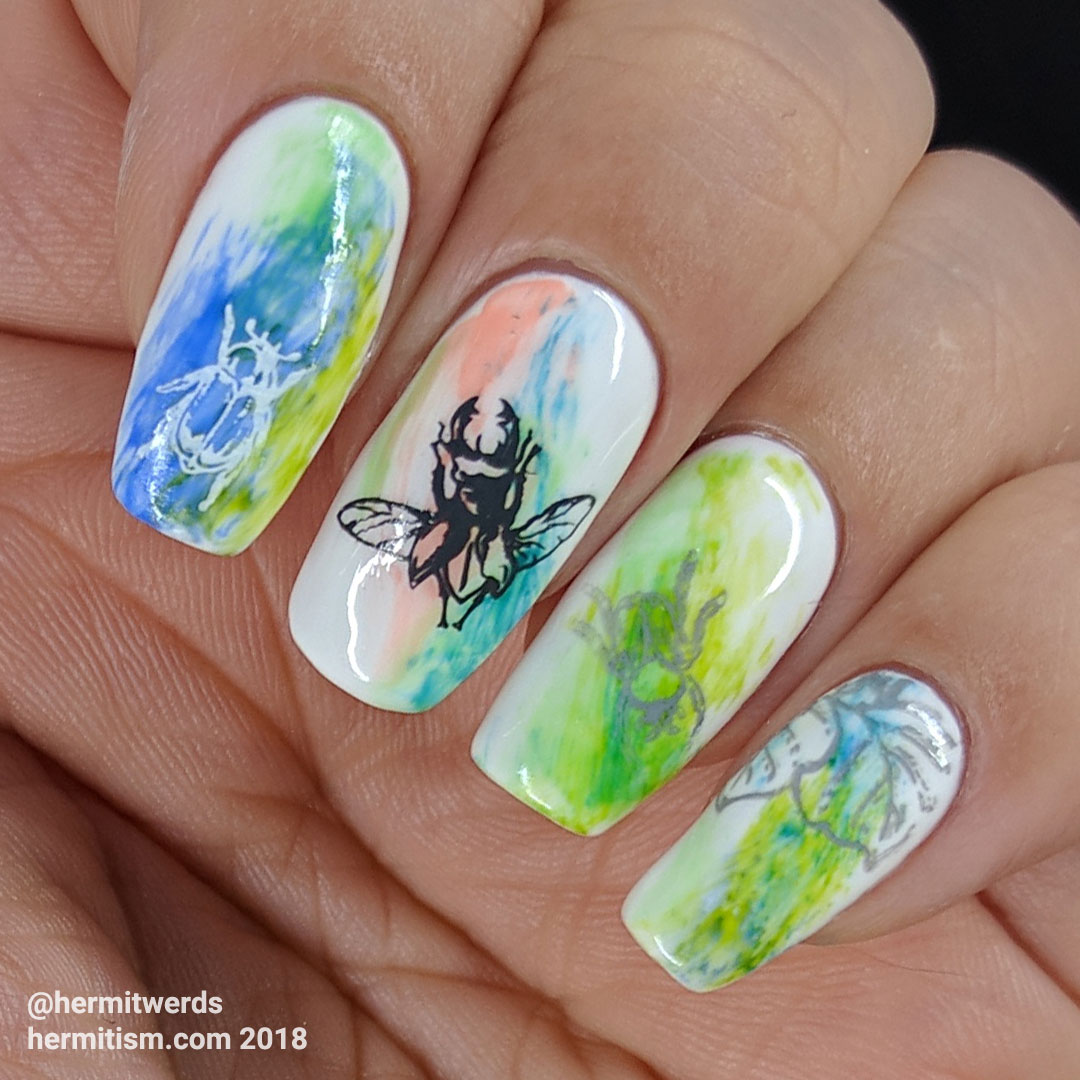 Nail Challenges
#AZNailArtChallenge – beetles
#ConceptNailArt – dry brush
#NailChallengeCollaborative – pastel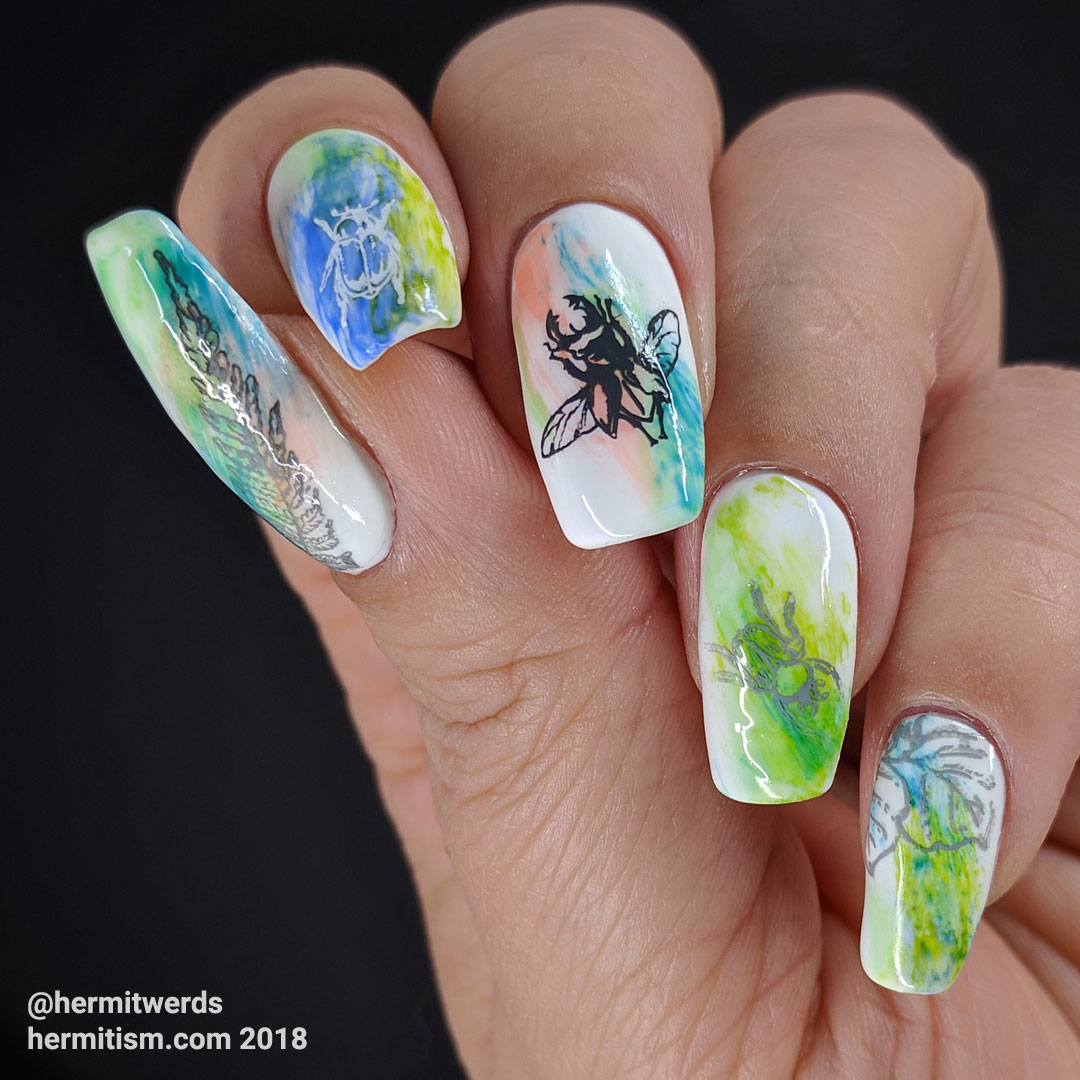 So, yes, this pony is back to using a white base for the next bit. Let the rainbows commence! I started off with some dry brushing of jelly-like formulas. I was originally going to go with an analogous yellow/green/blue color scheme, but my hand wandered over to the neon orange. I went hmmm inside and put the yellow back. Really glad I did. I am loving that little pop of peachiness. It pops! Plus I've already done the other color scheme ages ago. 😀
I didn't want the stamping to compete with the splashes of color so I stamped in white/grey/dark grey. I even gradient stamped the big leaf on my thumb because I didn't want it to blend in too much, but I didn't want it to stand out either. I tried to keep most of the attention on the most elaborate beetle by making it the darkest stamp.
Can we talk about these stamping images? Bundle Monster was a bad influence again and came out with a square plate Botanical set last month. I had a coupon so resistance wasn't happening. One entire plate was dedicated to bugs and foood. Yessss! I'm sad there were no centipedes, but it did have three great beetles. Most of these plates have very detailed images of flowers to succulents with no full tree images done in a Plants of the West (or whatever) guide's illustrations. It was kind of funny because my nails feel super big right now so I was comparing the images to my nails and going…these are so tiny. My nails are about 2cm long right now and they are pretty wide so unless you have really long nails these are a great size. And the full nail patterns easily cover my entire nails. I'll try using them soon so you can see I ain't no liar.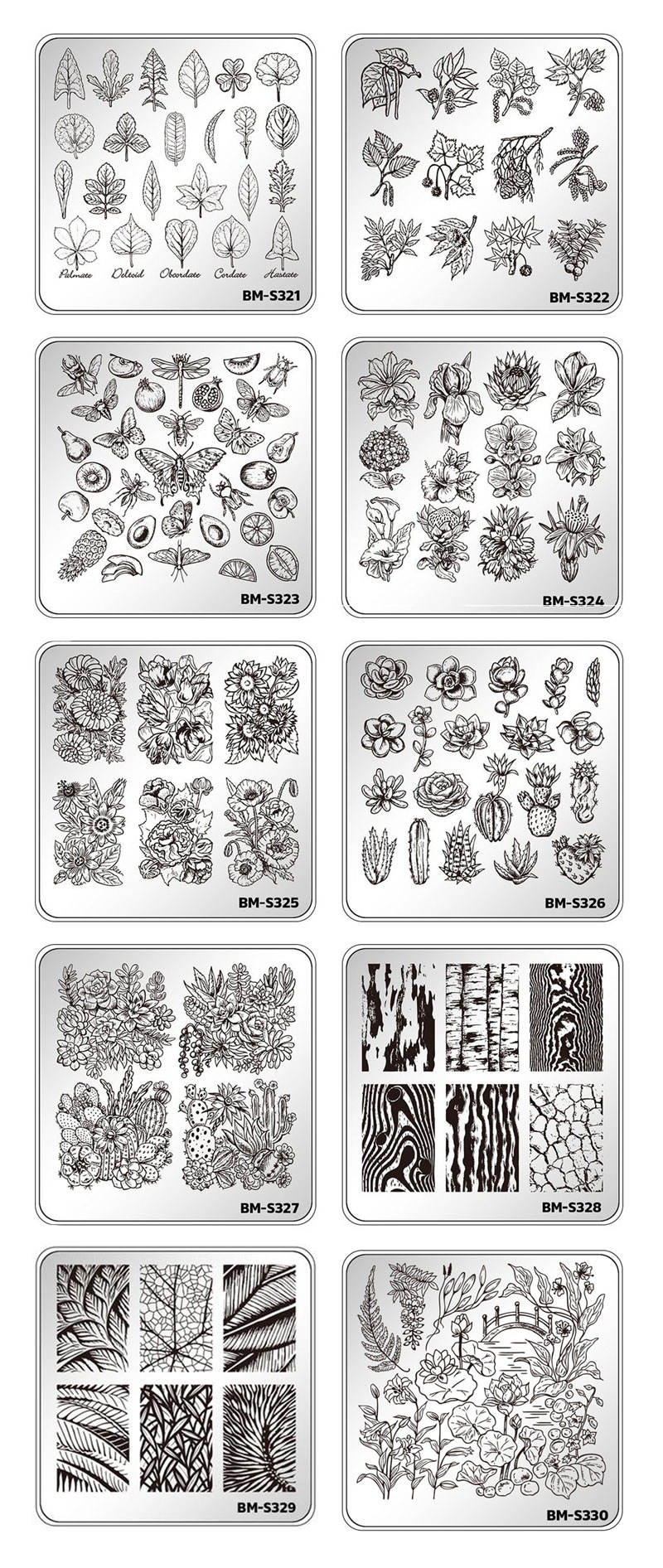 Agh! Between freehand painting, Bundle Monster, and Born Pretty alone I can never catch up on using everything I want to. May I always have such delightful problems!


Before we go, here is the collage for #AZNailArtChallenge's beetle prompt. Yay for bugs!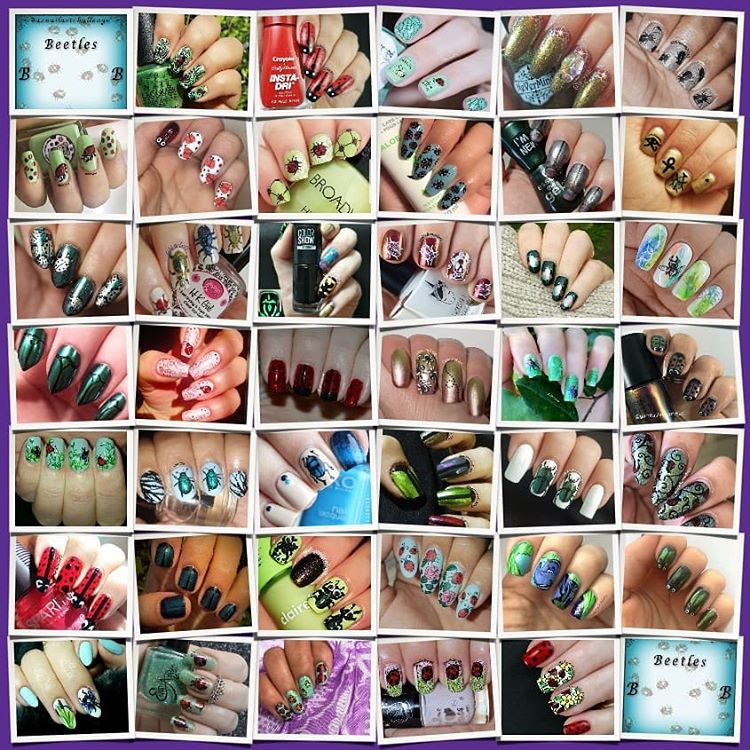 Check out more pastel-themed nail art in the month of March from #NailChallengeCollaborative: