I haven't had a new blog post in two days, but believe me I've been keeping busy (or you can check my instagram account if you need proof). I was watching one of Jessface90's polish swatching videos and she made a remark about her white gel base starting to peel up. I'd already been planning on buying a gel top and base coat with a lamp (so I could preserve my press-on nails better), but with a re-usable base color, I could actually keep up with this month's nail art schedule without piling too many challenges on top of each other. And it works! Below are my first four manicures on a reusable base.
Flamingo – #glamnailschallengeaug
Shapes – #ggfnachallenge
I wanted some clean geometric shapes to go with the cool geometric design of the flamingo from CICI & SISI's Geometry 02 stamping plate. I freehanded the triangle behind the flamingo, stamped a geometric design from the plate, and added three dots with a dotting tool. I initially planned to center the flamingo but offsetting it worked better for me when I was placing it with my clear stamper. I filled the flamingo in with white so the blue shape in the background wouldn't show through.
Now a bit of a review: I purchased three of CICI & SISI's acrylic plates (Children's Park 01, Ocean 02, and Geometry 02) a few months ago. CICI & SISI add a white coating on top of the plate that lets you see the etchings much more easily than metal plates. Now, the first two picked up easily without problems. The plate I used for this mani didn't work as well. It has very shallow lines that match the pattern that appears on the back of the plate on it. They are just deep enough that, unless you scrape the polish off perfectly, you will get some reside on your stamper and the lines will be slightly fuzzed out. That makes me sad since this was the plate I was most excited about using. If you decide to order from CICI & SISI and you see these shallow lines on the plates you get, I'd contact customer service right away and see what they are willing to do for you. It's been long enough since I put in my order that I don't feel like I can ask for anything, but this plate isn't going to get as much use because of its surface problems.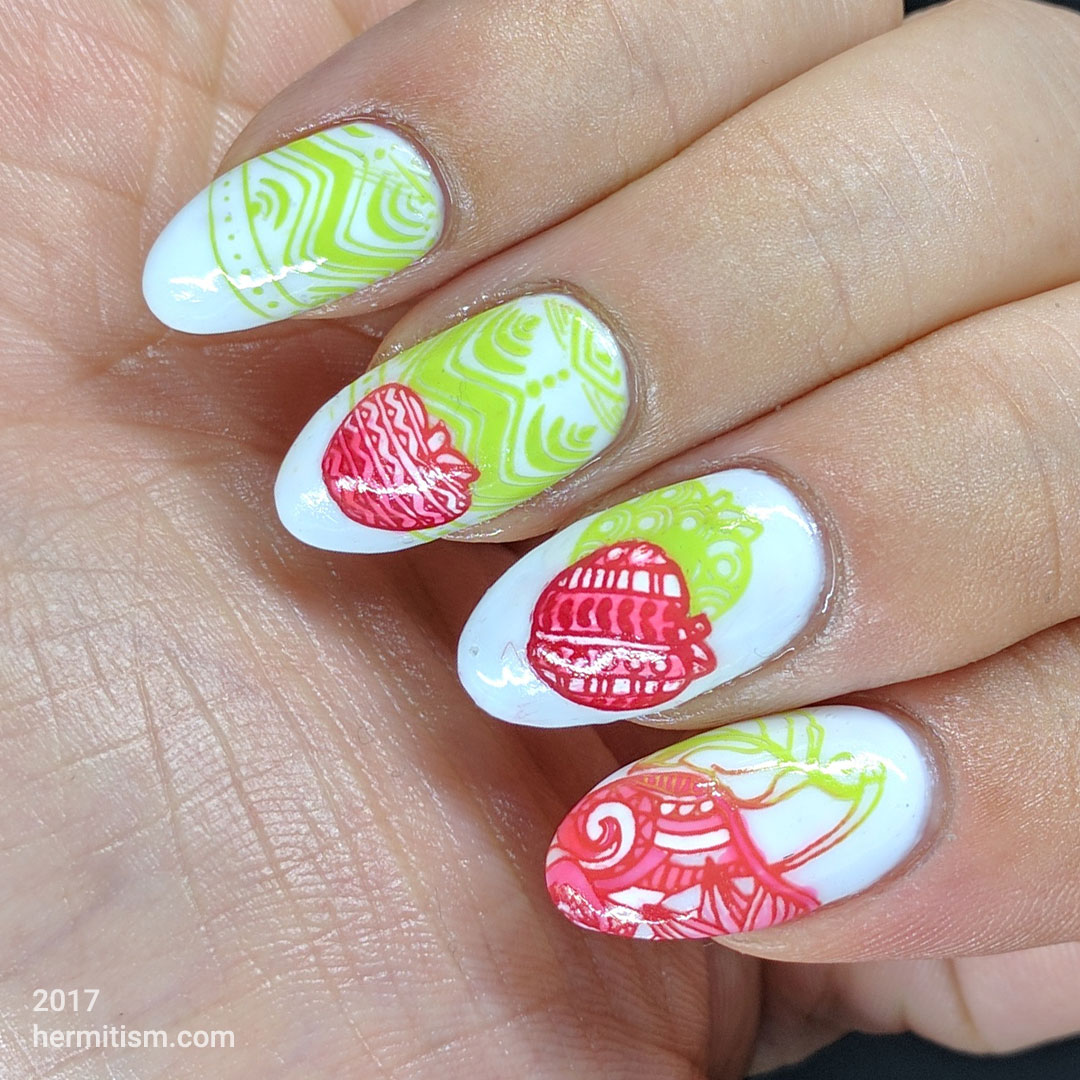 Fruit – #clairestelle8august
I chose apples because I really loved the patterned apples on my OS-05 plate from Aliexpress. I stuck to a simple complementary color scheme, colored in areas with jelly polish and filled in the apples that overlapped anything with white. Jelly polishes are great for creating gradients when coloring in decals.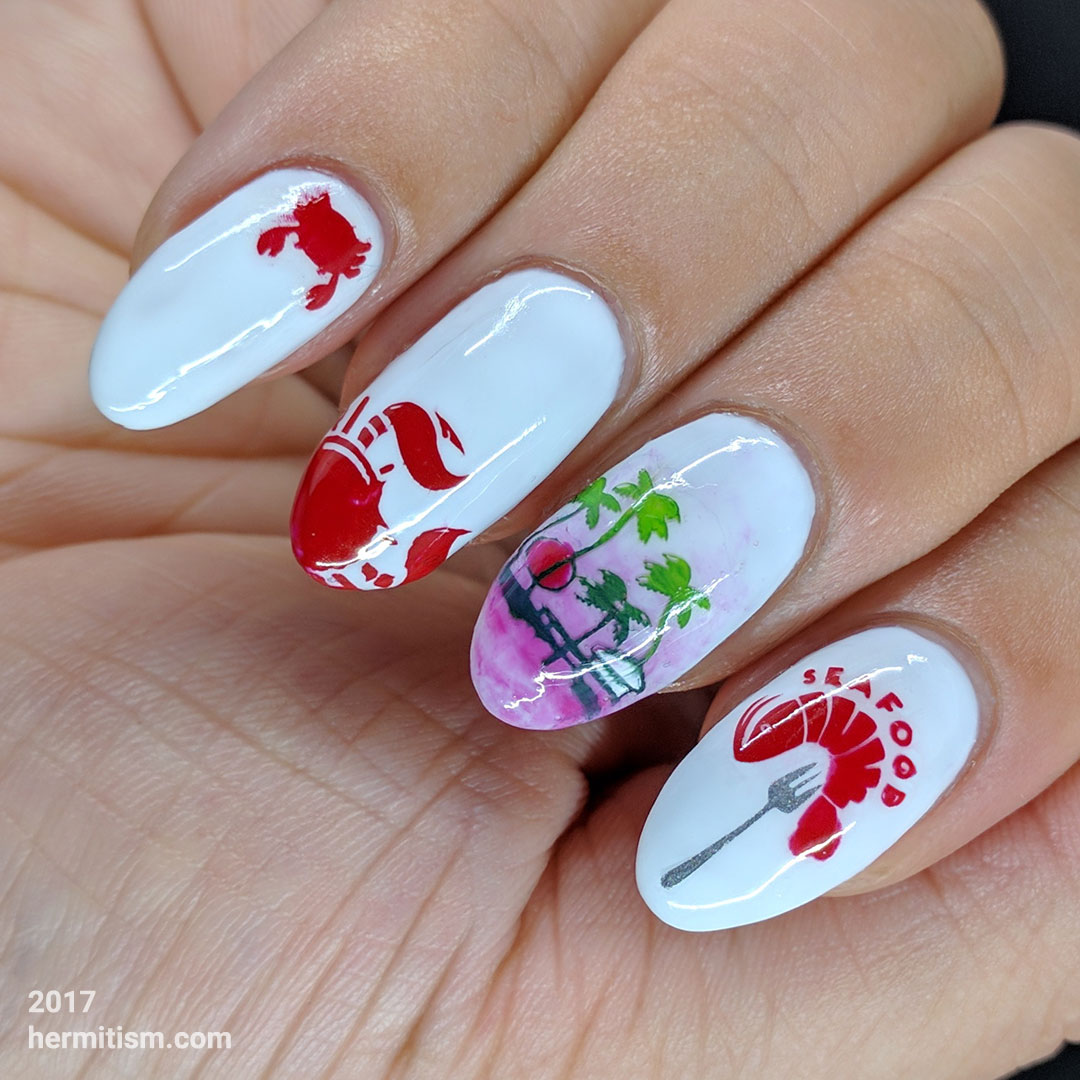 By the Seashore – #firedazedaugust
Cactus/Palm Tree – #StampingMasterAugust
I decided I'd done enough nail art with beach sand and even rocky beaches. It was time to focus on Food! Plus I love crustaceans. They're just so darn cute! So I had to use my Moyou plate with cute seafood and I used the Bundle Monster plate for a cool looking seashore-side crab shack. I kept the color palette limited to red and a little green with the silver as a kind of neutral. I almost used my thumb in this one to hold the crab shack decal, but then it wouldn't have matched the other three manicures in this set so it was left out. Sucker. 🙂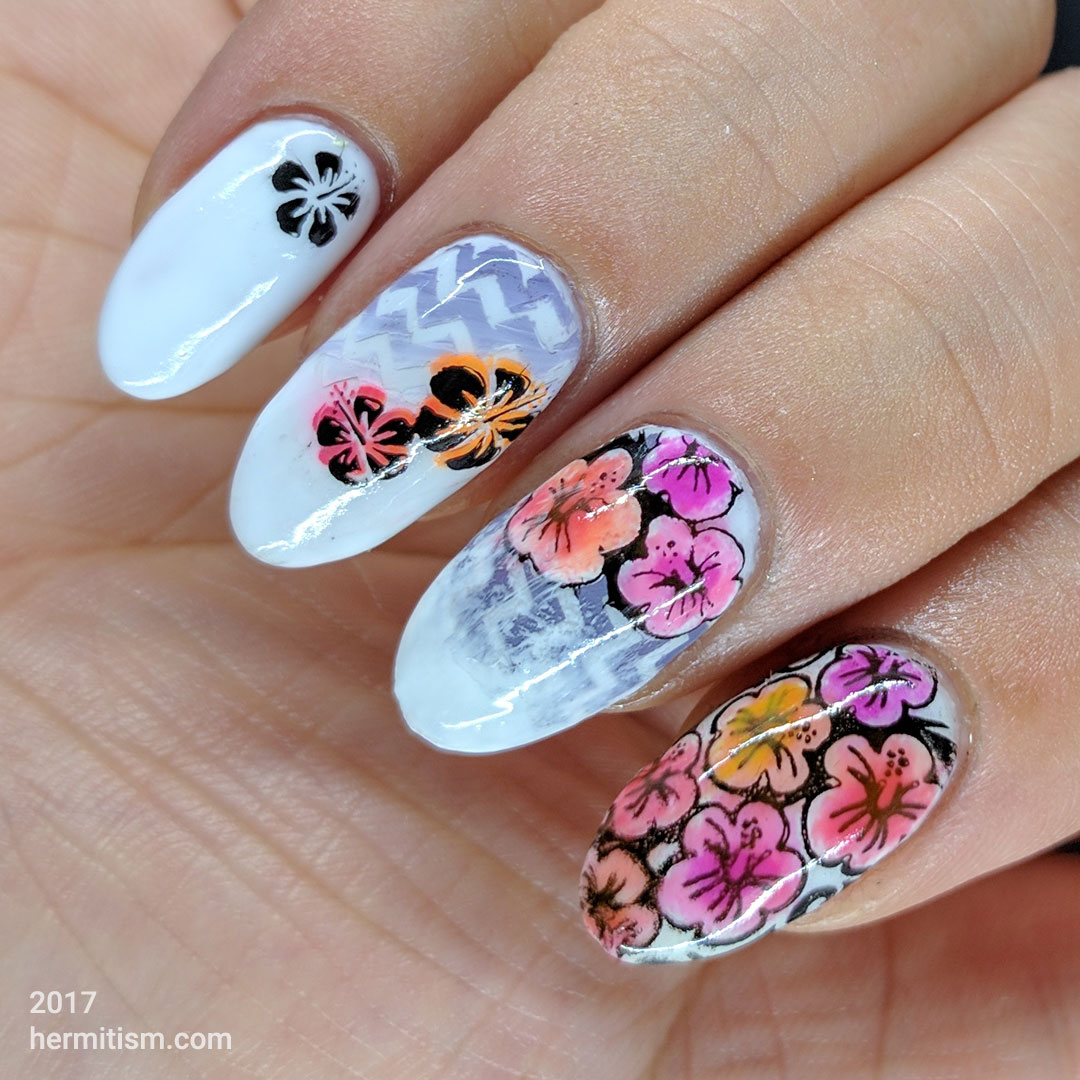 Hibiscus – #nailsunitedaugchallenge
Chevron – #nailartchallengeaugust
Flowers – #nailchallengecollaborative
So there are plates that specifically combine flowers with a pattern (Moyou, Ejiubas, and KADs come to mind), but I did not have one with hibiscus and chevrons, so here's how I faked it. You need: 1. a plate with your pattern and 2. a plate with the outline of a flower. Don't worry if the pattern isn't big enough to fit your nail (mine wasn't) as long as your flower is pretty big. You just need to angle the pattern so it fits across the nail and make sure the flower takes up the rest of the space. Fill in your flower with either the colors of your choice or white like I did so I could led light. Next, lay your pattern down on the nail. Once the flower decal is dry, add it on top. You have now faked it. And while this is more work, it opens up a lot of combinations to you.
I also made a few changes from my plan. First, I wasn't going to gradient out the chevrons on my middle finger, but I decided it was too stark as is. Then I wasn't going to double stamp the hibiscus on my ring finger, but it looked washed out compared to the other nails. I was really happy with my results and did not want to take them off, but I still have more manis to do and the edges of the gel polish were starting to come up a little…
Base Polishes:
White gel base
Stamping Polishes:
Mundo de Unas' "Black", "Neon Orange", "Orchid", "Velvet", "White"
Led Light Polishes:
Sinful Colors' Neon Collection "Bright B4 Ur Eyes", "The Bright Thing", "neOn and On", "On the Strip", and "Vivid a Try"
Stamping Plates:
KD-SM612-004 (hibiscus outlines), Mash-43 (hibiscus), Mash-45 (chevron)
And now, check out the Nail Challenge Collaborative's month-long inlinkz for a lot of gorgeous flower nail art:

I used a peeloff base coat so I wouldn't have to soak anything off and I think I put too much on so two of my nails are peeling. Ack! I'm going to repaint them and finish three other manicures before I move on to a black gel polish finish. So much work to do! 😀