Do I know why I decided to title this "Lemons First"? No. No, I do not. #GlamNailChallengeAug had a lemon prompt. I'd already done a cheerful-style lemon nail art so this time I decided to go for a more sophisticated yellow and grey look. That worked out well for me because I absolutely love both of the polishes featured in this nail art. Covergirl's "Sulfur Blaze" is just this intense yellow glass fleck and ILNP's "The Boulevard" is a dark grey crelly with yellow-gold and copper shimmers. They compliment each other well.
I added a little bit of texture polish on the yellow nails and some advanced stamping on the grey. The full-nail pattern worked well with the light grey, but the lemon slice decal looked washed out so I double stamped some black on top.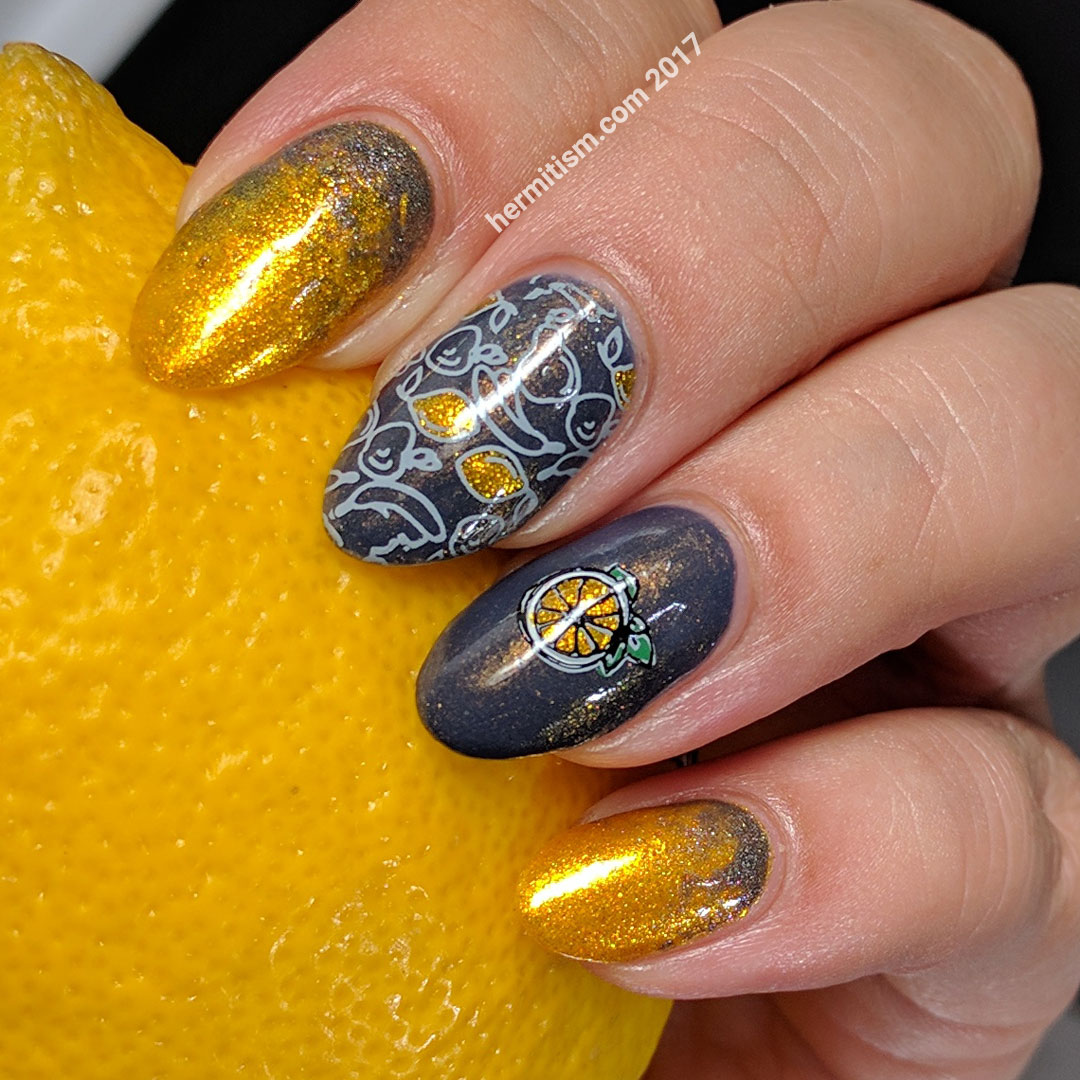 Items being used for the first time are in italics.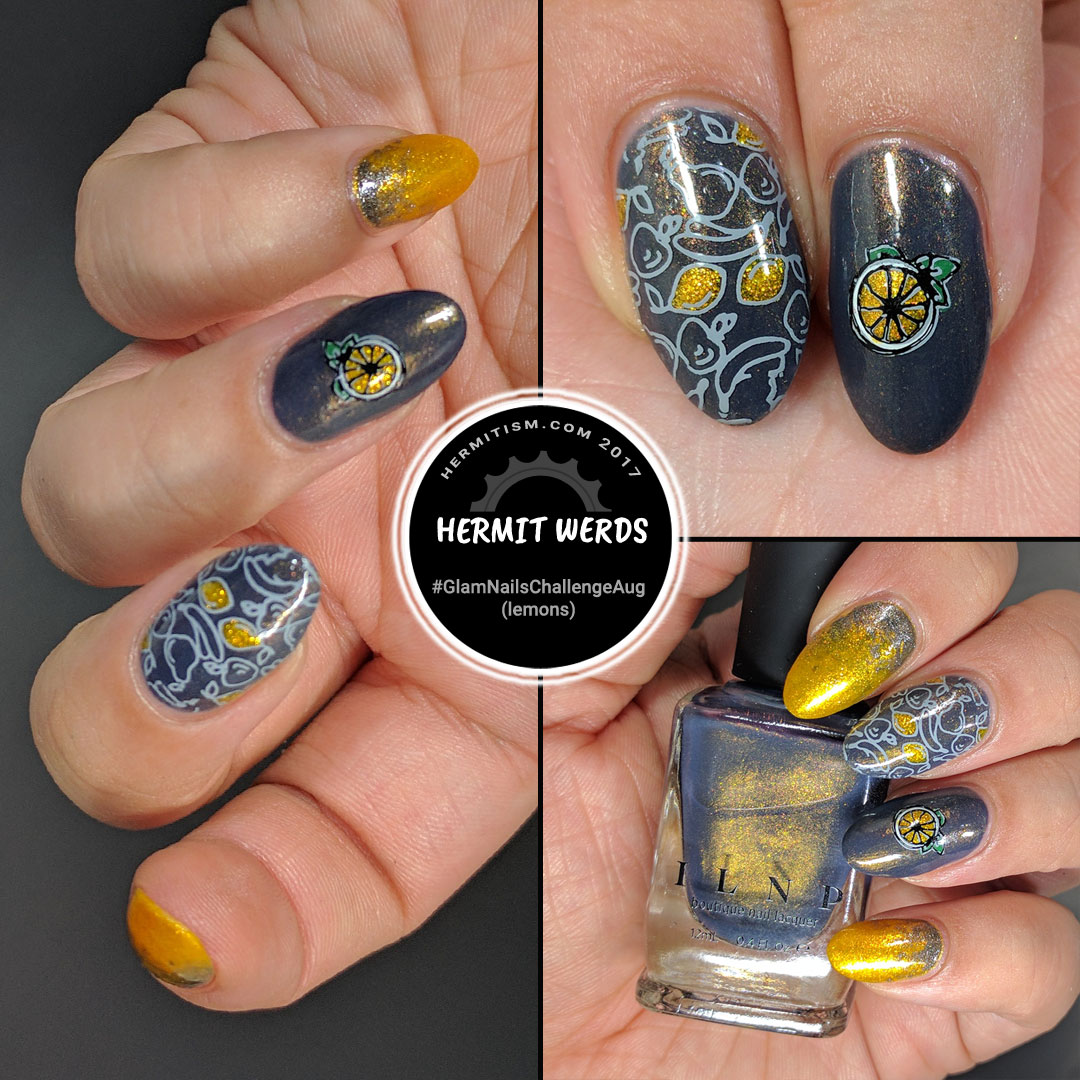 Pushing myself to do more nail art has been good for me. It's not only getting me to vary the contents of my collage photos (which, btw, you can see the individual photos on my Instagram account @hermitwerds), but I get to use more of my nail polish collection. So many neglected bottles sitting in my drawers. I could swear I'd use ILNP's "The Boulevard" before, but I apparently have not. Blows my mind considering how long ago I bought it. Probably mixed it up with Revlon's Parfumerie "Italian Leather". They are both dark greys with gold shimmer, but they are very different. If you can only get one, well, the Revlon polish has been retired and Revlon's polishes always form this white-ish film on my swatches that wipes off but also seems to change the color slightly over time. It really makes me like the brand as a whole a lot less. And also explains why toy customizers are so against people using nail polishes in crafts.
Life lesson: Never use Revlon polishes on anything that should last more than a week.
Anyway…being prolific. Yeah, that's a decision I made because I'm tired of looking back and seeing how few manicures I completed each month. So I'm going to try to paint at least 31 manicures in 31 days. To assist in subject-matter, I have several nail art challenges I will be following as well as throwing in a few things I want: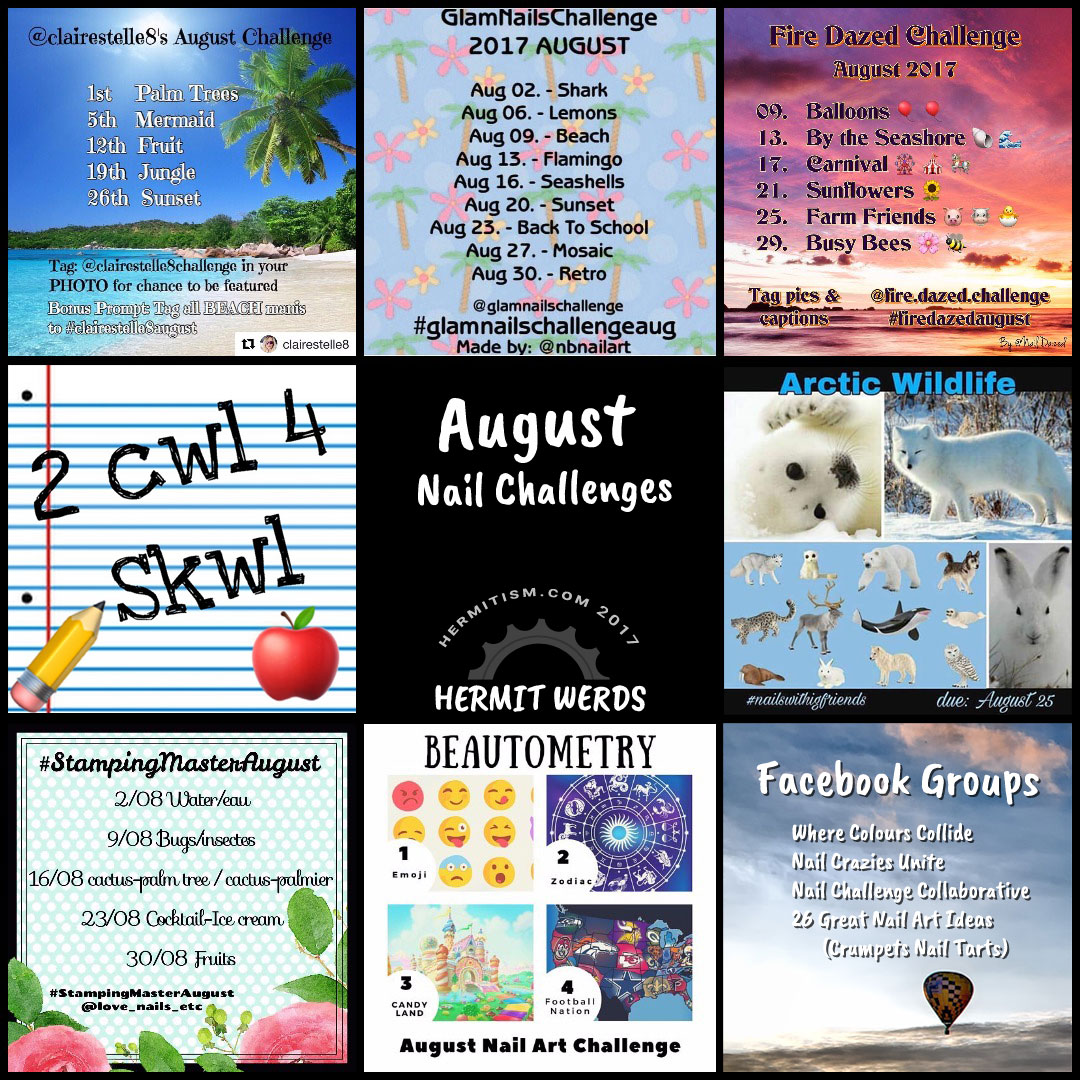 Given how much I whined about the 31-day challenge last year, this is me eating my words. They taste like chalk. 😉
Also, I was supposed to post this on Monday, but I started late because I managed to snap off the tip of my nail right before I was about to start. So, yeah. I lost time gluing the stupid thing back on my finger. I suspect the increased amount of acetone exposure is weakening my nails and I'm going to have to use more peel-off base coat. Can you guess which nail I broke?