I knew that I wanted to paint this ornament nail art the minute I added Maniology's "Sequins" to my shopping cart. There's something about alternative holiday color schemes that just feels really special. I love both the white/gold and teal/magenta Christmas looks the best. Today's look obviously focuses on teal/magenta with a Maniology plate M078. And then I threw in the Christmas pickle in the background for laughs.
Sadly, M078 does not have pickle ornament, but Hit the Bottle's Bah Humbug 03 does have a separate pickle ornament image. Respect the Christmas pickle!
Nail art products used
Base Polish:

Maniology's "Sequins"

Stamping Polishes:

Hit the Bottle's "Free to Flutterby" and UberChic's "Pure Black"

Advanced Stamping Polishes:

Born Pretty's "Cherry Blossoms"; Essie's "No Place Like Chrome"; Frankensteined "Grey French Tip" + "Melon Jelly"; Hit the Bottle's "Free to Flutterby"; Sinful Colors' "Bianca" + "Snow Me White"; and Zoya's "Cala"

Stamping Plates:

Hit the Bottle "Bah Humbug 03" (pickle ornament background) and Maniology "M078" (Santa, elf, reindeer, "merry x-mas", spiral ornament)
Items in italics are debuting on the blog for the first time.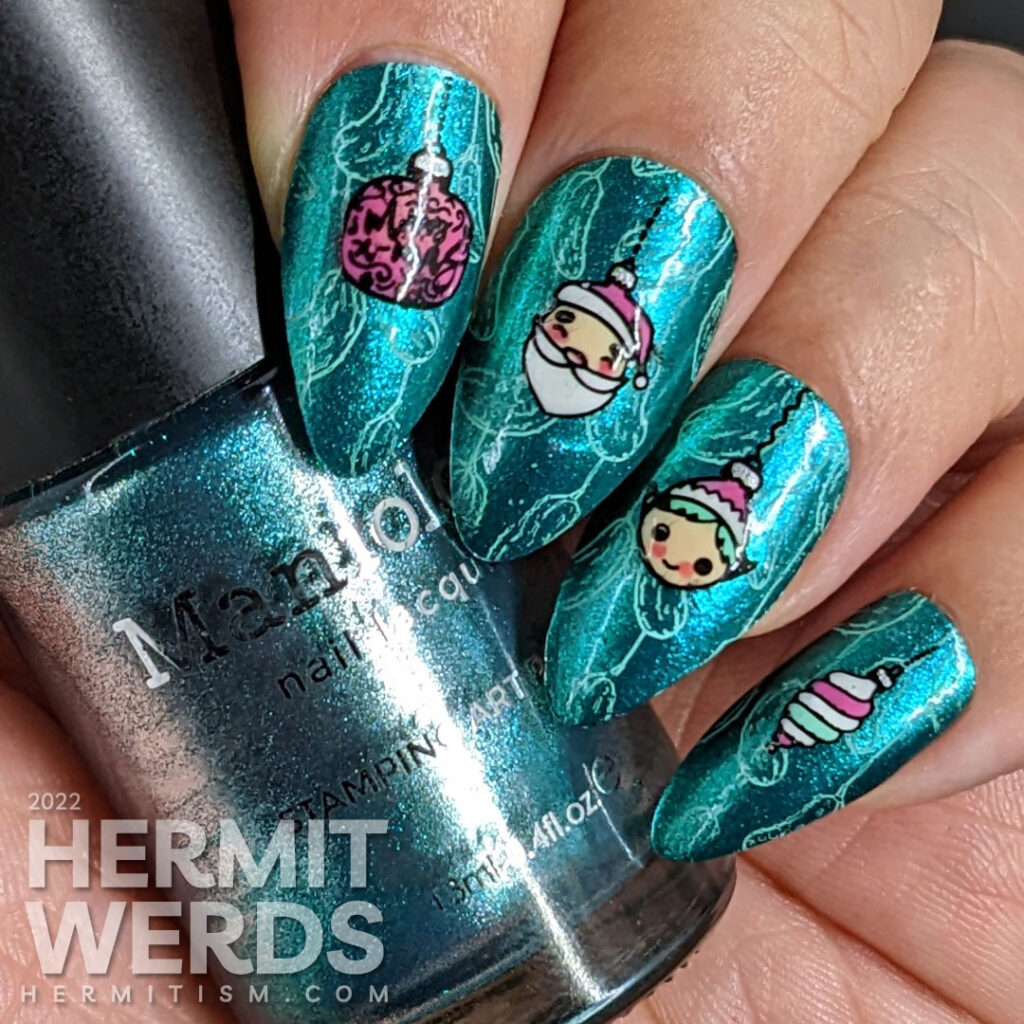 And now a mini tutorial…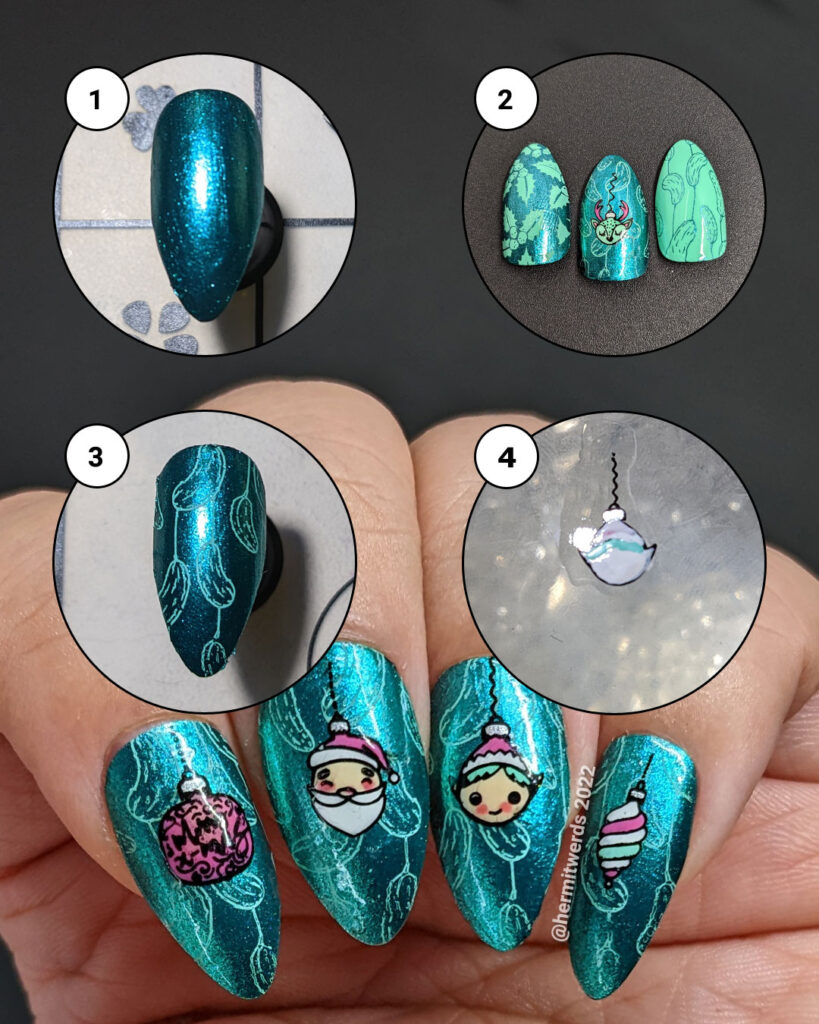 Kawaii Ornament mini tutorial
Or rather, adding a subtle background stamp before your stamping decal.
Start with a base color. I chose something metallic.
Pick a background pattern that is not too bold, nothing that could ever be considered a negative space stamp. (first example)
And pick a stamping color where the contrast is in the finish more than the color. With a shimmery, metallic or holographic base, use a creme. With a creme base, use the opposite.
As a general rule you'll want more color contrast if the base color is darker than the stamping polish.(second example) Using the same polishes you can see that if I reverse my stamping order there is too much contrast when the background is lighter. (third example)
Stamp your background!
Fill in your stamping decal and apply it. I covered the elf's skin color with white to ensure none of the color behind it would show through. I also top coated before I applied the decals because teal is often a color that bleeds into anything stamped directly on it over time.
I don't think this would work as well with a super busy polish like something with lots of contrasting flakies or chunky multi-colored glitter, but there are more ways to play…
Final Christmas ornament nail art photos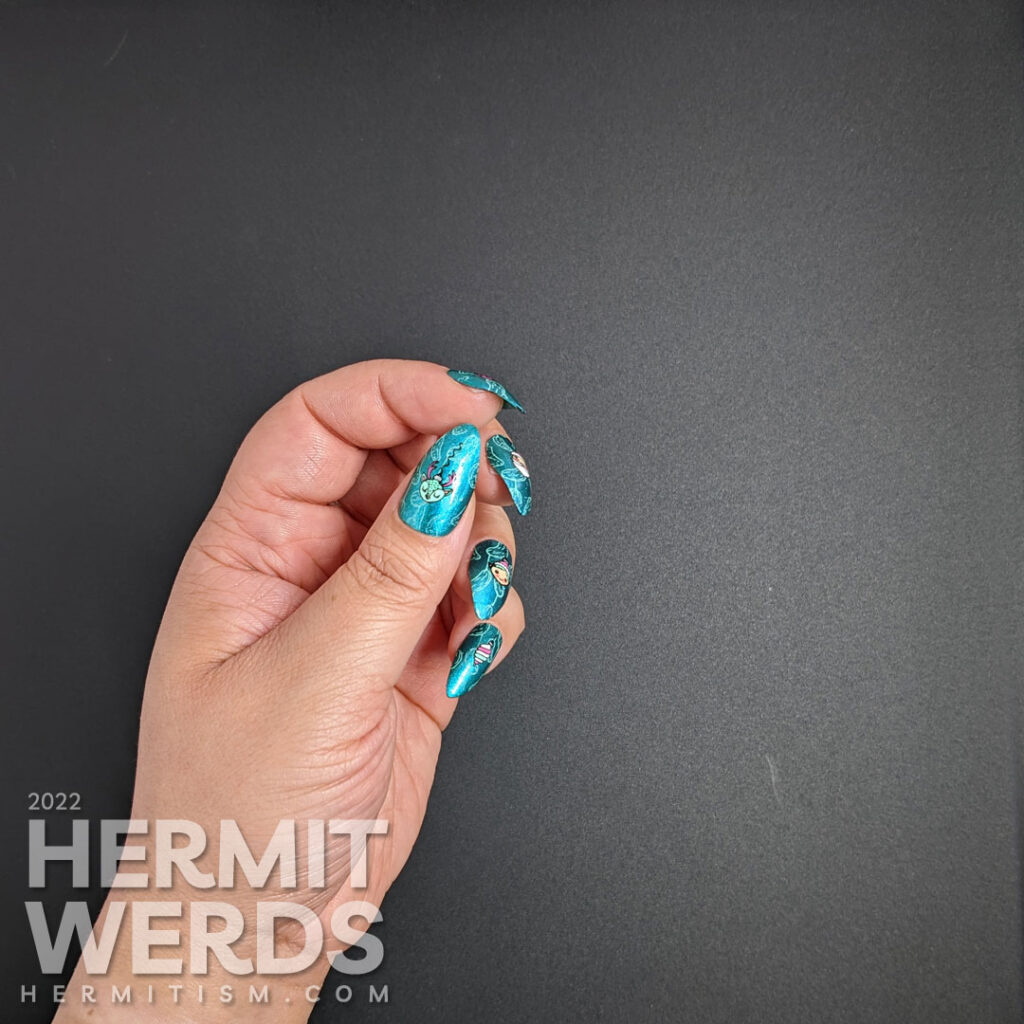 Until next time, friends! 🙋‍♀️