Today's nail art features a cute little white dog taking on some "ruff" waves on his surf board. I apologize for the pun, but I'm pretty sure it had to be done. This pawsome look was brought to you by the letter 'D' is for Dog because it's time for another @AZNailArtChallenge! Its color scheme was inspired by a need to actually use the shard glitter mix of blue and green that I hadn't used once in three years! Inspiring, no? 🤣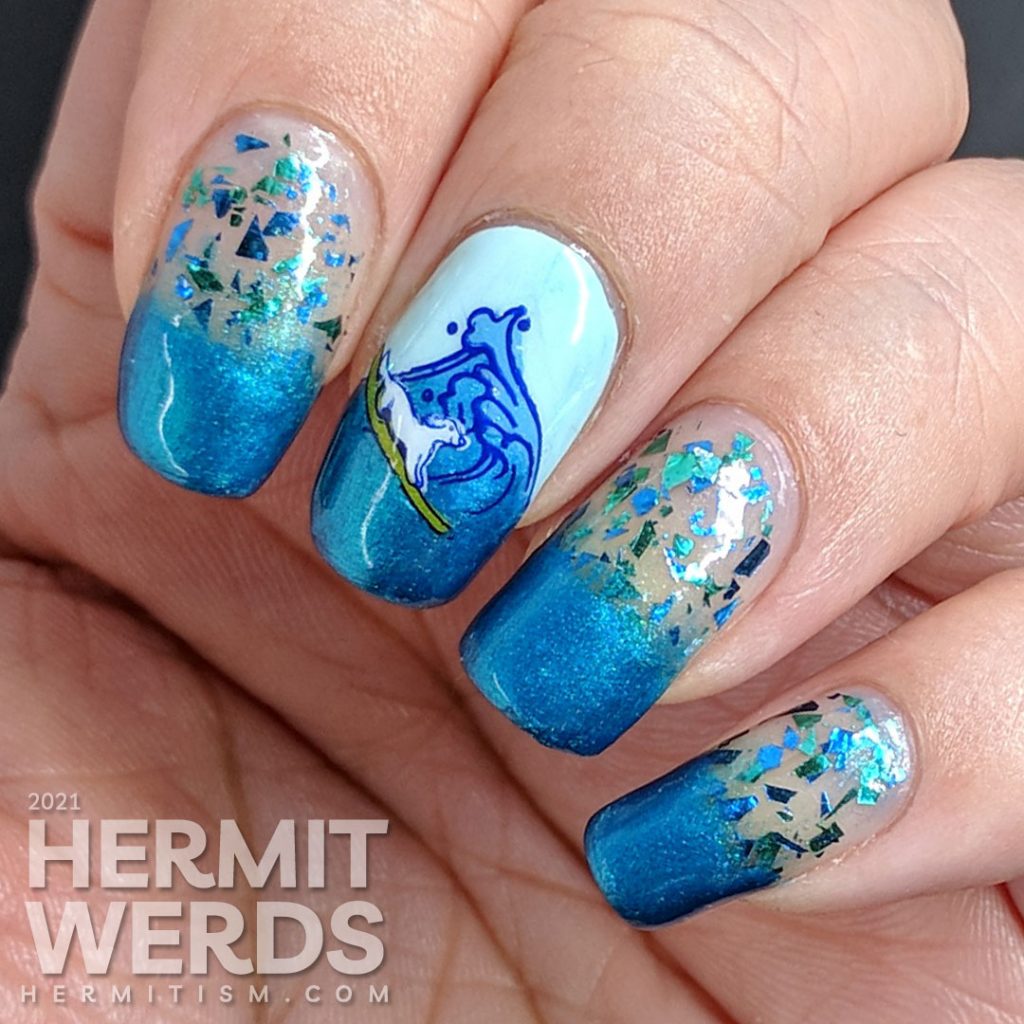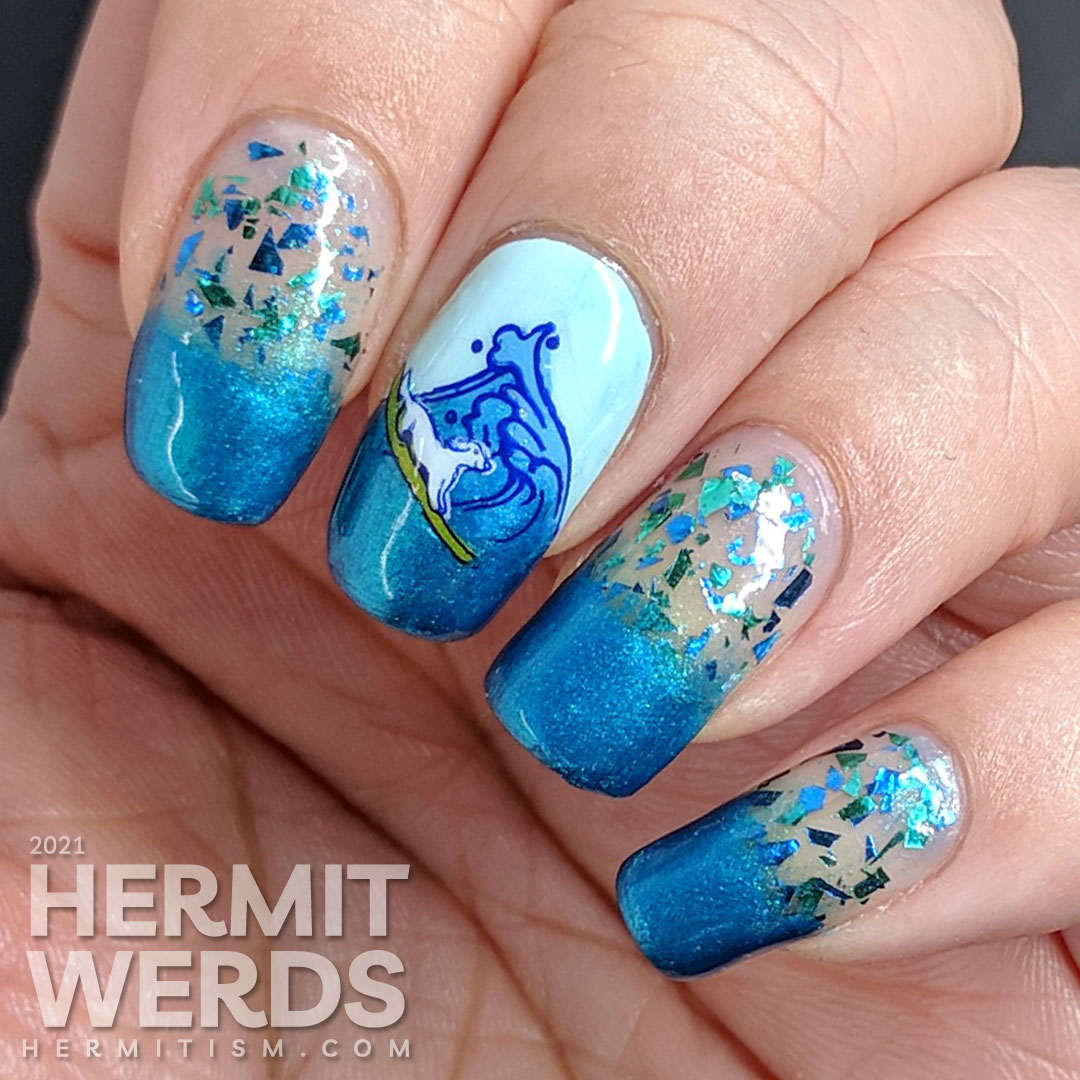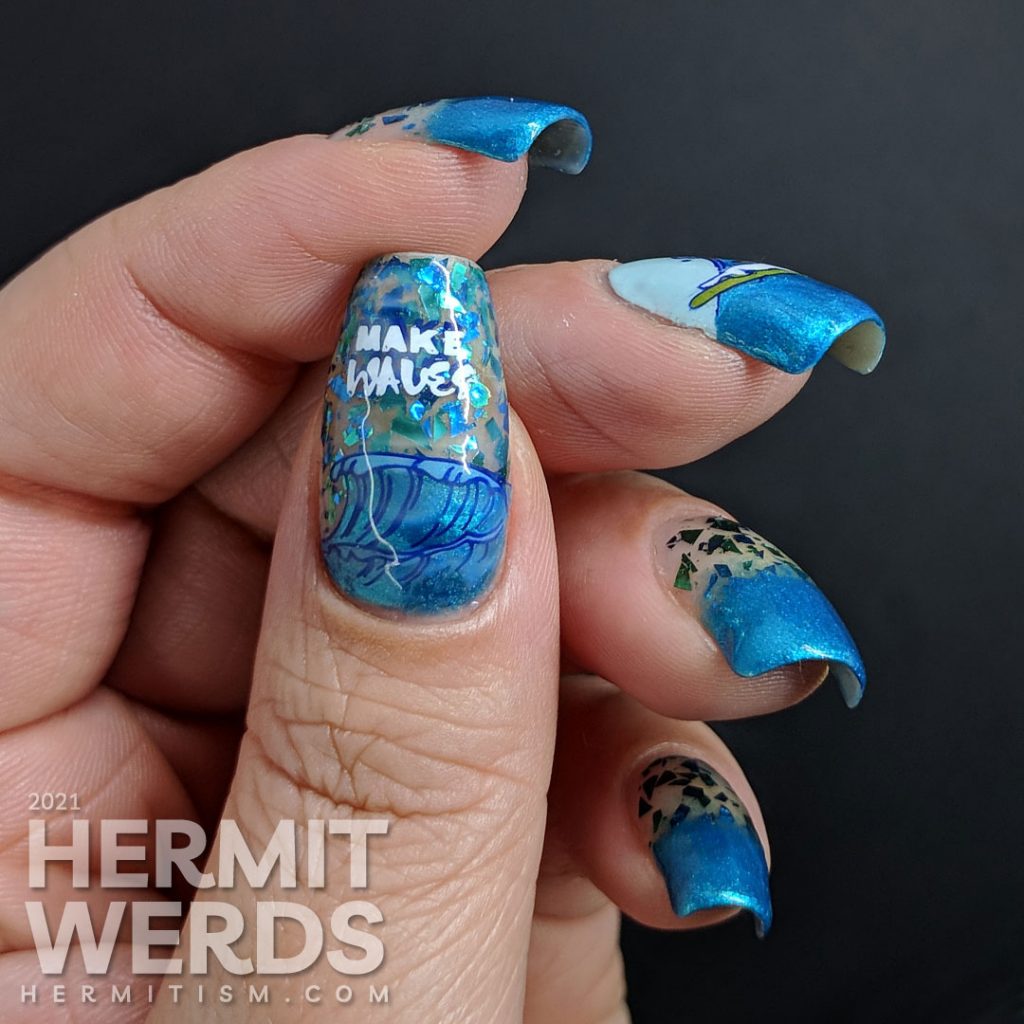 AZ Nail Art Challenge – 'D' is for Dog
It's rare that I've been so ready for a nail art challenge, but I knew just what to turn in: a surfing dog! Because why not? I'm pretty sure I've seen a video of a dog surfing on YouTube at some point. Certainly more wholesome than my night of watching herons hunt mammals and swallow them down whole…
Aaaaanyway…be sure to check out the group tag to admire all the cute pups! Meanwhile, the next prompt is 'E' is for Earth. I can't wait to get started!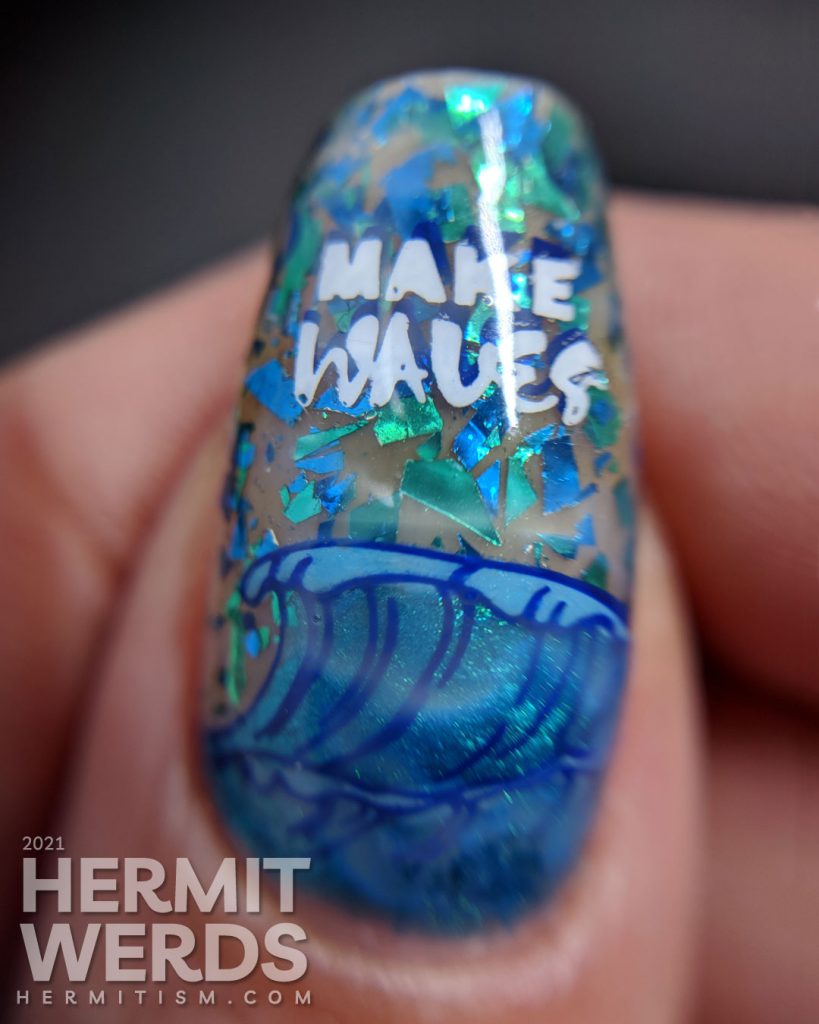 Nail art products used
Base Polishes:

Stamping Polishes:

Advanced Stamping Polishes:

Stamping Plates:
I used an "ancient" polish with today's surfing nail art. Revlon's "Tidal Wave" has been with me since 2001. I wasn't really collecting polish back then so it's one of the few bottles I have that's close to being finished. Sometimes I miss the simplicity of those days. Now that I have so many choices, I often spend too much time trying to figure out what I want to use. But I also couldn't have painted today's look without all those options. 🤷‍♀️
I love using baby boomer french tips in unusual ways. This time I slapped some shard glitter in the background and turned them into waves. Which is fitting because we're "Make[ing] Waves". Hah! And then I shrunk the dog stamping image so he'd fit. Yesss.
By the way, Maniology has been re-releasing their old square (and sometimes circle) stamping plate collections in rectangle stamping plate form. So if you were bummed about missing out on these old sets, check out their site. The surfing dog came from the Hangloose set which has returned. I am really hoping they come out with the Halloween set that I missed out on in the next few months. 🤞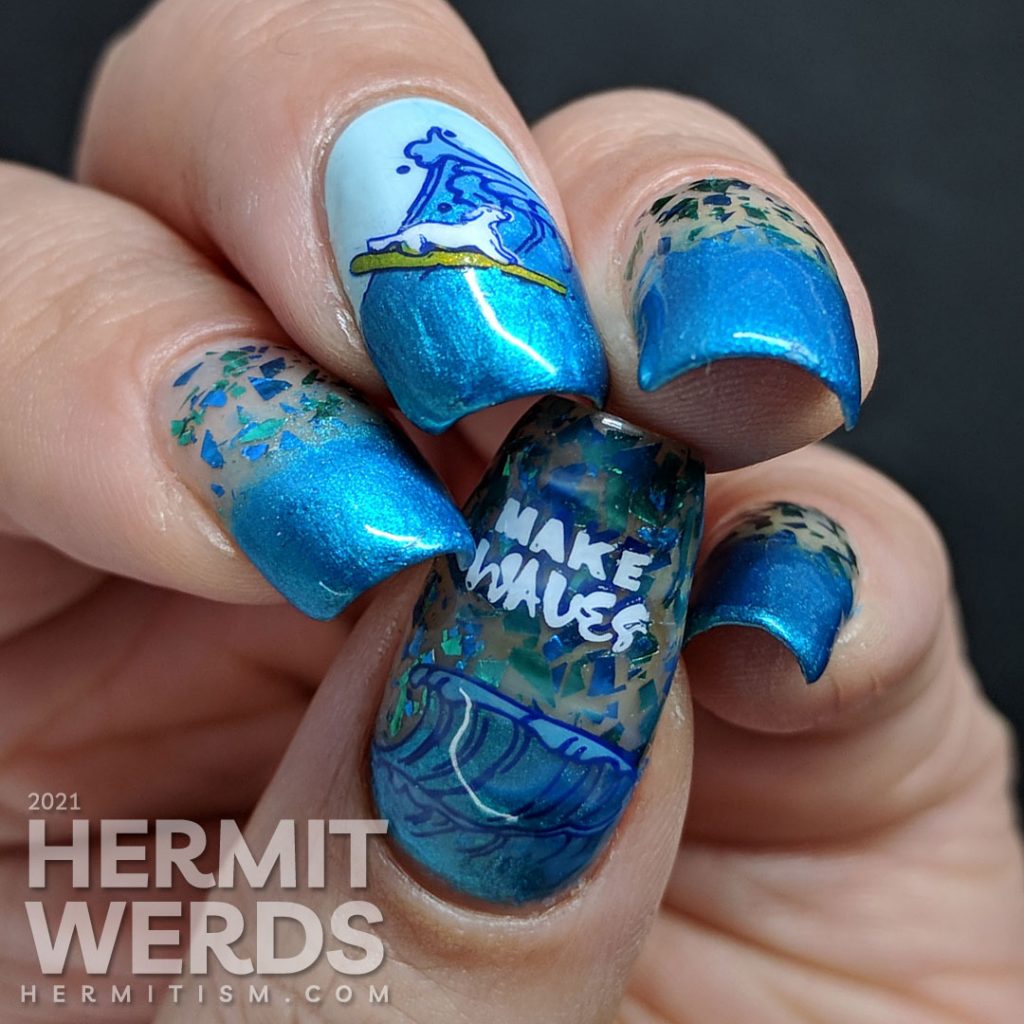 And we're down to the far away photo. The dog is small and so the main subject of this nail art fades away from a distance. But the baby boomer French tips still keep it fun.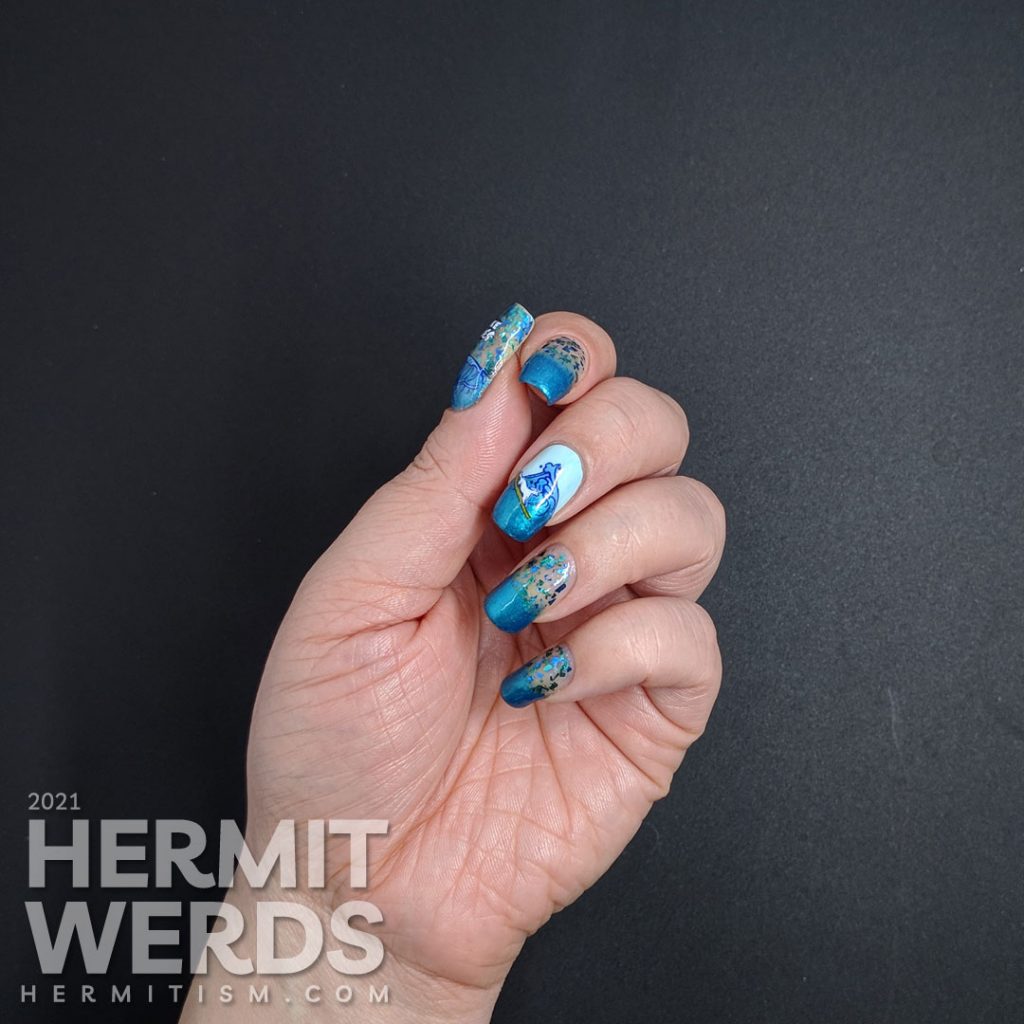 Until next time, friends! Stay away from the heron videos if you don't want to lose your whole night! 😱