I've been wanting to paint a sugar skull cat and accompanying fish for at least two years. In fact, the false nails I used for this mani have been sporting their black jelly base since 2019's Day of the Dead. I am good at intimidating myself out of freehand painting. 😅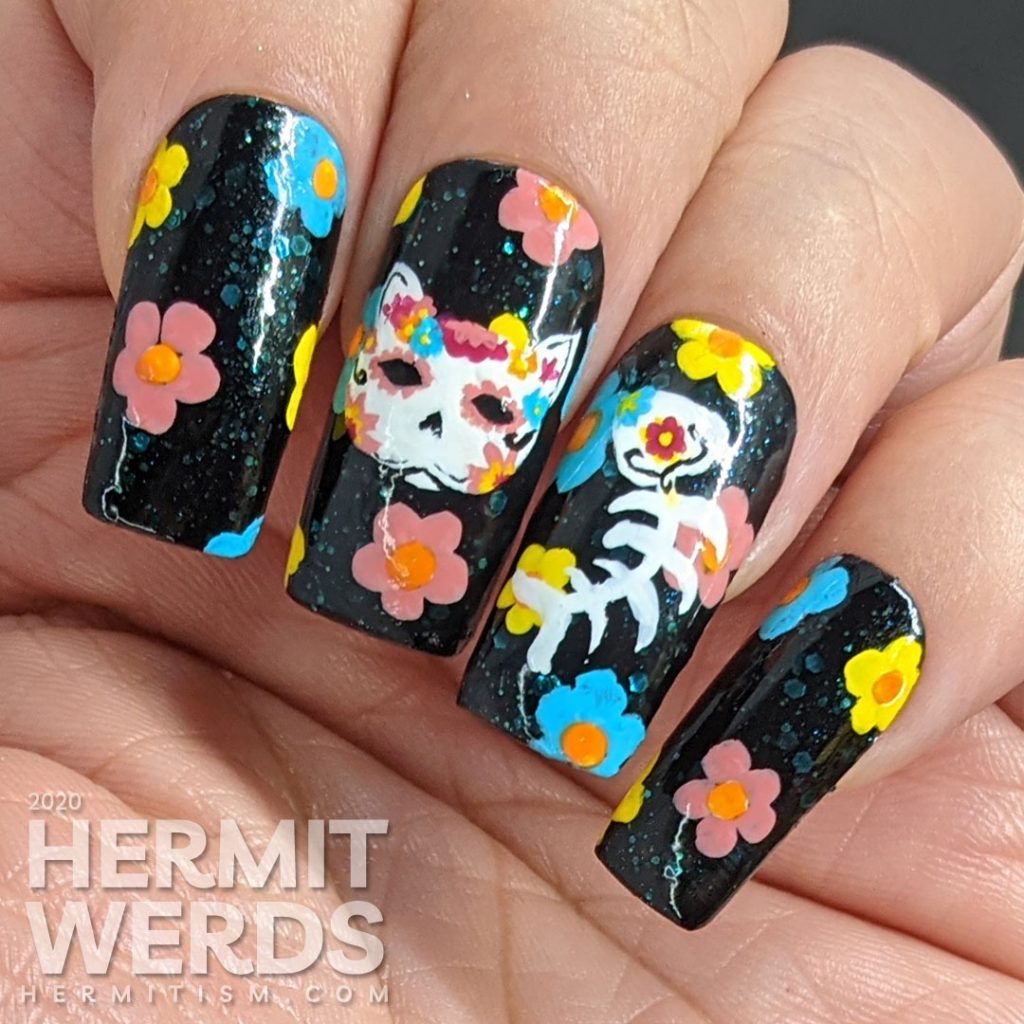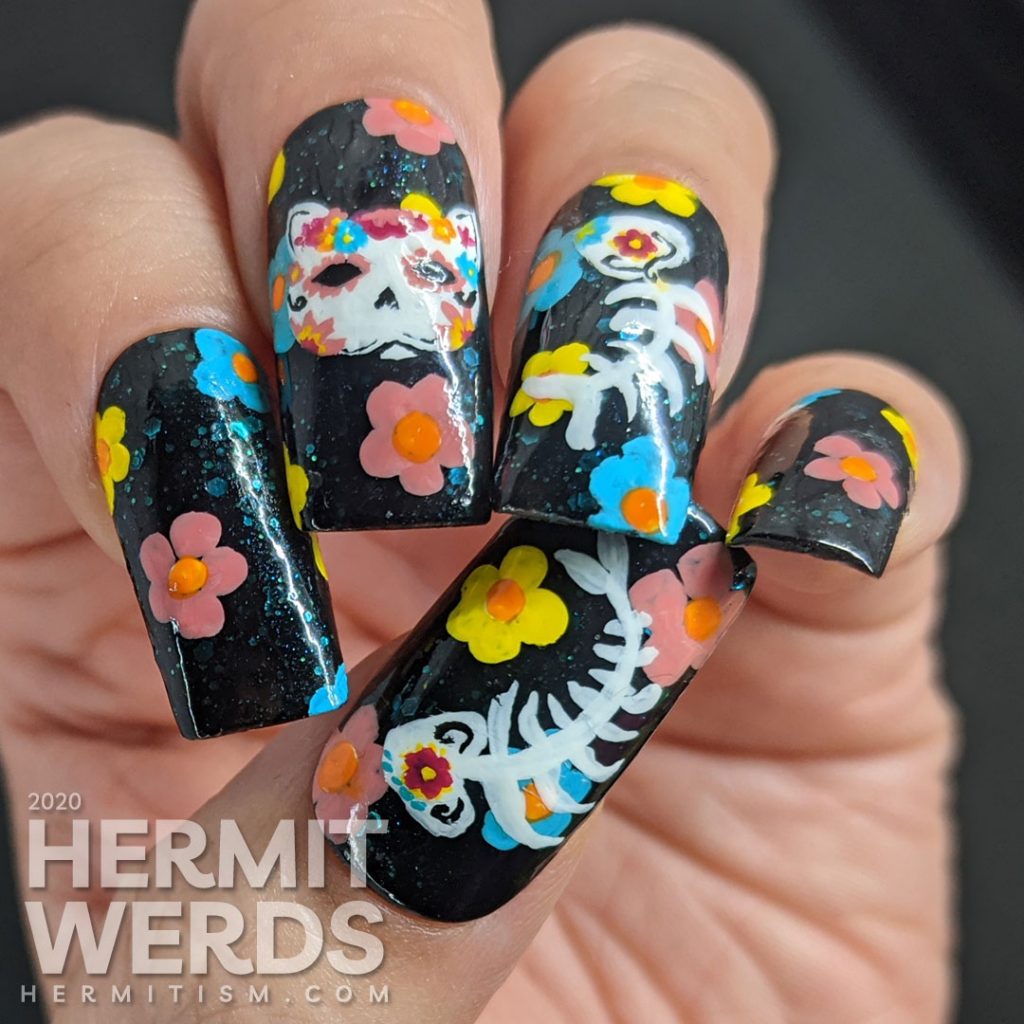 Nail art products used
Base Polishes:

Revlon's "Elusive"

Freehand Painting:
I had this design sketched out ages ago so I didn't really have to think about the design. I started by painting big ol' flowers on all my nails. Basically five large dots in a circle and one in the middle. Then I top coated in case I messed up the sugar skulls so I could scrape paint off without having to repaint the flowers. Luckily I didn't need to scrape any paint off, although I did overpaint a few lines and so on to make them thinner.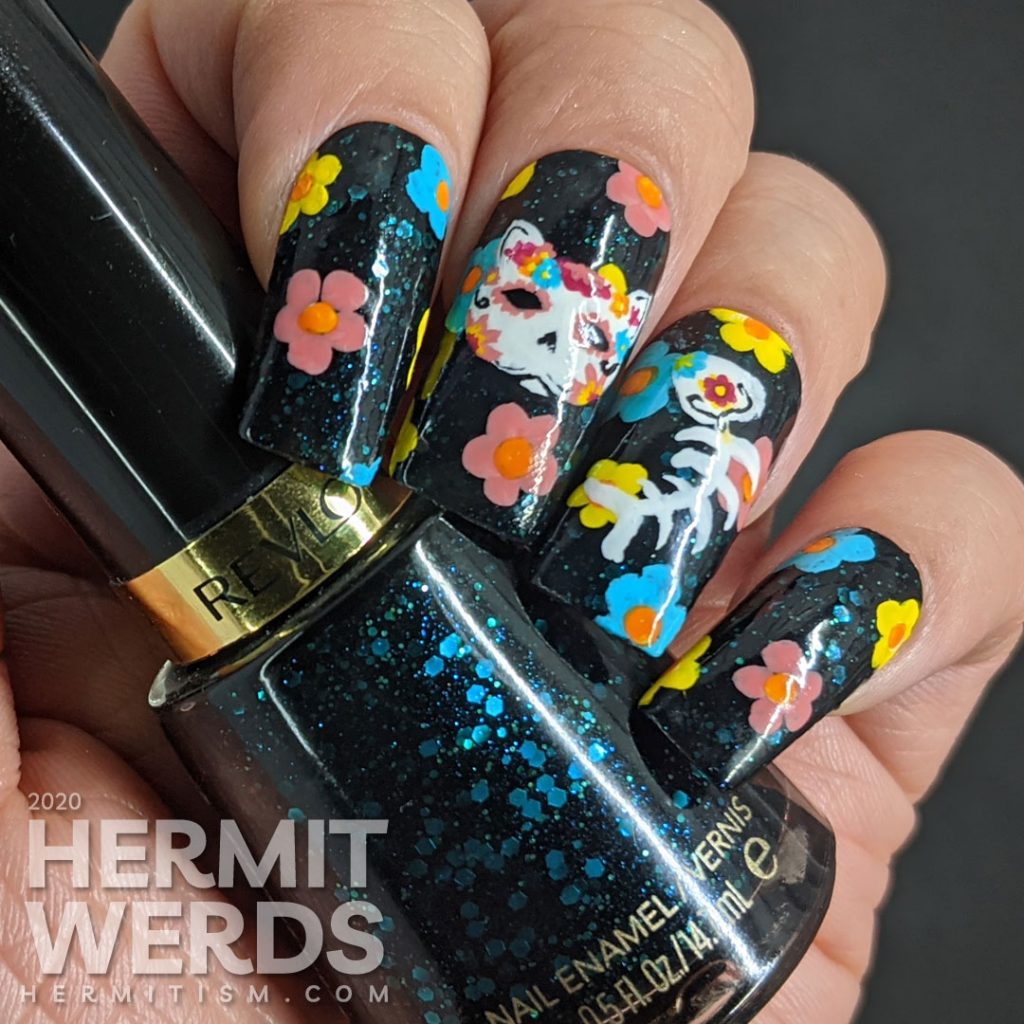 I really love the base polish of this design. Teal is such a pretty color and those glitters flashing out from all the black jelly is so pretty. This is the third bottle I have from Revlon with a jelly base and glitter so it rather feels like I'm finishing a set of nail art with them…
I almost said "Halloween nail art" but the Día de los Muertos (Day of the Dead) is definitely not the same thing as Halloween at all. Halloween is a fear-based tradition that turned into a candy party. Día de los Muertos has always been about bringing family together in celebration, alive and dead.
And since the Day of the Dead is about celebrating your family, it's rather fitting that I wanted to paint a cat sugar skull because I definitely consider my cat to be a member of my family.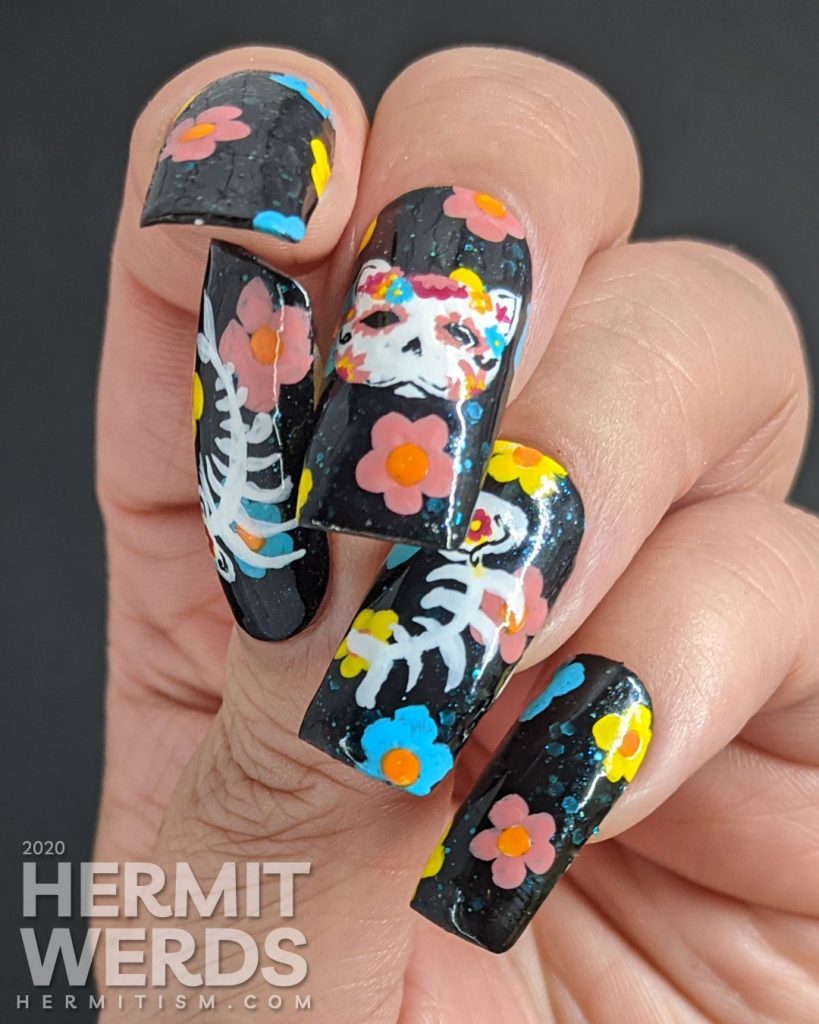 Nail art photo dump
Near…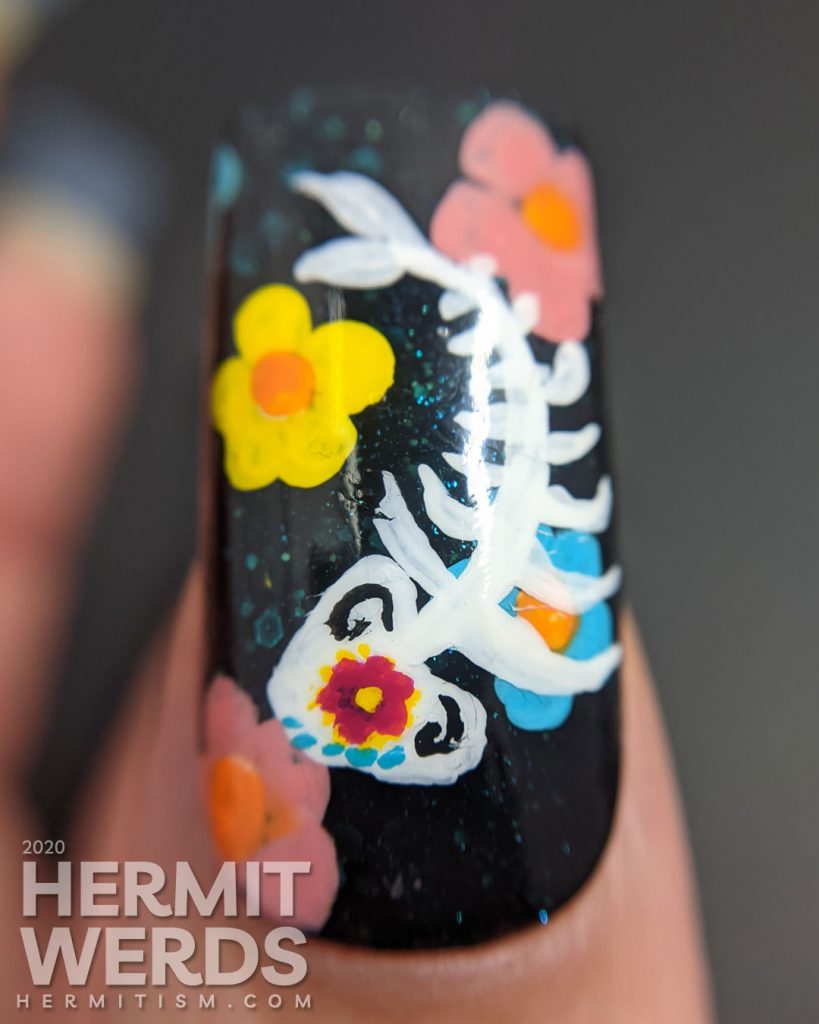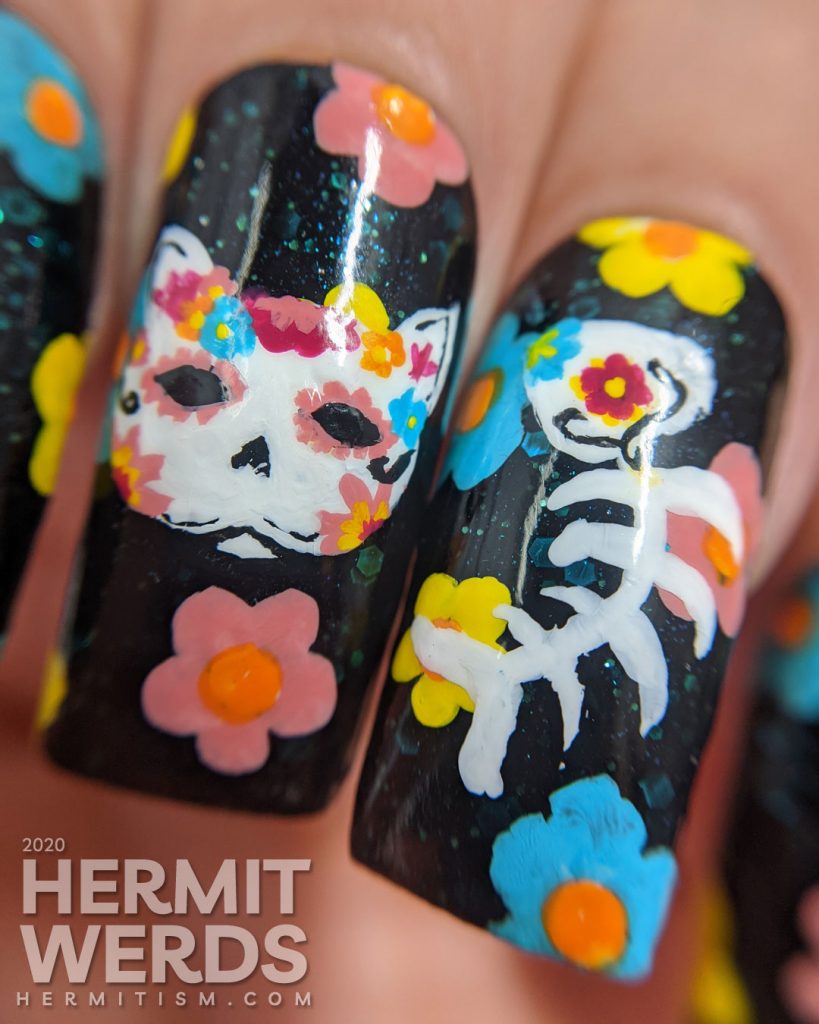 Far…
Falsies in a row…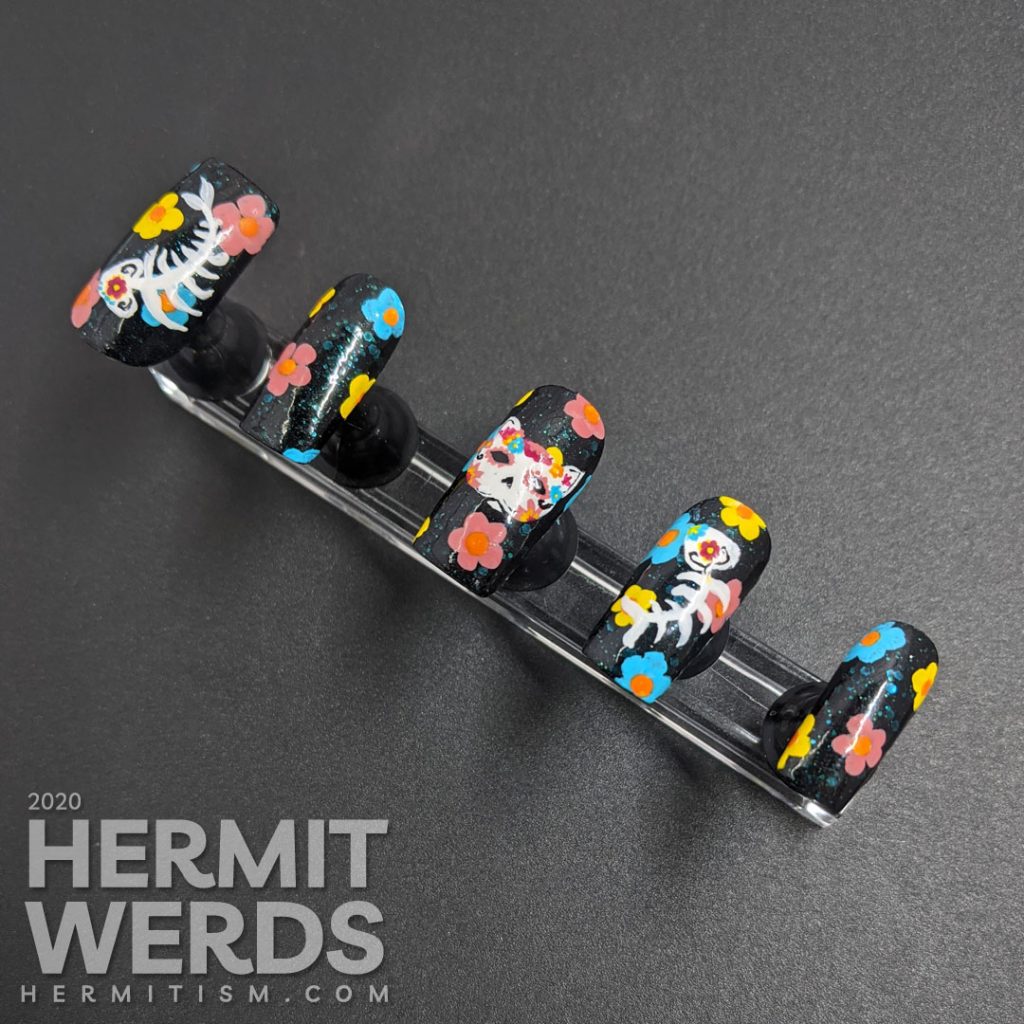 Dang those falsies are so long. I loved using them for such a fun design, but I was grateful to take them off after the photos were taken. Still…better on falsies that I can keep rather than trying to save my peelies. I know a lot of nail artists save theirs, but I can rarely take them off my nails in any kind of a whole manner so I don't keep mine.
Nail art challenge: Sugar Skulls
Let's take a moment to thank @viperlovr and @delis_nails for running a Halloween challenge (#halloweenforevercollab) year-round, as it should be. They've been doing it for nearly two years now (I think), and I suck for not participating more. Now, I know we just discussed that Día de los Muertos ≠ Halloween, but this challenge was in November when the holiday actually falls and was only about the symbol for the holiday so it still felt respectful of the difference.
So many celebratory sugar skulls all in one place…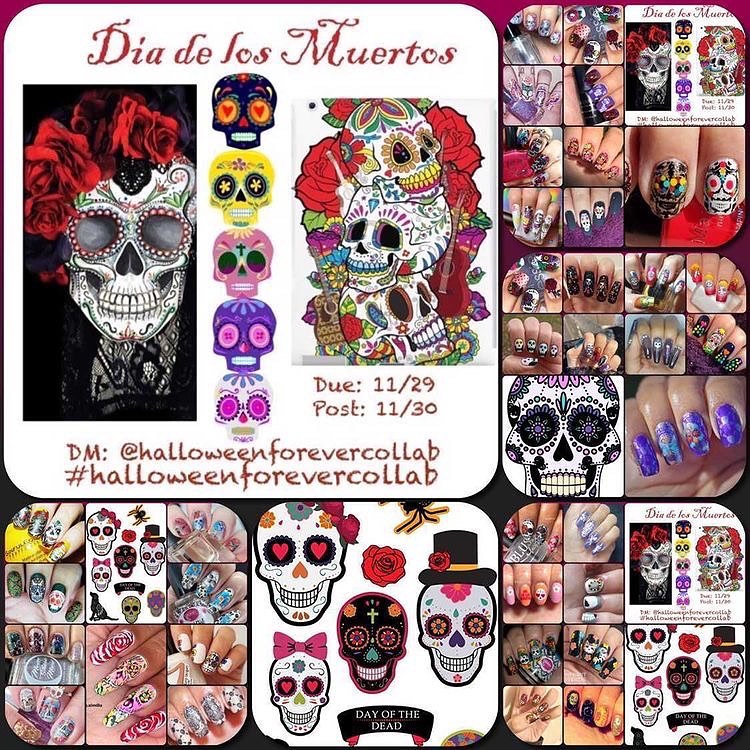 That's all for today, friends. Until next time! 🙋‍♀️