Another day, another manicure posting later at night than I could wish. Well, you'll see very quickly how many photos I had to edit with this one. Worth it. That's what I tell myself at night…
Anyway, the nail art I piled on top of this lovely polish was inspired by #AZNailArtChallenge's 'Z' is for Zoo prompt (which I missed by forty minutes), #MyMonthlyWildLifeMani's dog/cat prompt (naturally, I chose cat), and #GlamNailsChallenge's Geometric (I get so much use out of Born Pretty's BP-L089 and BP-L093). I think you can see how the cat thing meant I picked a zoo-worthy cat (lion) and then found said lion on my geometric stamping plates. That prompt can just keep on trending as far as I'm concerned!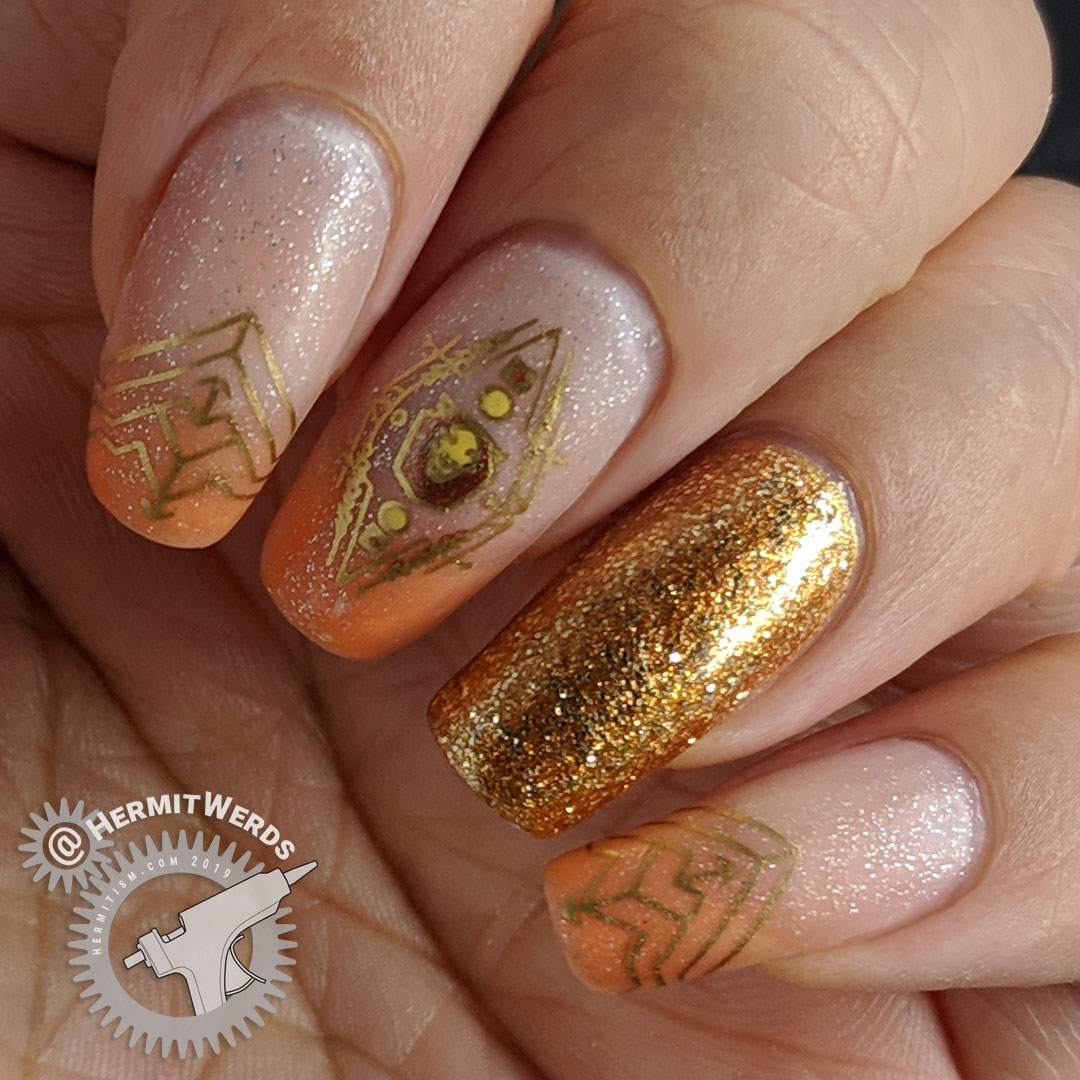 Destiny Child…the polish
This is another stunning example of Born Pretty's tri-thermal solar polishes. "Destiny Child" (I always want to make it right and add the 's' LOL) wasn't as terribly thiiick or as eager to peel off as "Swan Lake" was, which made me very happy. I adore it. If I ever get un-lazy enough to paint my toes, I might try using this.
It does have some glitter in the mix as well, but they are all small and don't make the finish too gritty. And I made a brilliant move by using a peel-off base again because I was slow to realize the formula was made to be peel-off. I have one more from the line in my un-used pile so I will likely be smart with that one and then we'll see how long it lasts when I'm not being distractable. Meanwhile, here are my swatches for this beautiful polish…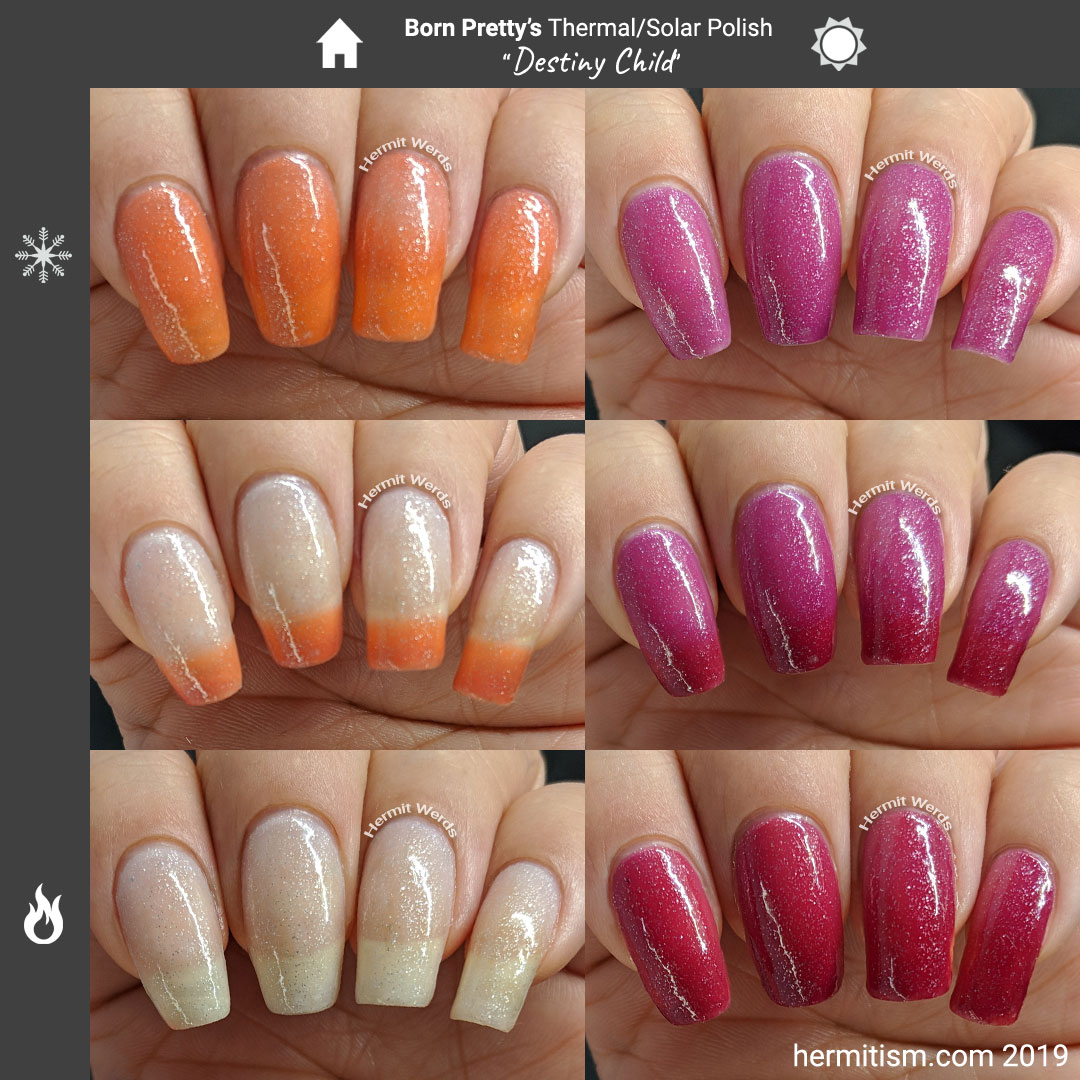 I didn't put together a six-photo collage of the polish with all of the designs on it like I did with The Swan Princess. Once I had the pictures all together it didn't seem to add much benefit to anyone since the colors could be seen in the swatch collage. So I decided to save that editing time for some larger photos, but I did put together a 3-photo collage to show off the prettiness the sun creates. Definitely advocating for long walks through areas of shade and sun. Just don't trip while you're staring at your nails. LOL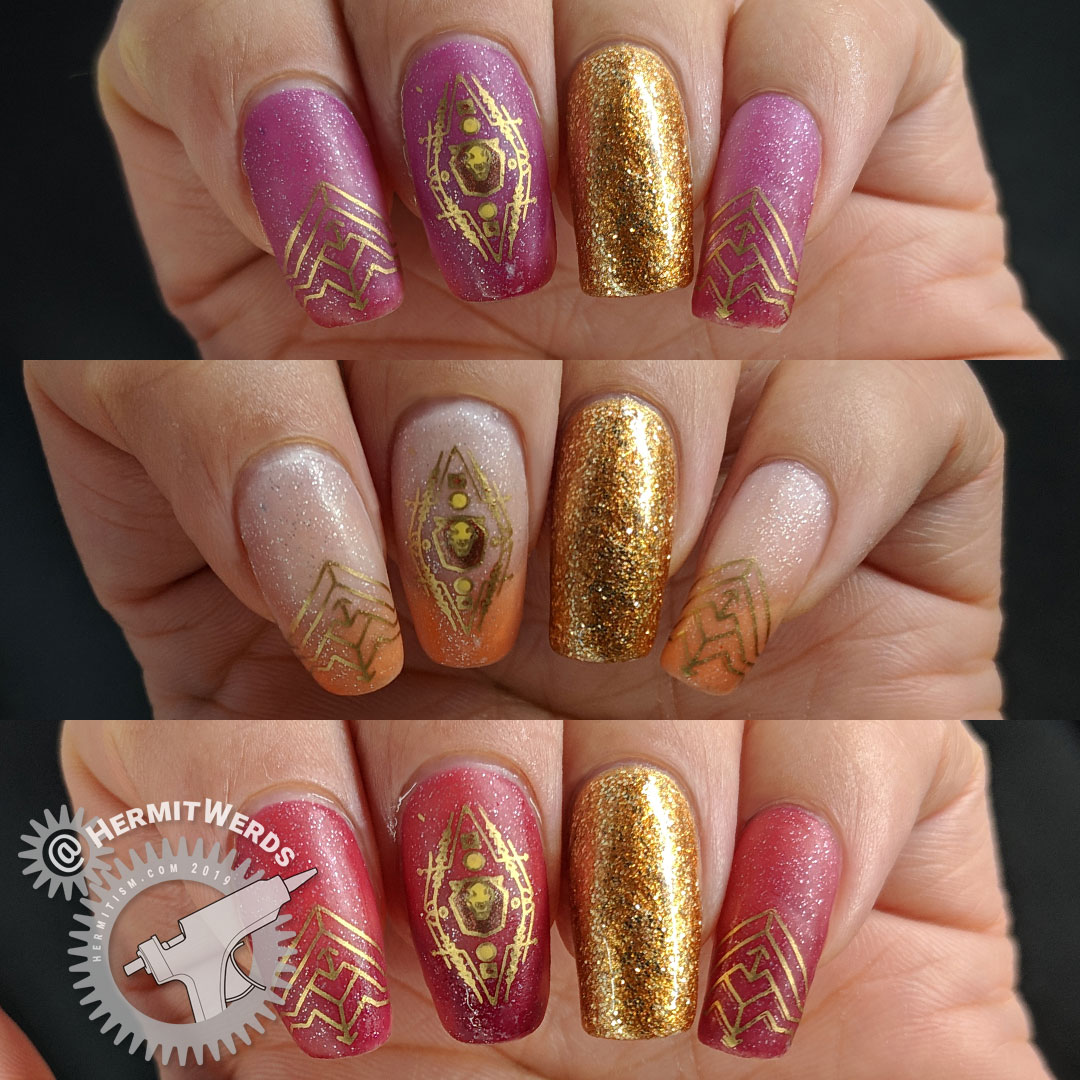 Products Used
Base Polishes:

Stamping Polish:

Advanced Stamping Polishes:

Stamping Plates: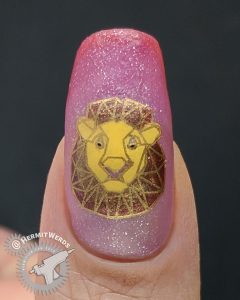 I decided on metallic and yellow colors for my stamping decals so the images wouldn't disappear into any of the possible colors. I do love that deep copper on the lion's mane, although it did force me to go with a satin finish so it would look maximally awesome in my photos. I need to use that one again this year.
(Haha, look at how realistic I am trying to be with my goals. Next I'll be saying "this decade".)
But, oh, yes, I love this polish. As hard as it is to decorate it with stamping/decals that will look good with all the color transformations, it does feel worth it. Now I just need to paint my nails with it for an occasion when I can keep it on for longer than a day. So many deadlines. I particularly love that strawberry color I captured on my thumb mid-transformation. Lovely.
And here's some more lovely mid-colors with my nail art on top…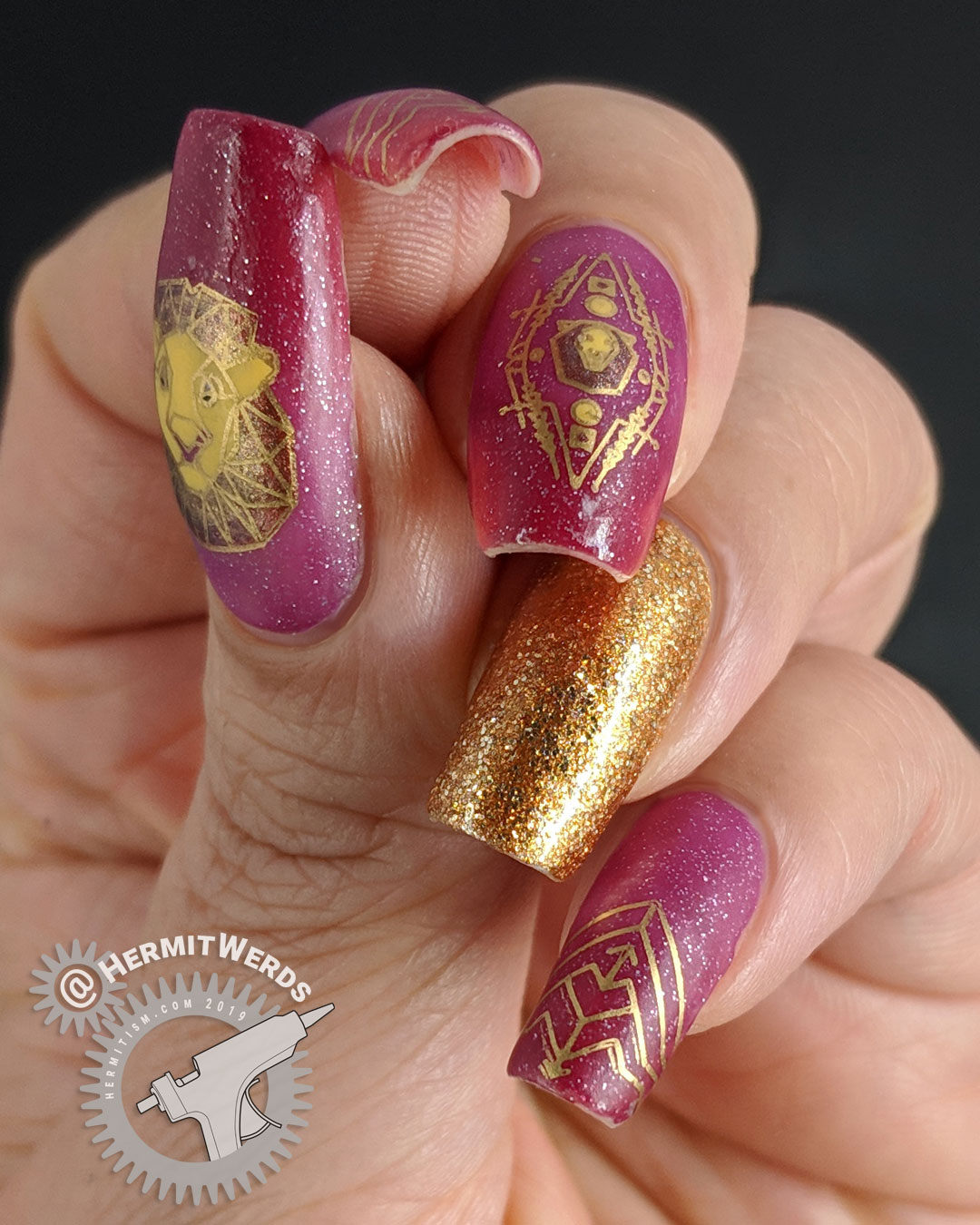 And one last look at it during the brief few moments when it was shiny…
Completed Challenge
It's been a few months since I completely nailed an entire month of prompts for @GlamNailsChallenge. Reviews, health, family, etc. can sometimes thwart the best laid plans. I'm quite happy with this set. Meanwhile, the prompts for March have already posted and they are full of magic and wonderment for the challenge's fourth anniversary. Such an amazing run.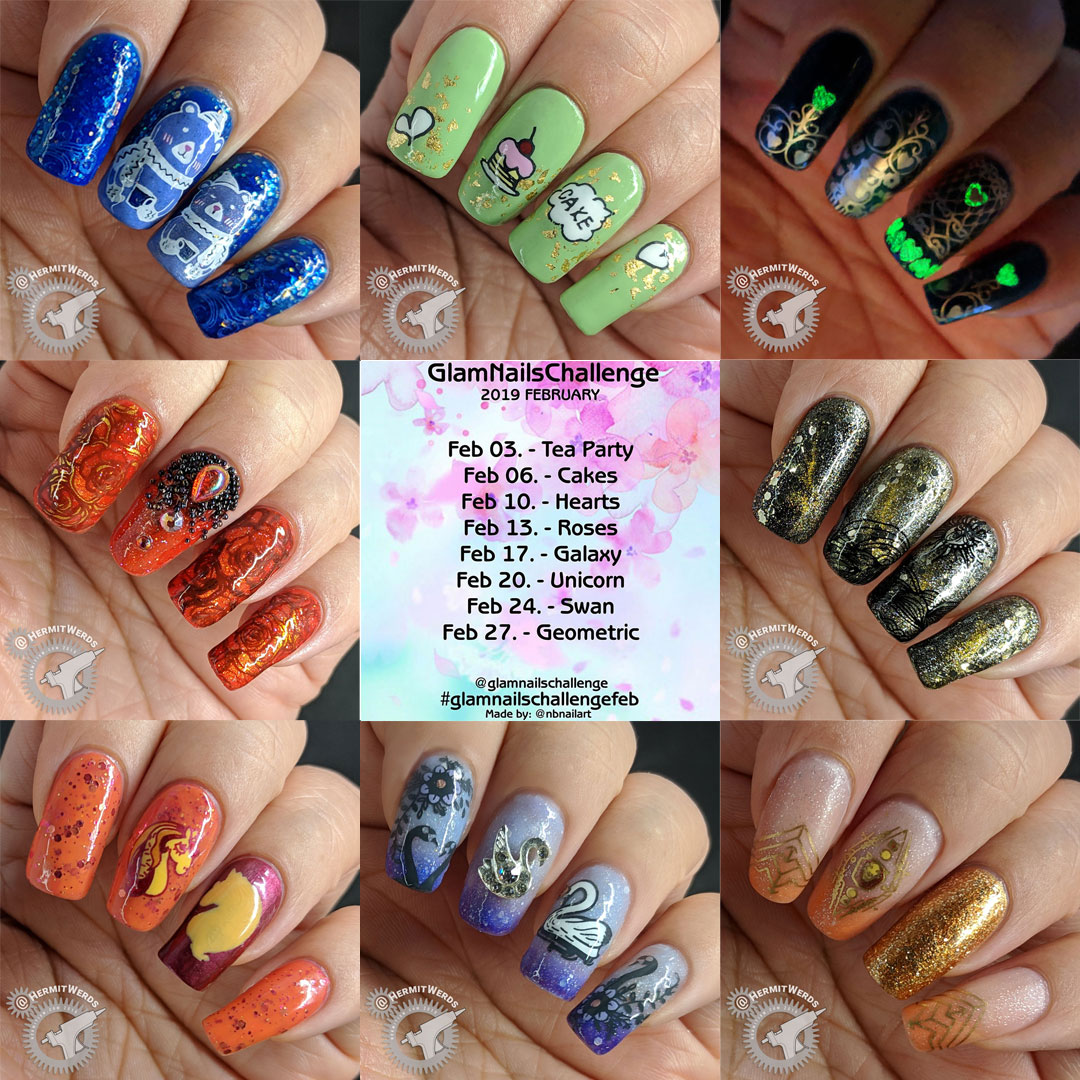 I'd also like to add: @AZNailArtChallenge is entering the world of alphabets for the third time and the first prompt is 'A' is for ABC. I laughed when I saw it because I already had a design for exactly that sketched out. Win!
Until next time, friends. 😉