[press sample]
Wow. I can't believe I've reached the end of my reviews. Having to stop painting my nails because I was reacting to the fumes really backed everything up and now reviewing feels like the new norm. I picked this last polish because I found the khaki-looking nature of it strangely appealing. Beauty BigBang's J6490TM-1A is like a neutral, only super glitzy with the golden tones and the magnetic cat-eye. It was fascinating. And then I painted it on my nails and…I didn't like it.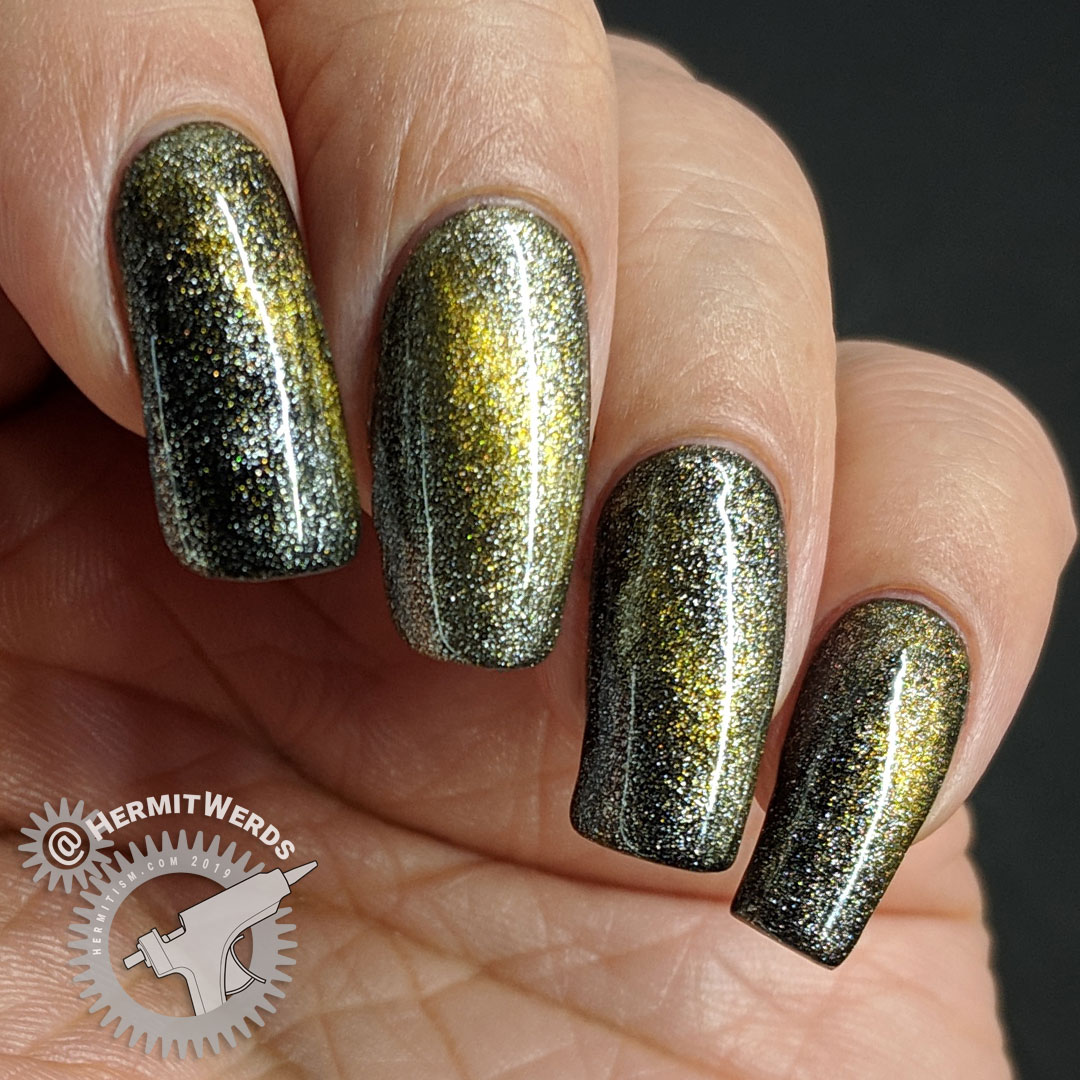 It just wasn't quite as colorful as I'd hoped for. So I tried painting another layer on my middle finger and then a swatch on my thumb with no base polish…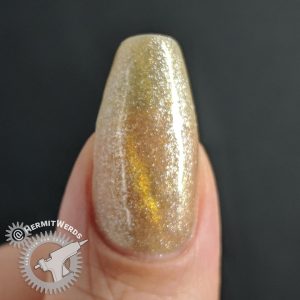 Seeing how translucent it was without the base coat made me realize just how much the color underneath mattered. And also how important it was that I not paint as thin of a coat as possible like I am used to doing with polish these days. Then I painted Sunday's Magnetic Roses mani and that really drove both lessons home. I likely would have had no problems loving this polish if I'd just painted a thicker coat before using the magnet and curing it. But I found myself loving it anyway once my stamping decals were applied…
Magnetic Sol
This was also painted for #GlamNailsChallengeFeb's Galaxy prompt. If you're a regular reader, you know I just don't have much interest in painting your typical galaxy nail art, even though I do admire so much how it looks on the nails of others. This time I decided I wanted to paint my galaxy as viewed from the ground and I had a cool image on a Mezerdoo paint with a sun that was kind of screaming to go overhead. That combined with some gold glitter as an abstract representation of stars became today's galactic look…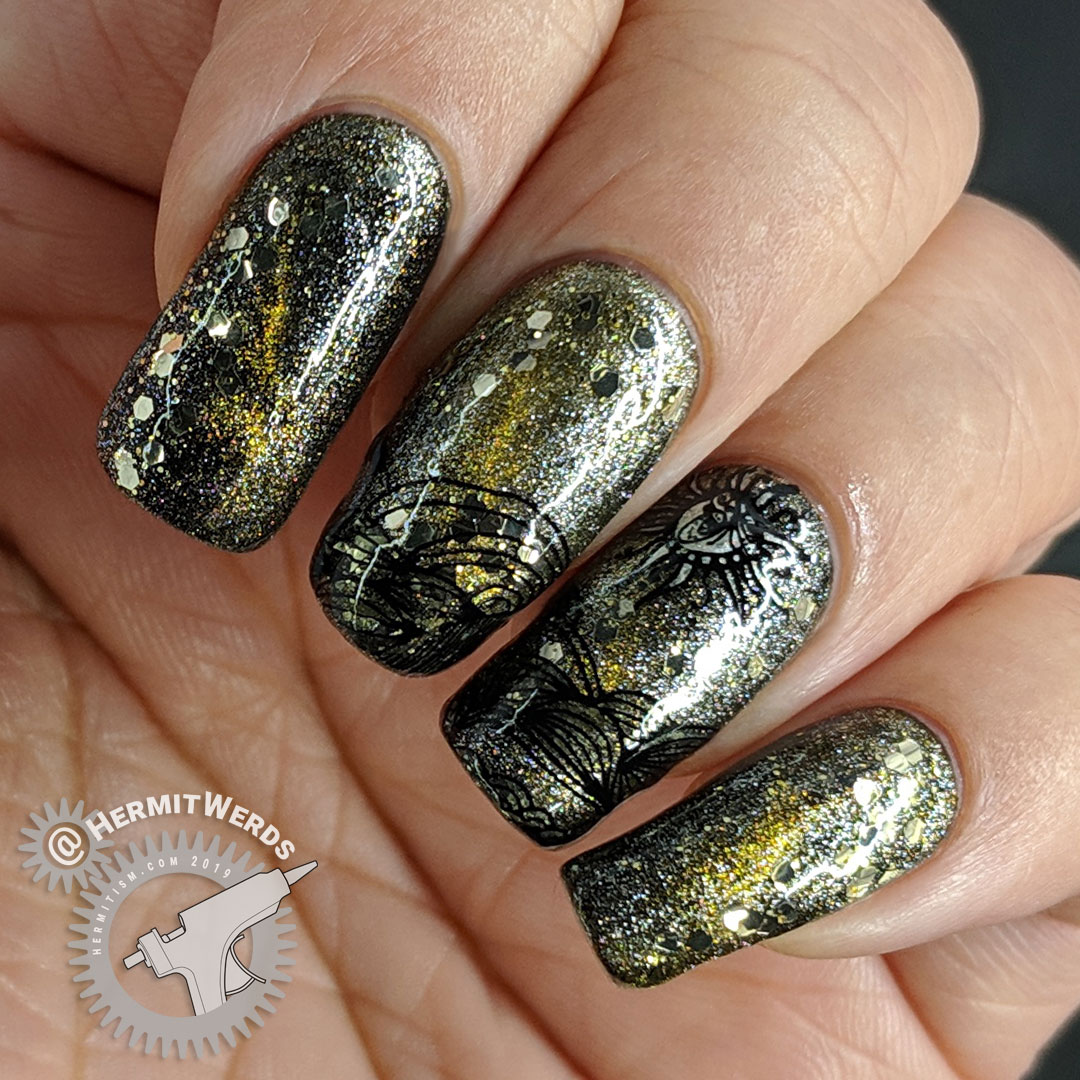 Products Used
Base Polishes:

Beauty BigBang "J6490TM-1A" (press sample) over a black gel base

Stamping Polish:

Mundo de Unas' "Black"

Advanced Stamping Polishes:

ELF's "Gold Star", Revlon's Parfumerie "Spun Sugar", and Sinful Colors' Luxe Fragments "Strike a Pose"

Stamping Plate:

Mezerdoo C24
I loved using the cold-looking "Spun Sugar" to fill in the sun. It really matched the coldness of the silver-y parts of the gel polish. I kept it even more subtle by filling in the decals with a black jelly full of gold shards or a little pure gold glitter. Playing with opacity is what we do around these parts. 😉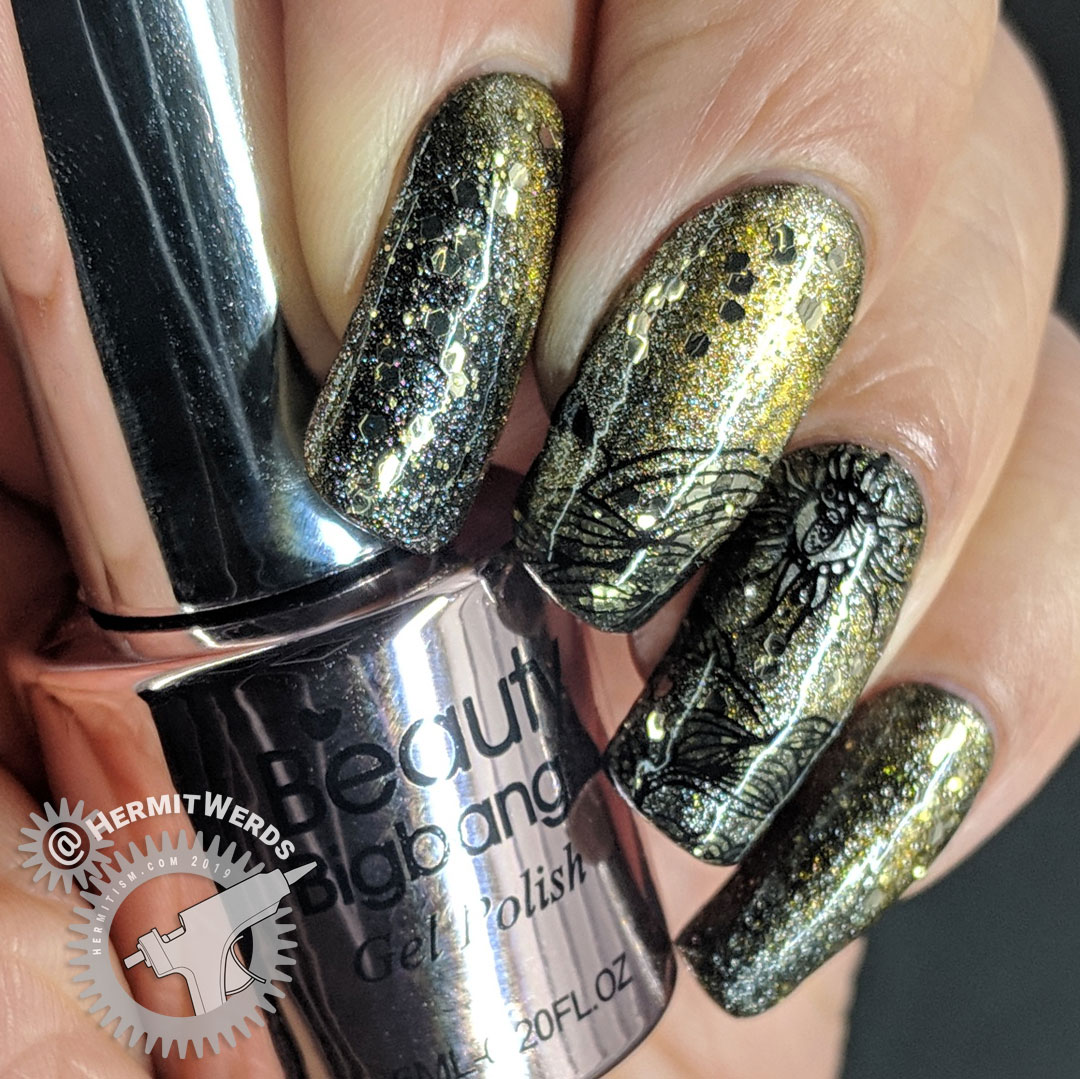 This last photo was taken with the lights down low so most of the focus could be on my glittering glitter "stars"…
I had a really hard time taking this off once it was all done. Such cold beauty and yet with those glimmers of gold. Yum.
TLDR
I'm happy it all worked out in the end. If you're interested in buying the gel polish I reviewed today, follow the link and use my code (hermi) for 10% off your order. (Non-affiliate code)
J6490TM-1A – these polishes are not terribly opaque, so apply a thick coat of gel on your base polish before using the magnet and curing
That's it as far as new items from Beauty BigBang goes. Thanks so much for sending these to me, Maggie! And thanks for reading with me, friends. There will be another post in a few days and I know this because it's already been written. 😉