I originally painted this nail art for a collab, but I was left out of the collage and list of participants. Little hard on the heart since it was the second time in a month. But I decided to make the best of it and save this for a rainy day instead. And it never "rained" and I realized that I wasn't sharing it because I hated how smeared the stamping looked. So I tried again with a different color scheme. Which do you like better?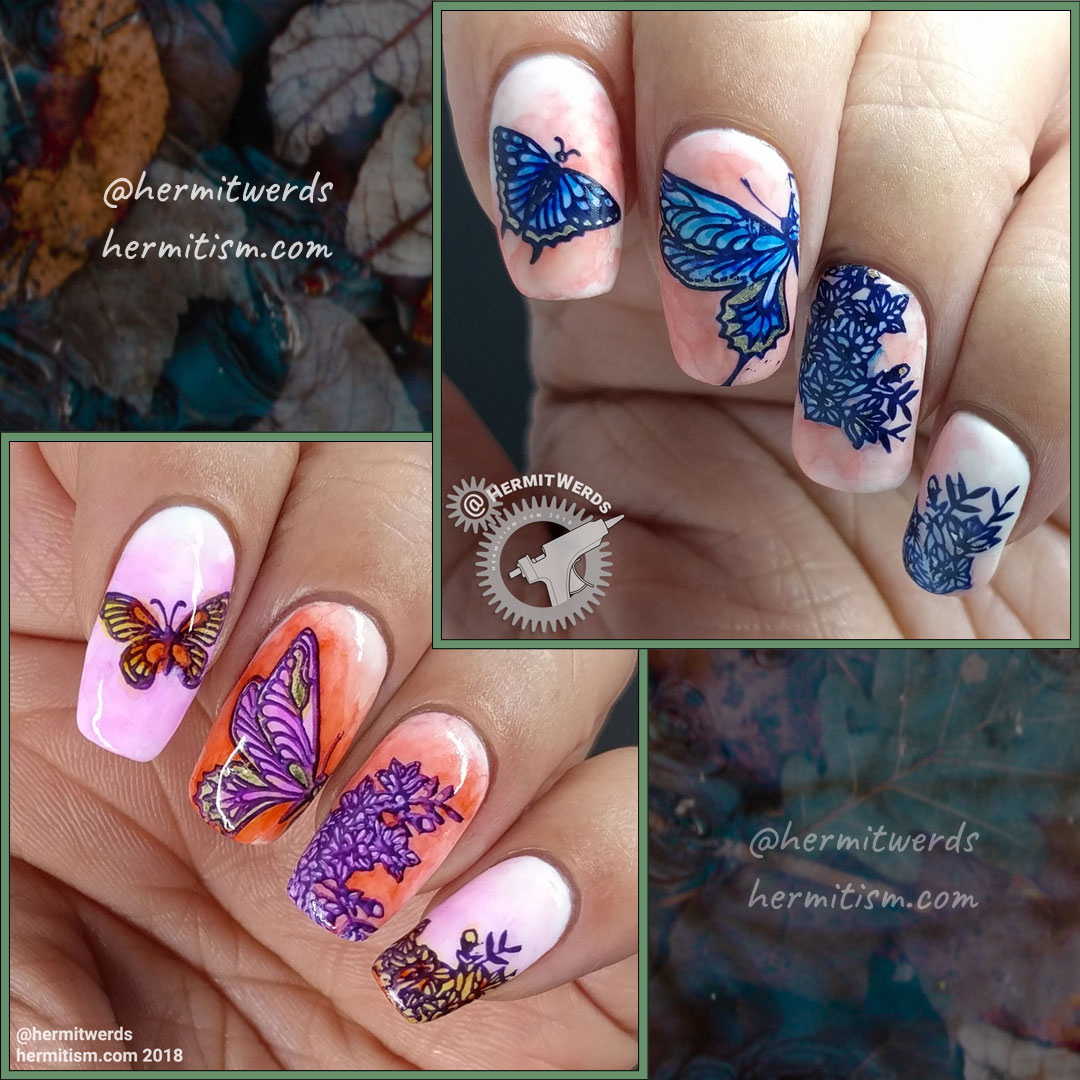 If you've been following me for a while, you know I like to get the most out of having to paint my nails white. So in case you were curious, the original was 6/7 of the manicures I painted on one white gel base. This time I only managed three. Boo! I usually have to replace at least one nail's polish before I'm done (washing anything is so hard on them since I use a peel-off base coat), but I had some other nail art due so I called it when my pinkie's polish started to lift.
Magic Stamping Plate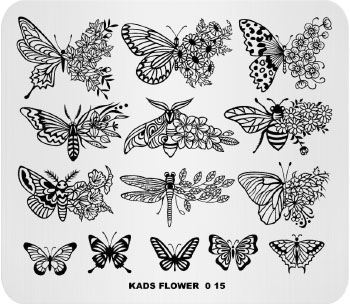 (Note: this is not a sponsored review in case you were wondering. I just love bug nail art. :))
KADS Flower 15 is such a beautiful stamping plate. It has a mixture of butterflies, moths, and misc bugs. One half of the insect is, well, the insect. The other half is a flower/plant that echoes the shape of the bug. I coveted the plate on sight because I love bugs and also because it wasn't all about butterflies (although it does lose points for making all the small stamping images butterflies). Seriously, they are everywhere and overdone. I say this even though I love butterflies too.
I probably would have picked a greater variety to feature for these nails, but the collab was for butterflies. Now I want to drop everything and paint moth nails. Oh, moths, I do love you best even if I am fairly alone in this…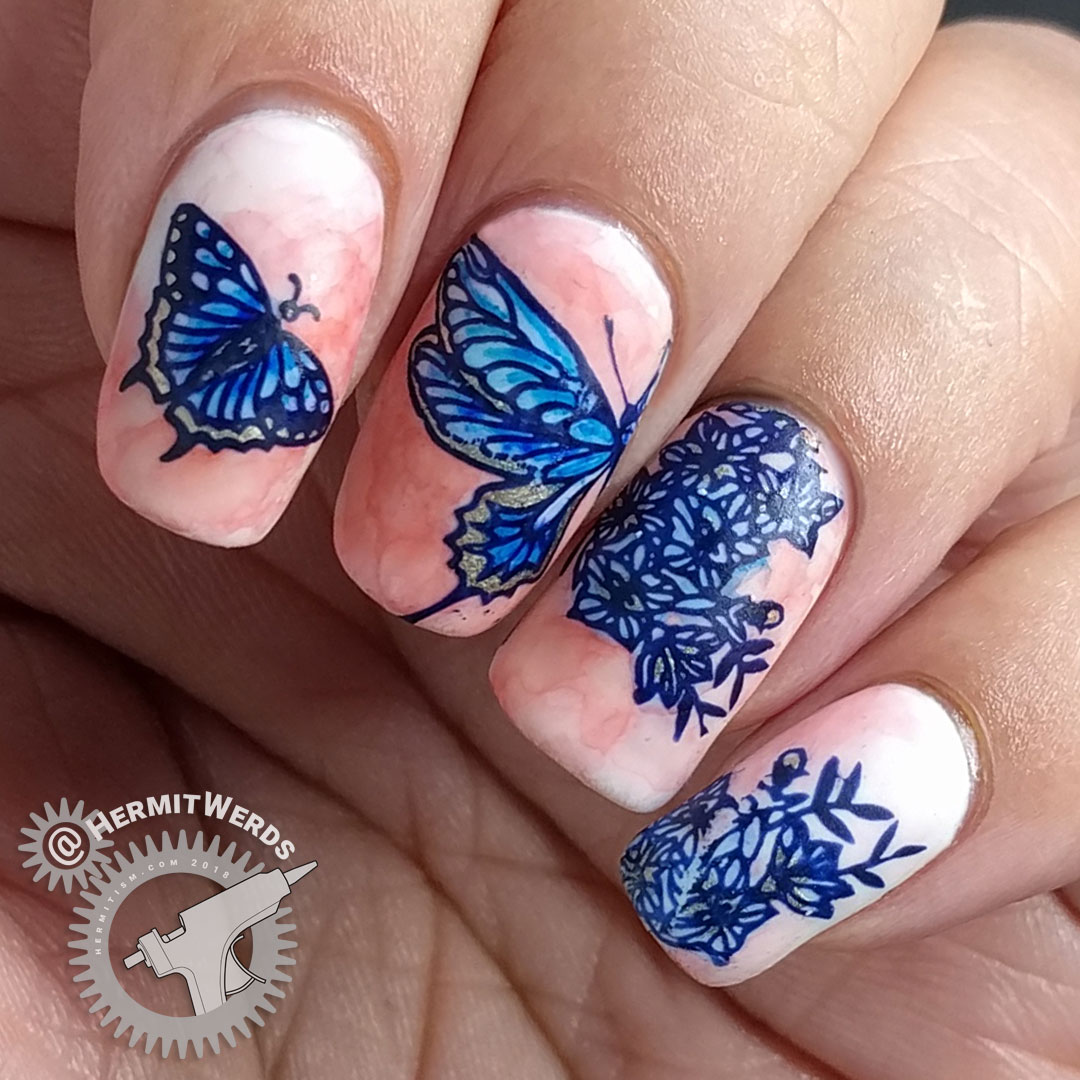 Products Used
I talked about combining the diluted form of sharpie marker ink with drawing straight on the nail when it came to the butterfly wings and I think you can see how much brighter it can make the colors. Since I am not using metallic sharpies, the ink does not cover up the stamped image, but it does change the color slightly. I like my results and will probably combine painting with direct scribbling much more in the future. My only regret with this nail art is that I didn't use both of my orange markers. The one I didn't use is much brighter and picks up well in photos so the background would have been more like the one in the original.
Ah, well. I do like this small butterfly more. The gold polish also looks quite nice, though I almost wish I'd gone with copper instead.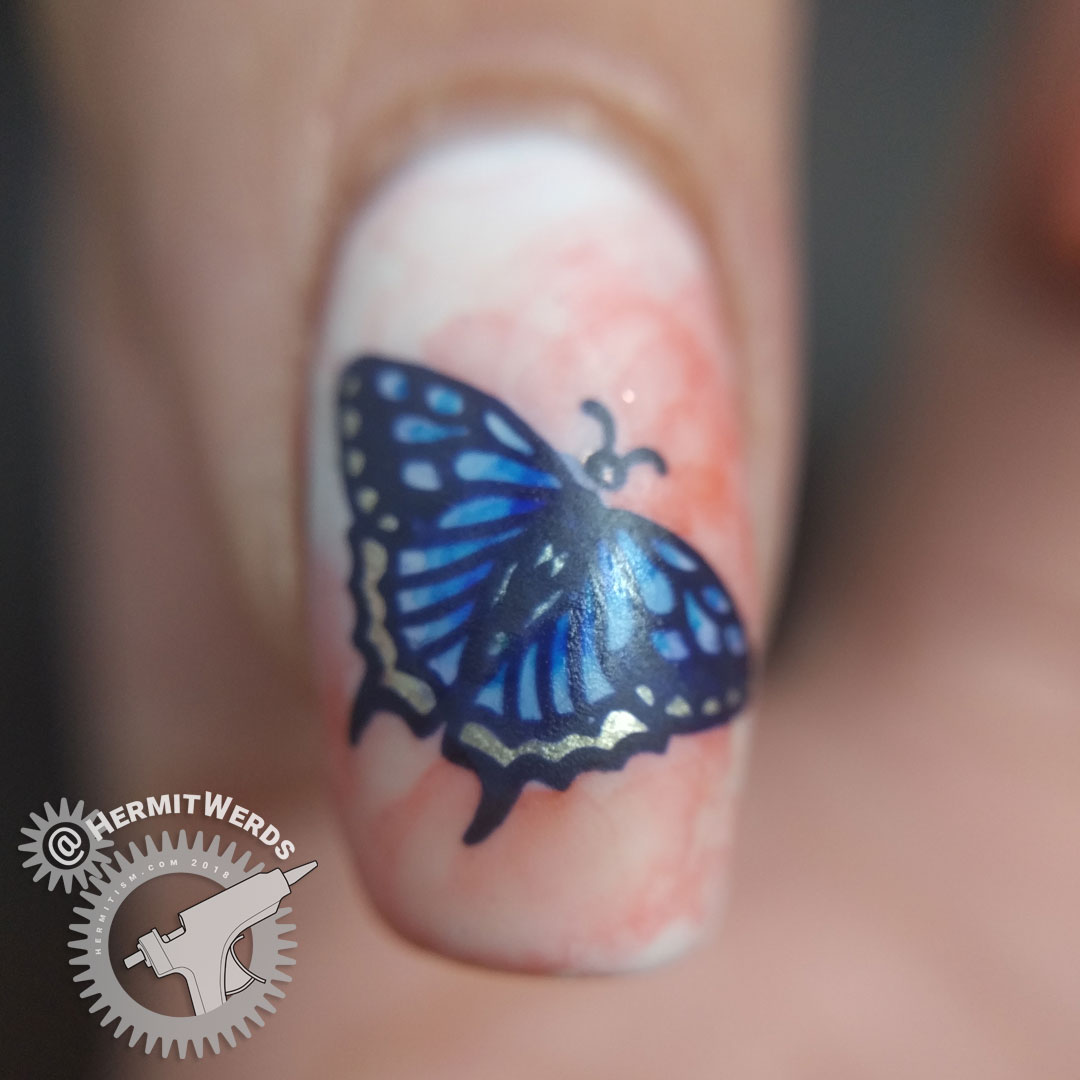 Failure can still be beautiful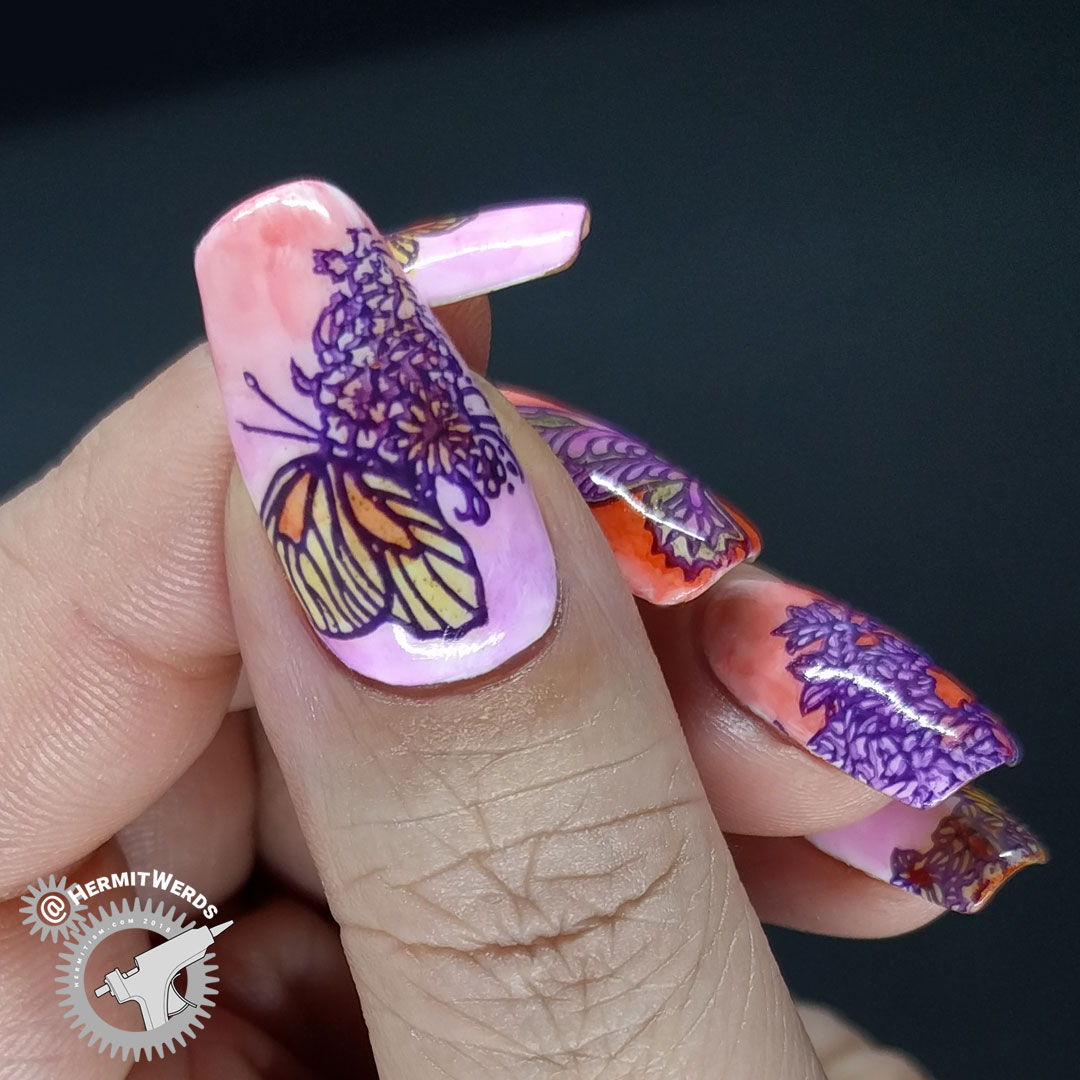 It sucks, but the polish wasn't playing nice and wouldn't stamp crisply. I re-stamped so many times and you can see how blurry things still were. But I wanted purple outlines and went ahead with "finishing" the design. And I couldn't bring myself to share it without the collab. I just was not proud enough of the stamping job. The yellow mixing with the purple made such a gross color too. I still love the bright orange with the purple, but as you can see I was feeling gun shy of trying to use the same purple again, even though all I probably needed to do was thoroughly mix the stamping polish.
That's all for now. I'm working on a two-week wear test and I have some super beautiful polishes from Beauty BigBang to review so you'll be hearing from me again soon. 🙂