Confession time! I've had this set of glitter polishes for several years and I have never used it. Which is why it's in its original packaging with a sexy discount sticker. $.33 a bottle is still a loss if you never use the polish.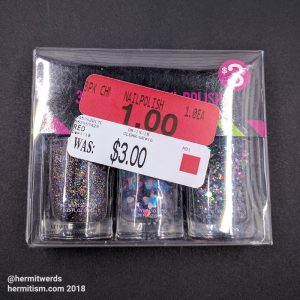 No, wait. I'm sure I can make myself look worse. I bought six other sets (seven if you count the one I gave my sister) and I've used them…twice?  I was lured in by the price, but I just don't do glitter placement often. I love my stamping plates more!
(But I am not going to tell you how many stamping plates I own because someone might read this that can use that against me…)
So this was for #NailAddictsCollab prompt The Ugly Truth. The idea was to use products that we don't like but still keep. I didn't really like this set until I used it. In fact, I was pretty ready to ditch the bottle of fine mixed glitter and possibly the coarse one too. Now that I've used them, I don't think I can let them go. I really like how this turned out!
But this set wasn't my first pick. In fact, I had a Pinata Blast! glitter topper, "Baila Baila", from Sinful Colors that I hadn't de-stashed along with its collection sister. I had never used either of them, but I liked the light green-ish glitters in "Baila Baila" and I wanted to give it a chance. At least, I thought I did until I had to use it. I swatched it over several blues and tried to sketch out a design for it. But I just didn't want to paint it. So I decided I didn't want the polish and chucked it into the de-stash bag. It felt really good to let it go.
I'd leave you with a list of products that I used, but, aside from the resuable white gel base and the flower rhinestones, you've already seen everything I used. And since it was a cheap Walmart set there isn't even a brand to list or separate names for the bottles of polish. So I guess I'll throw another photo at you. Maybe I love these glitters less because they are so hard to photograph. LOL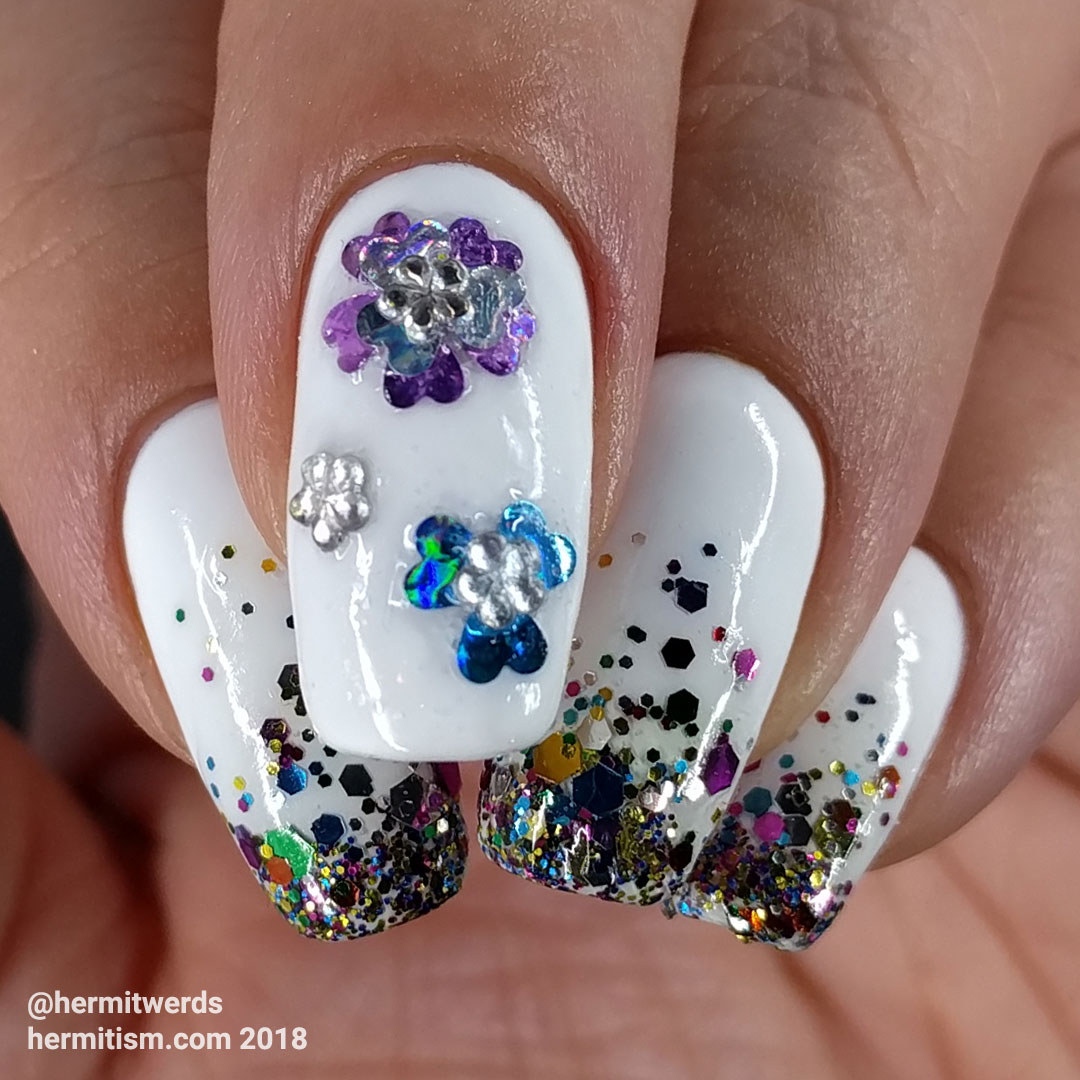 But let's not forget the group collage. I hope the other ladies found new love for the items they were hanging onto. Or at least managed to ditch a few things. 🙂