Sometimes I forget that different challenges have different turnaround times for releasing the collage of participants. And since you're not supposed to post your nail art until it's done, well, this was a bad combination of challenges. I combined #TheInspirationChallenge with #26GreatNailArtIdeas (3D Embellished). This is probably the first and last time I combine #TheInspirationChallenge with anything ever again. LOL But I love it because it encourages a lot of artistic interpretation and it's so interesting to see what parts of the image people focused on the most. So here's the image we were working from: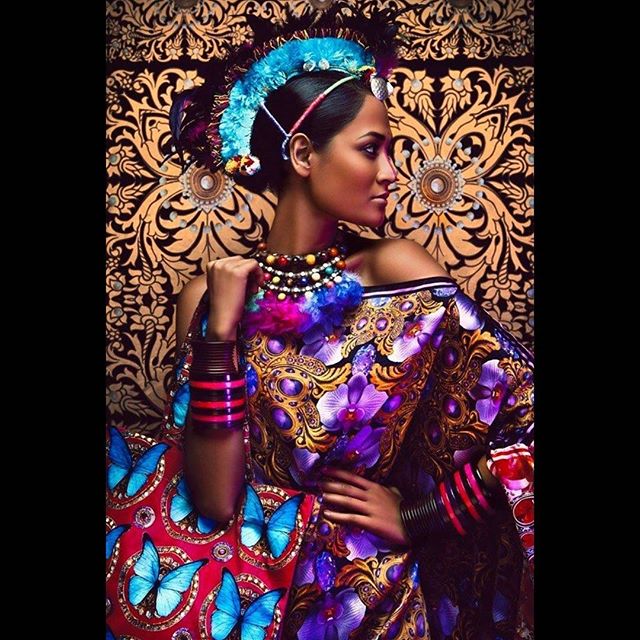 Isn't it gorgeous? I kinda wish I'd done a second mani based on the hair. Well, I'm not dead yet! Still, I saw all the beautiful fabric patterns and I wanted to focus on that first. The orchids were lovely. As tempted as I was to try some one-stroke painting for them, I immediately thought of Born Pretty's BP-L067 which had a lovely orchid stamp. I hadn't used the plate yet so that kind of sealed the deal. I really want to get closer to having used everything in my collection just once but I own so much. LOL First world problems, right?
So I had my orchid image. I searched through all my plates and found a few patterns on UberChic's 10-01. Then I did a stupid and stamped the large pattern on the nails where I was placing the flowers. With the flowers on top, the pattern wasn't clear and it just looked uuugly. Nope, nope, nope. So I had to re-do those nails and since I don't like my nails to be too same same, I painted them black and used a different pattern from Moyou London's Asian Collection 11 instead. Then it was time to pile on as much bling as I could. My collection in that area is rather small so I was limited to a more red-ish rhinestone and gold caviar beads. I didn't secure them with gel polish or nail glue so they didn't stay on my nails long, but nothing ever does anyway so I didn't want to take the time to do make them more secure.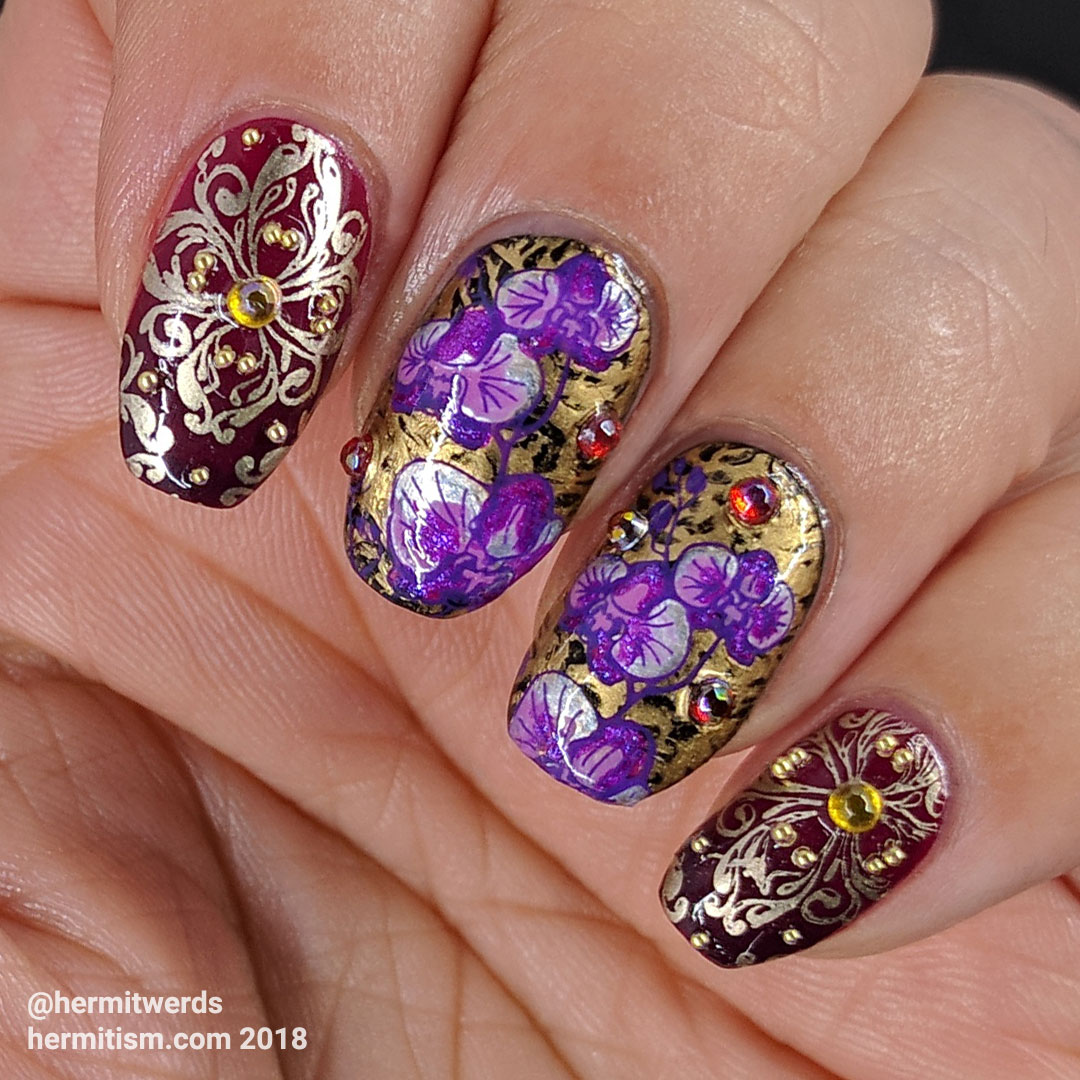 So much fun. But so tip of the iceberg, right? I really admire nail art that is all about the arrangement of bling on top of a base polish and I want to try my hand at it soon. I have a little jar of different bling headed my way from China and I plan to do just a bling mani with it. Maybe even on my right hand so it can stay a while. Or maybe on a set of falsies so I can take it out at will. Until then, here's another view of my nails at more of an angle:
Woo! As much as I'm enjoying playing a computer game again, I do need to get back to painting my nails. Luckily I had already planned to use a white gel base for the next couple so I just have to get started. I'm even trying using a nail brush and gel polish from a jar. So far I'm liking the better quality brush and increased control. It took more layers, but I blame myself for not floating the brush more and being so excited to start that I forgot to put a gel base coat down. Fiiired. hehehe
I'm also planning on moving my blog to the root of this domain. I've done a test run and I'm totally going to "break" all my links since they'll all point back to this directory, but that's ok. I can leave this location up until they are fixed so it will only be missing new information if you follow a link I haven't fixed yet. Once I've fixed the links, I'll delete all the content here and make the blog posts into redirects. That way no one else will have to fix any links to blog posts unless they don't want people to see my redirect (I'm drawing the line at taxonomy links because I don't see people using them all that much so I doubt anyone is linking to them…yet). So be aware in the next few weeks that there will be dust but this site will mostly remain functional. And, y'know, I will eventually get around to making a summary post about 2017. It may be in February, but it is what it is. I have a lot of statistics and favorites lined up to talk about, but I feel like moving is more important right now because I want to promote my blog more and I just can't bring myself to because it's not where I want it and I don't want more links pointing to the wrong place.
Well, that's enough tech talk for now, here's the lovely collage of all the participants from #TheInspirationChallenge: