June was supposed to be origami butterflies and utter happiness. I wasn't as happy with the results as I wanted to be, sadly. I was hoping to find a butterfly that would translate well on a really small scale and I'm just not feeling it with any of these. I did like several of the diagrams though and I'm sure I'll find a use for them sometime. I also added the star burst with the thought of making a blue and white one for a Fourth of July feel, but I wasn't terribly impressed with that one either. Probably would have looked cooler if I'd made more of it.
The spider, however, he be jumpin'. ;D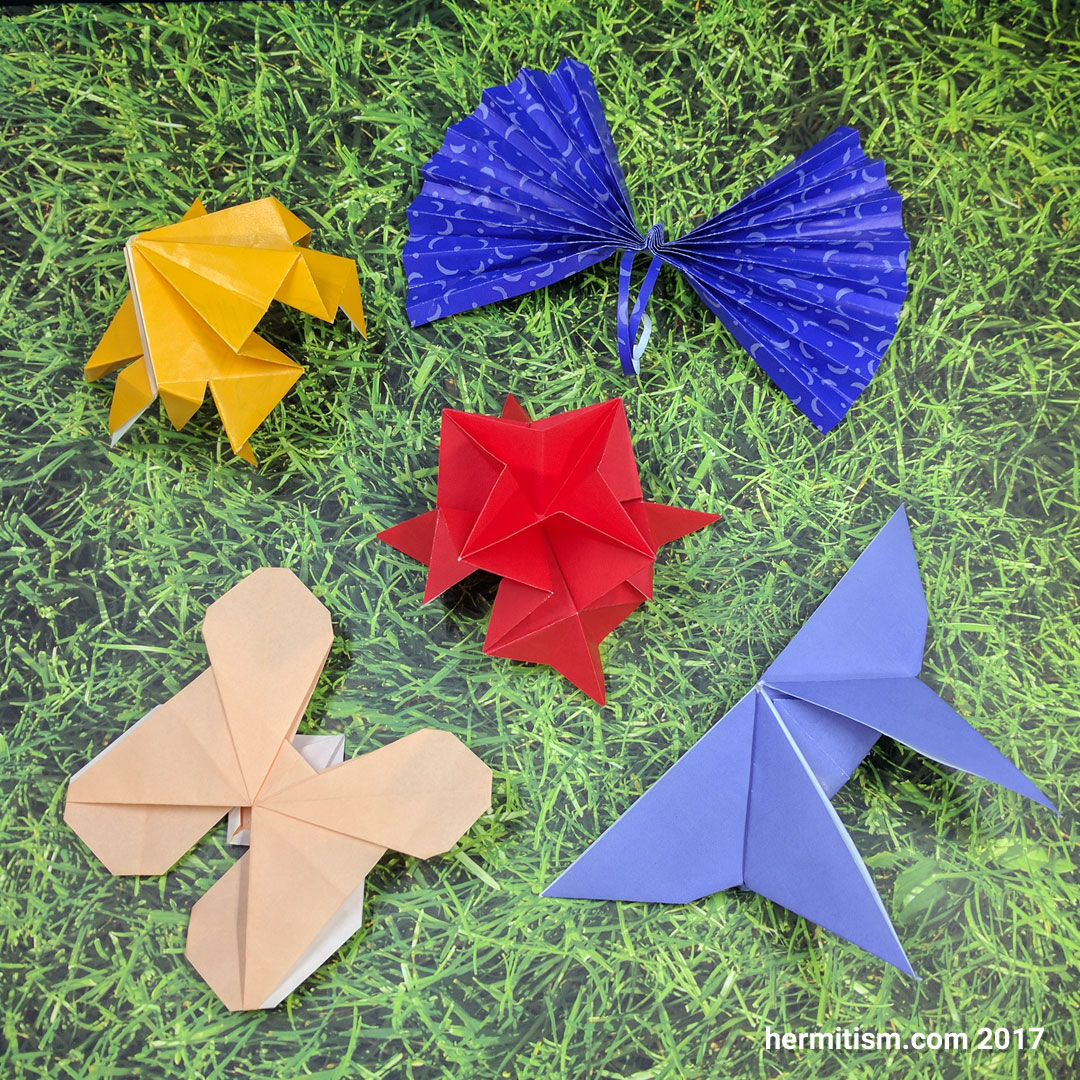 Yes, we're already into July, but I swear I folded these on the 29th of June. I just wasn't going to have it compete for eyeballs with my nail art posts so I had to wait for things to quiet down (briefly). July is random water-related animals for the most part, but I'm thinking of trying to find a few more origami butterfly diagrams online. Meanwhile, hey, why not? I made some seed bead butterflies years ago so here they are. The top two are from a book by Anja Freese, but I created the pattern for the the bottom two. I always meant to make more. I was thinking of making my own patterns for each state bug in the US and selling them in kits or something, but life got in the way. If you think that would be an interesting project, let me know. 🙂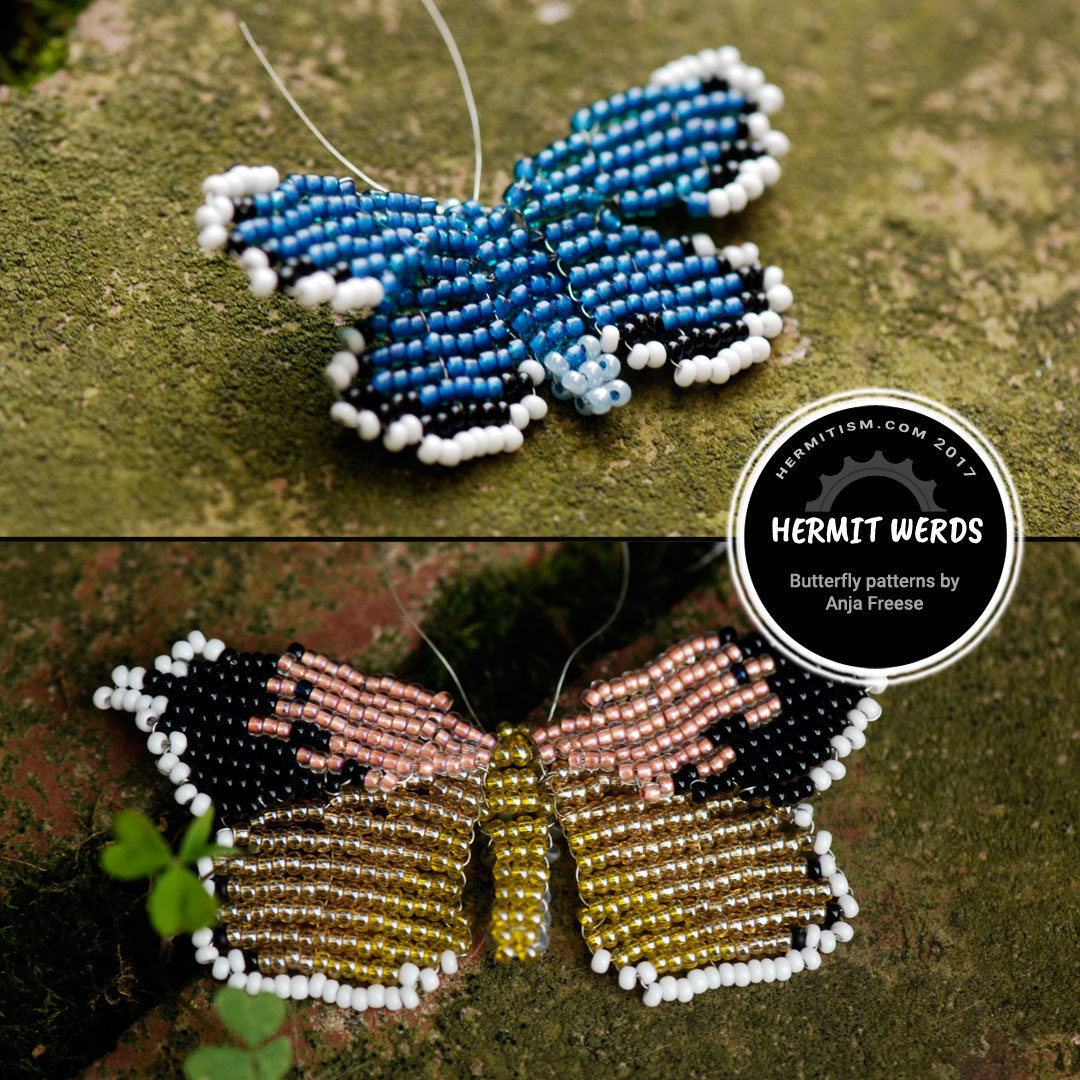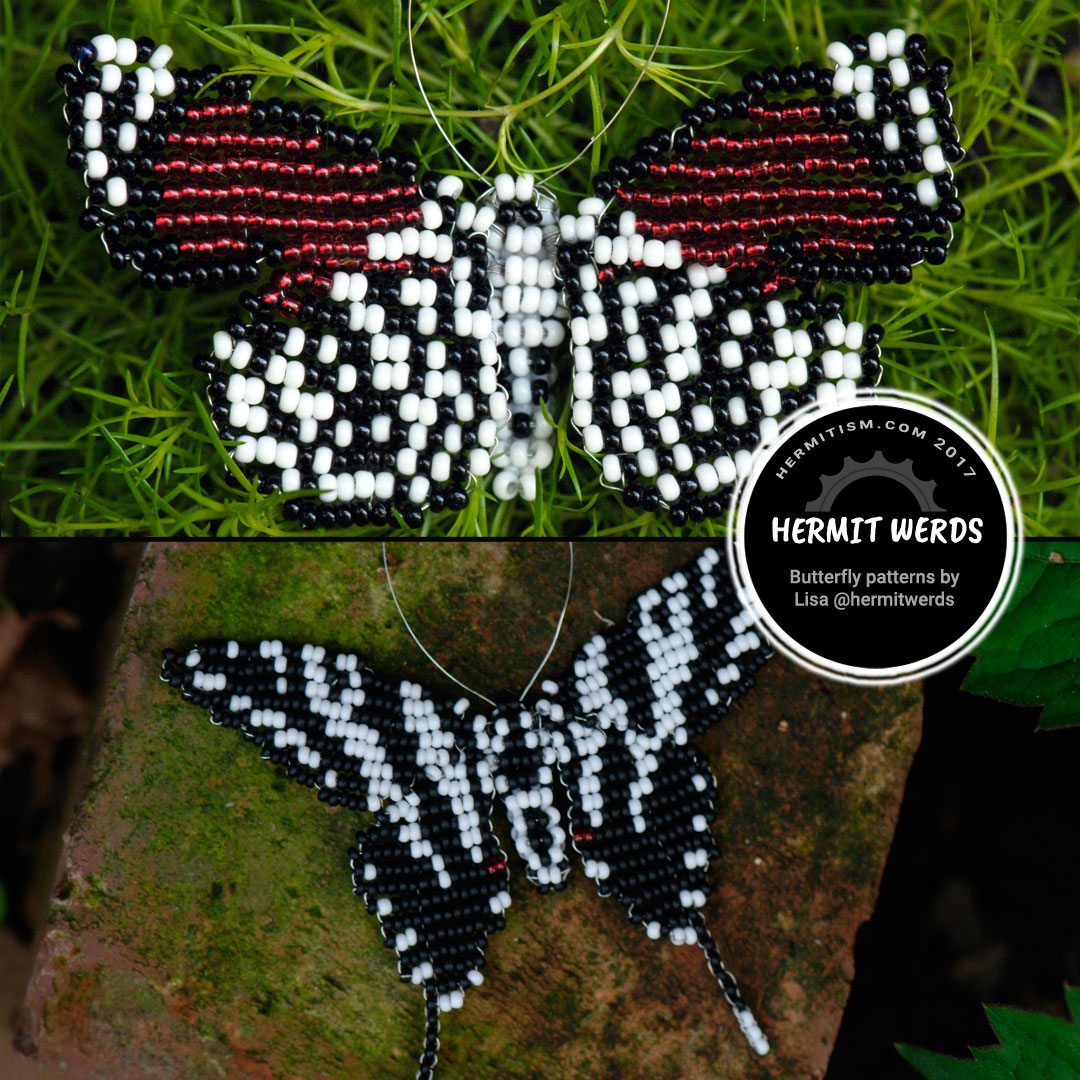 Sorry, these are really old pictures (2009) and I didn't leave much space around the subject matter when I took them so they are kinda in your face big.
And now for my review of the diagrams:
Sparkling Star – a little underwhelming, but would probably look awesome in a display with several of them in different sizes/colors
Jumping Spider – pretty cute, does jump, but like the simple origami jumping frogs frequently just flips over itself. So athletic!
Fancy Butterfly – pain in the butt to fold, worked terribly with the calendar's paper, hard to pose. Definitely need nicer origami paper to make this work well and then why not use a better pattern?
Betsy & Billy Butterfly – wonderfully forgiving. Lines a little simple, but probably my best bet for mini butterflies
Butterfly – suspect I was off a little on my folding and the results could have turned out better. Too lazy for a re-do
Curved Wing Butterfly – I thought this would be my favorite. It was meh with a thick base so the paper split on me (of course). Sad
Unique Butterfly – my favorite ended up being the last one. Super cute. Pretty easy to fold, but still has a thick base that tends to split. Just don't look at the butterfly's underside. Manners are important in origami *cough*